Listen to Lora's Podcast
The Paper Wings Show: Don't just make comics, elevate comics!
The Paper Wings Show
Elevate your visual storytelling with the Paper Wings Show at chrisoatley.com.
 
Every episode is chalk full of mind-blowing inspiration, pro tips, and industry insights.
Read Wynonna Earp
Lora is drawing the new comic book series based on SyFy Channel's brand new breakout hit, Wynona Earp!
Buy Wynonna Earp
Everyone's got demons. Hers fight back. A six issue miniseries by IDW Publishing available wherever comics are sold.
Or click to buy here.
Latest Post From the Blog
2017-01-18T02:28:46+00:00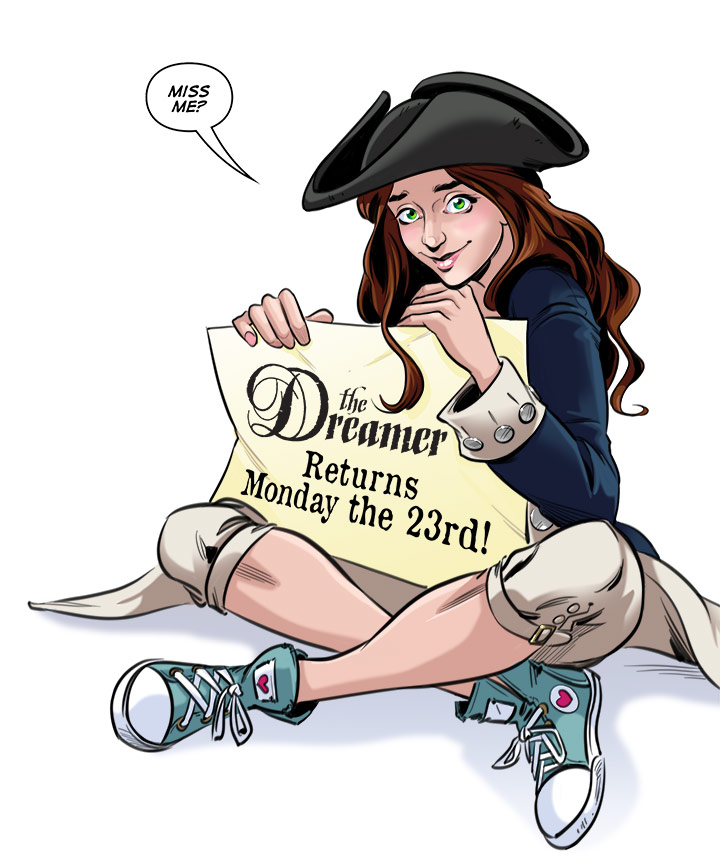 The Dreamer updates return next Monday, January 23rd!
I've spent the last six months finishing the ending to The Dreamer series, outlining the last three graphic novels in detail to prevent any more gaps between updates. Part of that process required making changes to the Countdown to Culper chapters that were already posted from the site.
Because of the long break between updates and the changes that were made to the version originally posted here, we're going to have a special update schedule for this "rebooted" material.
Starting on Monday, The Dreamer will have a special updates!
For three months the comic will update

multiple pages

on Mondays, Wednesdays and Fridays!
Once the previously posted material is back on the site, regular updates will resume.
Please help me spread the word: Dreamer is back!
If you have friends who used to read, please let them know!
If you have friends you think would love to read, now is the perfect time to get on board!
Tweet it, like it, share it, post it anywhere that you hang out!
It would help so much!
Thank you for your graciousness through this break. Without that space, I could not have worked through the script problems I was facing. A special thanks to all of my supporters on Patreon who carried me through the highs and lows of that journey. You can see all of their names here, and even join the ranks yourself. It's a special group on Patreon, and I invite you to the party.
And if you're curious about what I changed, the "Reboot" pages are being posted on Patreon. See the new pages side-by-side with the originals, and read my explanations for the revisions.
Spread the word that The Dreamer is back, and I'll see you here on Monday! I can't wait!
Sign up for the email newsletter 
Connect with Lora elsewhere on the web: