Listen to Lora's Podcast
The Paper Wings Show:
Don't just make comics,
elevate comics!
The Paper Wings Show
Elevate your visual storytelling with the
Paper Wings Show
at chrisoatley.com. Every episode is chalk full of mind-blowing inspiration, pro tips, and industry insights.
Read Wynonna Earp
Lora is drawing the new comic book series based on SyFy Channel's brand new breakout hit,
Wynona Earp!
Buy Wynonna Earp
A six issue miniseries by IDW Publishing available wherever comics are sold. Or click to
buy here
.
Everyone's got demons. Hers fight back.
Latest Post From the Blog
Lora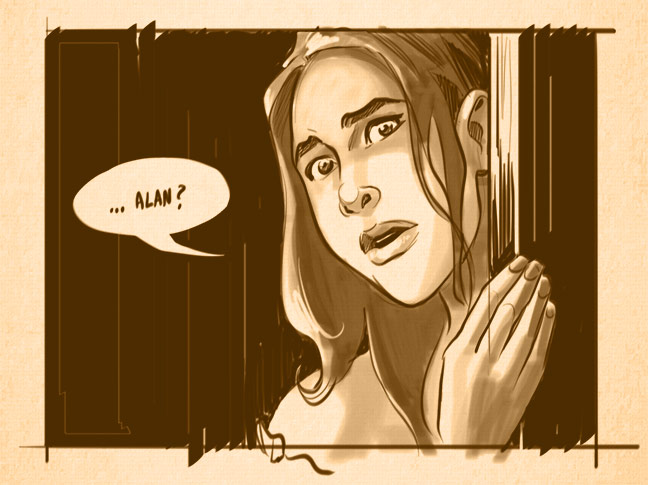 Concept art for the end of Countdown to Culper Issue #3.
This is an update to you know what has been going on. I'm sorry for the radio silence.
On my last post, I vaguely mentioned a family illness. Mike's father was diagnosed with Stage 4 Pancreatic Cancer in February. We flew home to spend as much time with him as we could, but we lost him in April. It was heart wrenching and traumatic and we're all still in a bit of shock.
When I got back to California I immediately had to finish Wynonna Earp. IDW was amazing about restructuring the timeline so they could keep me on the book, but it meant that I had to finish the last two issues in a short amount of time. (I drew all of issue 6 in just 17 days.)
But I finished! Wynonna Earp Issue #5 comes out in comic shops everywhere tomorrow.
So what about The Dreamer?
The last time I took a break, I set a return date up front so you knew when to expect updates to resume. It was fun and exciting and I liked having a countdown to the Countdown to Culper.
But when the comic returned, I had a secret: though I was able to start writing Volume 4, I hadn't finished my research for Act II. I thought I could manage both at the same time, but I quickly got swallowed up in conventions and other projects. I am at a point now where I can't write issue #4 without finally finishing my research.
So I had two options: Finish issue 3 now (which is written) then take a break to finish my research. Or, continue this unscheduled break that we're currently on and resume updates when they will continue uninterrupted.
I let my Patreon supporters decide.
They voted to extend the current break, and come back when I've finished my research.
This isn't an easy decision. Putting the comic on hold for any reason makes me sick. I started The Dreamer during the "if you stop updating you'll die!" era of webcomics. In the years since, I've seen […]
Connect with Lora elsewhere on the web:
Stay In Touch With The Dreamer
We'll send you a FREE 75-page Director's Cut edition of Issue #14!