Listen to Lora's Podcast
The Paper Wings Show:
Don't just make comics,
elevate comics!
The Paper Wings Show
Elevate your visual storytelling with the
Paper Wings Show
at chrisoatley.com. Every episode is chalk full of mind-blowing inspiration, pro tips, and industry insights.
See Lora in Person
My next show is San Diego Comic Con,
coming up July 9 – 12th.
Come see me at booth 1903!
Latest Post From the Blog
Lora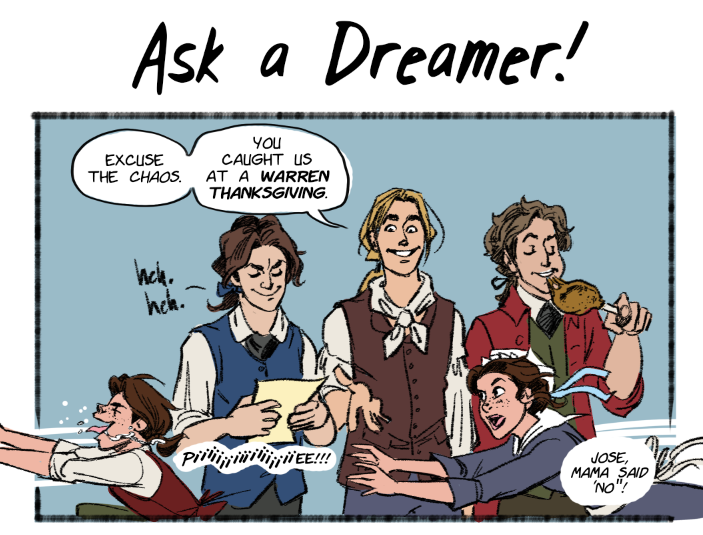 Happy Thanksgiving!
I invite our readers from all over the world to join us in our weird custom of pigging out on the last Thursday of November with distant cousins we only see once a year.
Thanksgiving itself dates back to Colonial New England, though it was Abraham Lincoln who made it an official, national holiday during the Civil War.
For the historically inclined, here is an 18th-century apple pie recipe from Colonial Williamsburg. Celebrate your Thanksgiving Warren-style!
Alan's cousins Jack and Eben were nice enough to take time out of their celebration to help answer a reader question. Congrats, Mooney, you made Alan blush. Oh, and you won yourself an "I Heart Nathan Hale" teeshirt!
Reminder: There won't be a Dreamer update this Friday, but I have something special planned for Patreon subscribers.
Read this week's Ask A Dreamer! comic below the cut…
(Heads up parents, this week's question has a PG-13 rating.)
Connect with Lora elsewhere on the web:
Stay In Touch With The Dreamer
We'll send you a FREE 75-page Director's Cut edition of Issue #14!