Listen to Lora's Podcast
The Paper Wings Show:
Don't just make comics,
elevate comics!
The Paper Wings Show
Elevate your visual storytelling with the
Paper Wings Show
at chrisoatley.com. Every episode is chalk full of mind-blowing inspiration, pro tips, and industry insights.
Watch Lora on T.V.
Watch Lora on
The American Revolution
, a three-part miniseries on The American Heroes Channel.
See Lora on The American Revolution
The American Revolution airs Monday, December 15th at 9 & 10pm ET and Tuesday, December 16 at 9pm ET.
Join the Community!
Latest Post From the Blog

The Dreamer returns to it's regularly scheduled updates!
I was on television last month talking about history on "The American Revolution," and the show is airing again.
Director's Cut versions air this weekend on the American Heroes Channel with new footage. This is the perfect chance to catch it if you missed it the first time.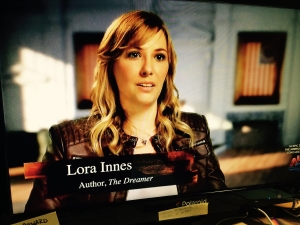 The Three Part Mini-Series airs back to back this
Saturday, January 24th starting at 8/7c:
Time Warner airs on Channel 140
Comcast (Xfinity) airs on Channel 112
Direct TV airs on Channel 287
Uverse AT & T airs on Channel 259
Dish Network on Channel 195
Great news: We're more than halfway to our first Patreon goal!
As soon as we reach this goal, The Dreamer will begin updating twice a week!
Patrons get to reach comic updates a week early, so don't miss out:

Connect with Lora elsewhere on the web:
Stay In Touch With The Dreamer
We'll send you a FREE 75-page Director's Cut edition of Issue #14!