Synopsis
Beatrice "Bea" Whaley seems to have it all; the seventeen year old high school senior is beautiful, wealthy and the star performer of the drama club. And with her uncle's connections to Broadway theater, the future looks bright ahead of her. Little does she know that her future might actually be brighter behind her.
Bea begins having vivid dreams about a brave and handsome soldier named Alan Warren--a member of an elite group known as Knowlton's Rangers that served during the Revolutionary War. Prone to keeping her head in the clouds, Bea welcomes her nightly adventures in 1776; filled with danger and romance they give her much to muse about the next day. But it is not long before Beatrice questions whether her dreams are simply dreams or something more. Each night they pick up exactly where the last one ended. And the senses--the smell of musket shots and cannons, the screams of soldiers in agony, and that kiss--are all far more real than any dream she can remember.
New updates every Wednesday and Friday
A Word From the Author
If you're reading this, than you've probably already checked out The Dreamer. All I can say is "thank you." Lots of times life is crazy, senseless and even disappointing, but every once in awhile the stars seem to align to make everything feel just right. Writing The Dreamer has been one of those latter times. To say I'm grateful for the opportunity to present this web comic to you would be a massive understatement. This isn't a "pet project" of mine, it is a soul project. It comes from the deepest parts of me and has consumed my entire life. I knew something had happened when my husband had to force me to read the latest Harry Potter book before he would let me read another 150 year old biography on Joseph Warren. Or when I drove ten hours by myself to spend five days researching in Colonial Williamsburg. Or when I spent my fourth of July listening to the Declaration of Independence on my iPod. The American Revolution and all the amazing people who suffered, struggled, and sacrificed to make it happen have gotten under my skin.
You might never read The Life and Times of Joseph Warren (though I hope you do) but my desire is to make that world come alive for you. Let yourself be transported back in time. Let yourself go on an adventure. And let yourself fall in love with these characters who have become dear friends of mine. I've found that the people I spend the most time with these days have been dead for 200 years.
But not anymore. 1776 is back. Enjoy the Revolution. If you've ever finished a page of The Dreamer and wondered with excitement what happens next, this is for you.

Lora Innes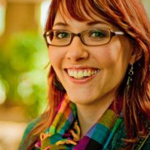 Lora Innes graduated Suma Cum Laude in 2002 from the Columbus College of Art and Design with a Bachelors in Fine Art. She worked for several years at the Artifact Group, doing illustration for clients such as Fisher Price, Mattel, McGraw Hill, Nickelodeon, Scholastic and Simon & Schuster. Now she writes and draws The Dreamer and wouldn't trade it for the world.