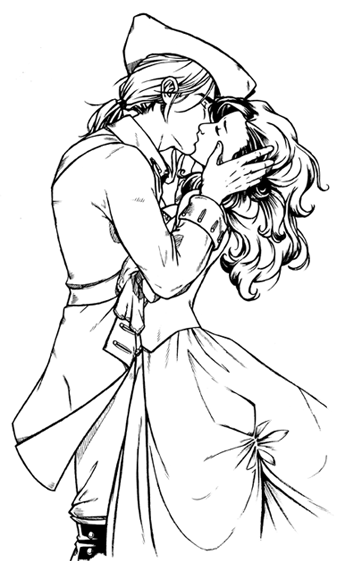 Beatrice "Bea" Whaley seems to have it all; the seventeen year old high school senior is beautiful, wealthy and the star performer of the drama club. And with her uncle's connections to Broadway theater, the future looks bright ahead of her. Little does she know that her future might actually be brighter behind her.
Bea begins having vivid dreams about a brave and handsome soldier named Alan Warren–a member of an elite group known as Knowlton's Rangers that served during the Revolutionary War. Prone to keeping her head in the clouds, Bea welcomes her nightly adventures in 1776; filled with danger and romance they give her much to muse about the next day. But it is not long before Beatrice questions whether her dreams are simply dreams or something more. Each night they pick up exactly where the last one ended. And the senses–the smell of musket shots and cannons, the screams of soldiers in agony, and that kiss–are all far more real than any dream she can remember.
A Word From the Author
I travel all over the country to promote The Dreamer at conventions and I regularly meet readers waiting for the next graphic novel to be released. I always encourage them to follow the webcomic updates online since the webcomic runs ahead. They usually say they'd rather wait—who wants to read only one page at a time?
I get it, I'm a book lover, too. But readers who only read the collected editions miss out on a huge part of The Dreamer experience. We're not just a bunch of strangers reading the same story at the same time. The webcomic updates created a community.
Many Dreamers have chosen to major in history thanks to an interest first sparked here. A few are even pursuing their masters degrees. Real historians participate in the comments and have fostered an interest in learning just through their thoughtful contributions.
When I launched the webcomic in 2007, I thought that the historical subject would be a liability to finding an audience. I hoped people would read the comic despite the history. Instead, history lovers across the internet connected here. Though the last ten years have made reading comic books cool, an Alexander Hamilton obsession still not.
So if you're the kind of person who would bake cupcakes for Nathan Hale's birthday, road trip to a historic site on purpose, or dress up in period garb on a hot summer's day, welcome home.
The Dreamer is based on years of research. The blog is rich with articles about the history behind the fiction, photoblogs from road trips historical places and guest-blogs from actual historians.
And if history just isn't your thing, there's room for you here, too.
As my friend Alan Evans says when he's pitching The Dreamer, "Come for the art, stay for the story."
Julie Wright, Colorist : Check out Julie's personal project, Riven Seal.
Alan Evans, Plot Assists: Check out Alan's personal project, Rival Angels.
Lara Willard, Copy Editor: Find out how she can help your projects here.
Meg Syverud, Layouts: Check out Meg's personal project, Daughter of the Lilies.