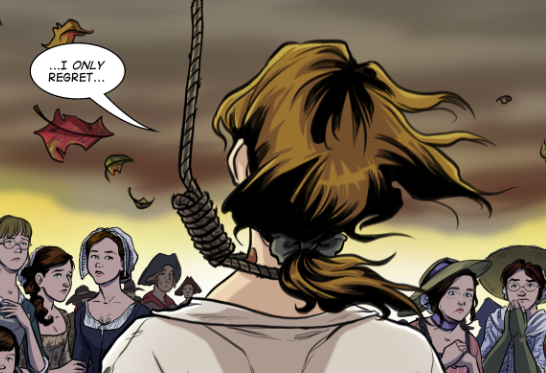 New Page #27!
This is the final page in Issue #16. We'll return with Issue #17 (the FINAL issue in Act 1: The Consequence of Nathan Hale) soon enough. But first, I think we need to catch our breath.
(At least, I do…)
I'll have a special tribute on Friday so be sure to check back as usual! Next week I have Nathan Hale related content lined up from a few of my friends who are my 'go to' people when I have a Nathan related question. I love picking their brains, so I asked them to share a little of their expertise with all of you.
On this page I wanted to pay tribute to George Dudley Seymour, (the original Nathan Hale fanboy to whom much of the preservation of Hale's legacy is owed). Seymour, in an essay included in his definitive work Documentary Life of Nathan Hale, says that he believed that Hale's emphasis when delivering his famous last words was on "My Country," as this was the most scandalous part of the statement.
The term "American" began as a disparaging insult. Now she was a nation that this young man and many like him were willing to die for.
Treasonous rebel.
We love you, Nathan. You will be missed.