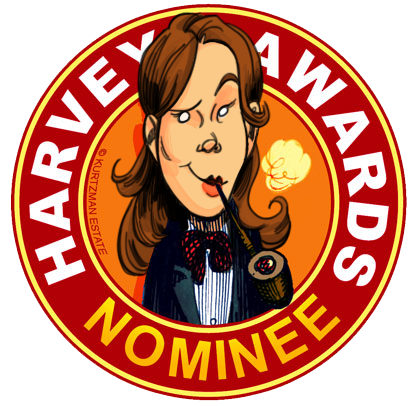 The 2013 Harvey Award Nominees were posted today, and The Dreamer was nominated in the "Best Online Comics" category!
From the website:
The Harvey Awards are one of the comic book industry's oldest and most respected awards. The Harveys recognize outstanding achievements in over 20 categories, ranging from Best Artist to the Jack Kirby Hall of Fame. They are the only industry awards both nominated by and selected by the full body of comic book professionals.
Of all the Harvey Award categories, this is the one I would love most for The Dreamer to win. This story lives and breathes online, as a part of a community of readers. When folks tell me they only read the graphic novels, I think that they are missing out on a large part of The Dreamer experience!
If you're just checking out The Dreamer today because you saw it on the Harvey Awards ballot, thanks for stopping by! The comic began online in 2007 and in 2008 IDW Publishing began collecting and publishing the online material into printed volumes.
What is The Dreamer about? The Dreamer is the story of a 17 year-old girl named Bea Whaley who begins having reoccuring dreams about the Revolutionary War. At first, they are just a fun escape from her routine high school life. But she soon realizes she is dreaming about events that actually happened—though she's dreaming details she never learned about in school. Are these just dreams, or are they something more…?
The Dreamer updated twice weekly from 2007 until June of this year, when we completed the Act 1 of the story known as The Consequence of Nathan Hale. The webcomic is taking a short hiatus so I can begin work on Act II: Countdown to Culper and will be back in January of 2014.
The Dreamer has been renowned by historians for it's attention to accuracy, as well as it's ability to bring history to life in a fresh, exciting way. If The Dreamer's online readership is anything, it is passionate!
This nomination brings The Dreamer's nomination total to four! In 2009 The Dreamer was nominated for Best New Series (IDW) and Best New Talent (Lora Innes). In 2010, Jenny Frison was nominated for Best Cover Artist for the variant covers she did for The Dreamer.
Will 2013 be our lucky year? Maybe fourth time is a charm.