First, I have to offer a huge thank you to Anime Boston for inviting me up to New England as a guest. We met Dreamer after Dreamer all weekend long. It was the best show I've ever attended for meeting my readers. Thanks to everyone who stopped by to introduce yourself, buy a book, or just tell me how much you love The Dreamer!
Well, this is my official post-con report. The greatest convention of them all deserves the greatest blog post of them all. So read on if you're ready.
Mike and I left Ohio early Thursday morning and drove straight through the day. Around 5pm we started seeing signs like this. Not only was Massachusetts ahead, apparently there were pilgrims there, too, and they were going to make us pay to drive on their roads.
"Bea" showed up early Friday and stuck around all day Saturday, too! People sure do love to take her photo.
Mike and I have been doing these shows for about five years now, but we finally had an extremely polished system for getting everything to and from the con, and also for displaying our products. Set up was smooth sailing which I'm not used to!
Dreamer buttons were wildly popular. I think half the fun was just digging through the bins and seeing what you could find.
Friday I was ambushed by a couple of Texans and a Nathan Hale plushy. I knew that Caera was coming up for the show, but didn't know that she was bringing Jen aka Takada Saiko with her and I also thought she wouldn't be there until Saturday. If you want to see their antics, watch Caera's Anime Boston video. [The incident takes place at 9:45.] Stealthy, girls. Stealthy like one of Knowlton's Rangers.
Another long time friend of mine who I finally had the honor to meet in person at the show was Tammy Eustis. Tammy has an ancestral connection to William Eustis, both governor of Massachusetts and classmate/ BFF of Dr. John Warren. Both Will Eustis and John Warren apprenticed under John's older (famous) brother, Dr. Joseph Warren.  Needless to say Tammy has an interest in the Warren family and, I'm sort of jealous of this next fact, she has a Warren Russet Apple Tree growing in her backyard.
For a long time Tammy was the only person I could make John Collins Warren jokes to  have them laugh back… and then… one up me. Friends like that? Priceless. So meeting in person was wonderful in and of itself, but she also brought me this birthday present! She made two shirts using a Spunkers Club commission she bought from me last year.
This… is a pretty insidery joke. The Spunkers Club was a secret Harvard club that Will and John belonged to that dug up corpses to dissect so they could learn anatomy. Secret because it was illegal. My shirt says "Warren 72," Tammy's, "Eustis 73." Cause that is how we roll.
Well, day 1 of Anime Boston was long. Anime shows typically have events going around the clock. Artists Alley was open until 10 pm both Friday and Saturday nights. This was me by the end of Friday:
Another person I was SO excited to meet was Tina Pratt, who draws the American Revolution British Invasion style in a comic called the Paul Reveres. I drew her a Warren sketch card because, well, obviously he's my favorite.
I think Tina was the only artist I bought swag from. But I just had to have prints… and Johnny Tremain buttons… and a Sam Adams beer cozy…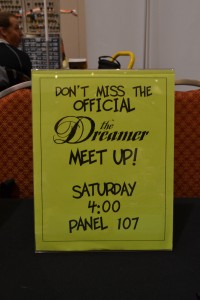 Well, the official Dreamer meet up was Saturday afternoon. I had posted a poll to see what attendees wanted to do. We wound up doing a little bit of everything: history lessons, trivia with prizes, a sneak peek at an upcoming short story with just enough time for a few Q & A at the end.
Want to watch a clip? Here is Historical Fact You Might Not Know About The Dreamer #8: the epic bromance of Benjamin Tallmadge & Nathan Hale. (Footage compliments Jen Russell, thank you!) My favorite part is when Dreamer Colorist Julie Wright shouts out "Buttons" as a possible nickname Nathan Hale's classmates gave him at Yale. Unfortunately I don't have any pictures of me and Julie. But she sat next to me at the show all weekend long. A lot of you go to meet her and have her sign your Volume 2s. So that was a lot of fun.
Several readers showed up in togas and white wigs, Dr. Warren style. Huzzah! It's a pretty epic cosplay that can out-nerd all the other cosplay at an Anime show, but The Dreamers pulled it off!
Here are a few faces whose names you might recognize from the comments. Half Moon! with her impressive collection of Dreamer buttons:
Brent! Need I say more?
Cody! Whose two friends were the most gracious, accommodating friends a girl could hope for. They had never read The Dreamer and yet endured not only the meet up panel/ history lesson, but stood around my booth for a long time while Cody geeked out with the rest of us.
Someone must've wanted to get my goat, because I was given orders to draw British officer sketch cards! The order was given through a friend mediator who looked in over his head as he tried to read me the description of what the mysterious benefactor wanted. He soon gave up, sheepishly passed me his phone with her email on it and asked if this made sense to me. LOL!  It did. Here are a few British characters who won't appear in The Dreamer. So anglophiles, enjoy!
The sketch card/trading cards were a huge hit. For $5 you could pick which image you wanted and I put the drawing of your choice on the back.
Saturday was an even longer day than Friday. End of the night one of my best friends in the comics world snuck up to say hello. It was an unexpected and well-timed surprise.
Monday, before I left Boston, I made a point to stop by the Old South Meeting House to take Robin DeBlosi up on her offer to give us a private tour of the steeple to see their newly reinstalled Paul Revere bell.
To get to the bell tower we had to go up into the balcony. Even that was fun!
The climb to the top kept getting tighter and higher and dustier and more and more precarious. Now might be a good time to mention that I'm afraid of heights.
…but it was well worth it! I had seen this lovely Paul Revere bell last summer when it was still downstairs in the bookstore at Old South.
Thank you so much, Robin for the invitation! It was well worth the climb!
Well, since it was my actual birthday, Mike and I pit stopped at Mike's Pastry in the North End to try out these legendary cannoli we kept hearing about. Half of my ancestry goes back to colonial New England. The other half, however, is a much more recent Italian immigrant family history. So cannoli in the North End? Pretty much the perfect birthday present to me.
After Mike's we headed up to Bunker Hill to meet Dr. Sam Forman for lunch. We got there a little early, so of course I went inside to see Dr. Warren and blow him a kiss.
Sam had made plans to meet at Bunker Hill and we would walk down to the Warren Tavern for lunch from there.
We ordered the "Warren Burger" (of course!) and talked about Mercy Schollay, Dr. Warren's love life, reenactments, cosplay, and the history of graphic novels.
Well, the day came to an end too soon and I had to drop off Mike at the airport to catch his flight back to Ohio. I drove down to Hartford, Connecticut to spend the night with a friend. But on the way I stopped in Ashford, home of my favorite Colonel, Thomas Knowlton.
It was pretty lovely and at dusk, a little bit haunting. Small farms were tucked away behind ancient stone walls and hushed up forests. I was driving on gravel roads thinking things probably haven't changed much since Thom Knowlton lived there.
The next morning my friend Rachel Smith, not just a Nathan Hale fan girl, but a Nathan Hale historian, took me to Harford to see a few sites before I had to go on with my journey.
And I finally saw in person my favorite statue of all time, the Thomas Knowlton statue outside the Connecticut State House. Hello, Thom! Have plans later tonight…? Before I even knew who Thomas Knowlton was I had an image of this statute printed out from google images and hanging above my drawing desk as inspiration for the characters in The Dreamer. I thought, "That guy actually looks cool. I have to find a way to make these Revolutionarily War dandies look tough in order to pull this comic off." Later as the story progressed and I decided to write about Nathan Hale and thus Knowlton's Rangers my research led me back to this statue. "Wait, that's Thomas Knowlton? He's been hanging on my desk this whole time!"
Well, I left Hartford Thursday morning and drove to my grandmother's house in the mountains of Pennsylvania. Even though I wasn't able to go my house in Ohio, Grandma's house feels like home! I went to sleep that night at 8pm and slept for 12 hours.
Since it was my birthday, my sister brought me a present: Revolutionary War toy soldiers! And my aunt baked me a Dreamer cake…
Well, all good things come to an end and Thursday morning I was on the road again bright and early to make the drive out to Chicago. I got there as the sun was setting, but C2E2 is another post for another day…
Thank you, Boston, for a lovely time. Perhaps we'll be back next year!