I'm back from celebrating Dream Teamers Beth & Liz's birthday at Disney World Florida! Not only did we have a great time… but there were some fun moments from the trip that I wanted to share with you. Stuff that I thought Dreamer readers would enjoy!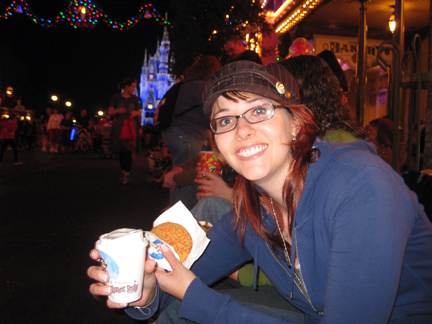 (Me at the Very Merry Christmas parade, with free cocoa, cookies and fake snow!)
So read on if you're interested!
The first night we went to Epcot… and around the lake are different "countries" you can visit, featuring accurate architecture styles, authentic food, and imported gifts in the souvenir shops! Featured prominently in the center was… America!  Here I am at "Independence Hall."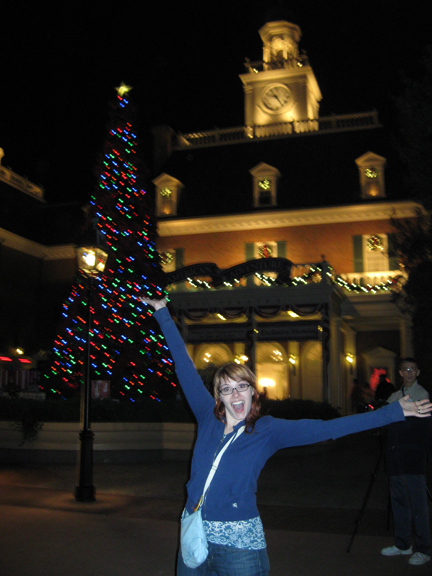 This was fun because I've never been to the real Independence Hall in Philadelphia, where the Declaration of Independence was ratified in 1776.
We stayed at the Port Orleans resort (because I adore New Orleans, and Liz was gracious enough to book our room in the French Quarter portion!) This musical alligator at the hotel reminded me of…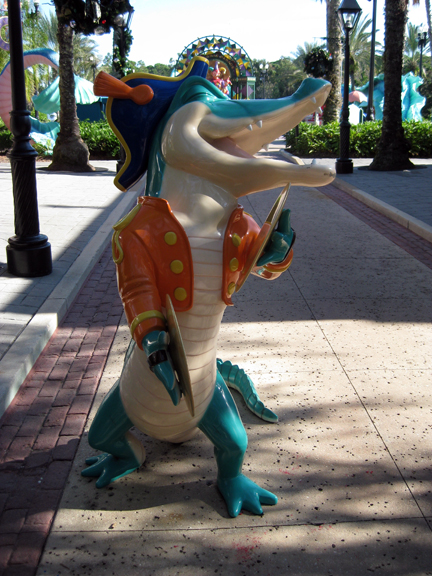 Revolutionary Naval Commander John Paul Jones!! So of course I took my picture with him!
(Why isn't that guy behind me trying to save me??)
Who knew that in the Magic Kingdom there is a section of the park called "Liberty Square"? Beth was so excited to take me there. It was like a little Disney-fied Williamsburg.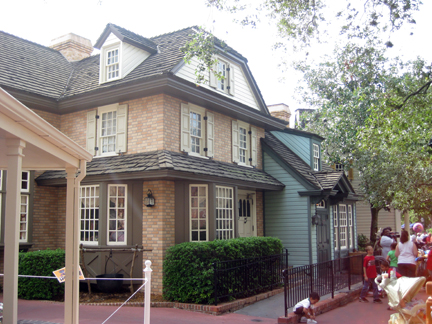 All of the buildings had numbers above the doors, and if you added "18″ before that number, you'd get the year that architectural style was popular. Fun, eh?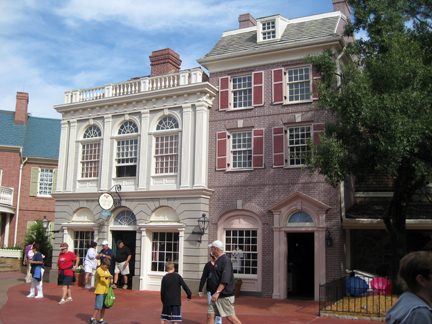 In the center of Liberty Square was a Liberty Tree! I love the South, and I adore spanish-moss covered live oak trees, but I had to chuckle that the Liberty Tree was a giant live oak. Just like Boston!  ;)
The Liberty Tree had thirteen lanterns hanging from it, one for each of the thirteen original colonies. Liberty Trees were popular in the years preceding the Revolution as a spot for Patriots to assemble, protest, and burn and hang people in effigy. Not a surprise then that the British often cut down the liberty trees to punish unruly Colonials.
The attention to detail was evident everywhere we went. Here in Liberty Square, the shutters were drooping, to simulate leather ties used during the Revolution.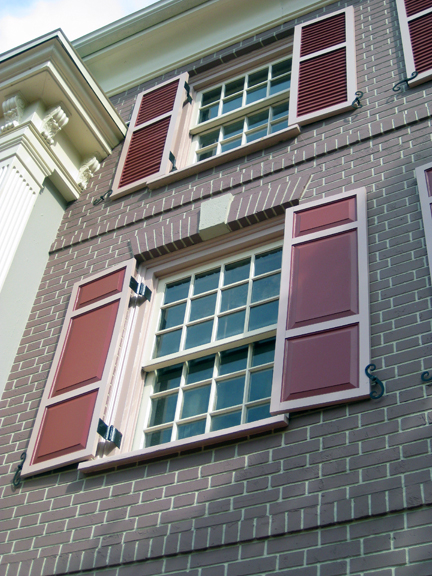 Metal was scarce during the war, because it could be melted down and turned into musketballs. Often patriotic families would take the metal hinges off their shutters, and replace them with leather ties. The downside was the leather would wear down and stretch, and then the shutters would sag.
There was a Liberty Bell, which was cast from the same mold that the original Liberty Bell was cast from!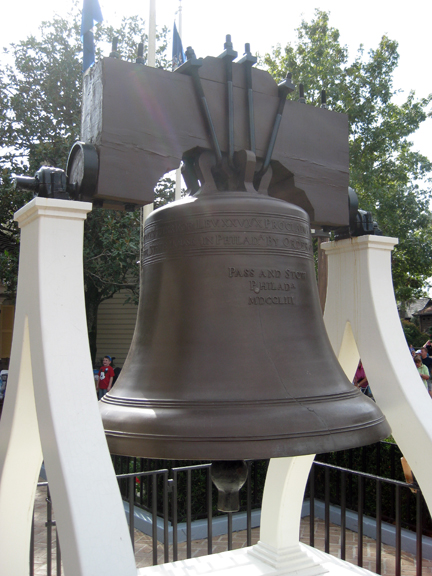 Inside the Hall of Presidents were a few artifacts that caught my eye. Such as John Adams's coat buttons and family crest on a seal!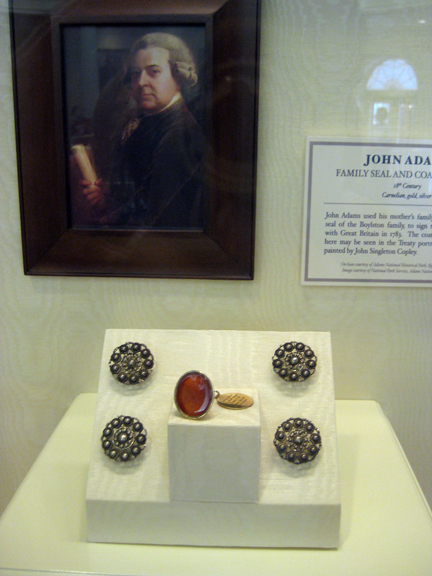 Or James Monroe's Presidential tea set!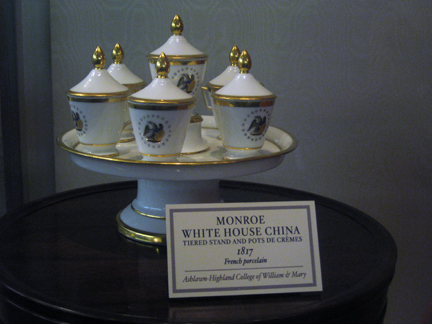 Our favorite thing about Liberty Square was a odd, brown gravel path in the middle of the walkways. It was put there… to simulate the waste that was thrown out of windows and onto the streets during this period. Yup. A big, brown river of poop.  Eww, and Beth stepped in it!!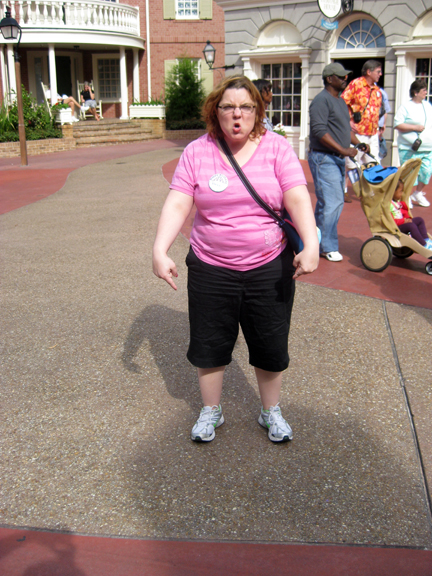 And so did I.  :)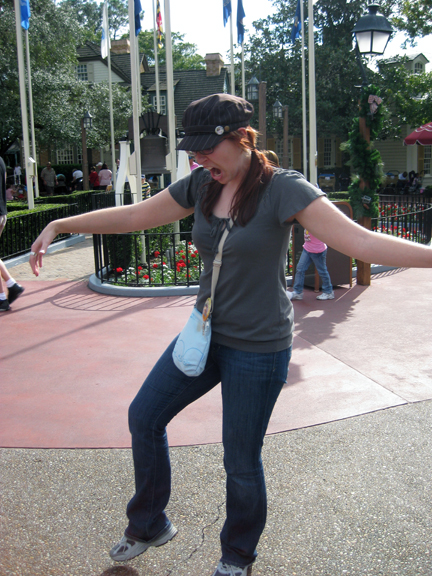 Besides history fun, there was so much artistic inspiration I got from this trip! I don't think most people are surprised to find that Disney cartoons were a huge inspiration on my work. In fact, when I saw The Little Mermaid in the theaters when it was released in 1989 (I was nine!) I knew I wanted to be an artist. I even attended the college I did because their animation program was renowned by Disney. Luckily by senior year I realized I was really a comic book artist at heart not an animator, but I still owe a lot to those old movies.
We went through the Walt Disney (the man) museum, and it was so inspiring!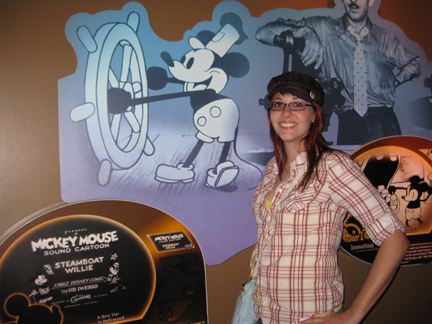 (I love Steamboat Willie!)
And lookie, the original Mickey Mouse plushy.  So weird!!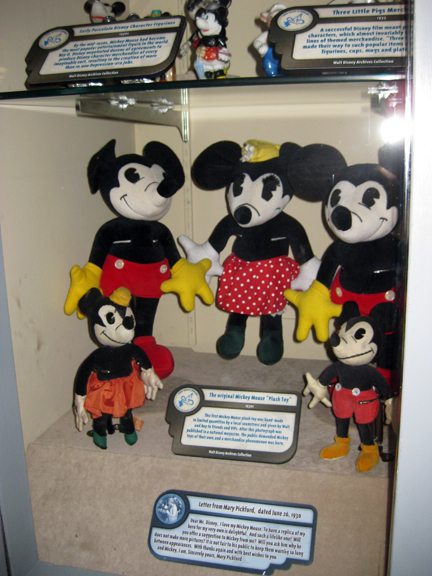 We got to see tons of The Princess and the Frog concept art, which was fabulously beautiful. My love of Disney animated features combined with my love of The Big Easy–it was artistic Crack for me!
Oh, and interestingly enough, when we checked into the hotel, my name was spelled "Laura" on my room card, despite Liz spelling out "L-O-R-A" over the phone. I asked the woman at the ticket window whether I had to spell my name "Laura" on my park pass, since that's how I had checked in. She said, "Nope! You can be whoever you want. In fact, you could be Cinderella!" Any guesses as to who I put on mine?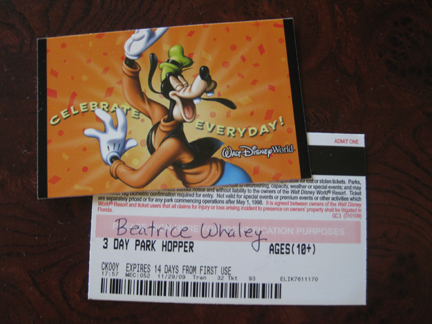 Bea is now officially scanned into the Disney World database as a guest! Well, we had a great trip, and once more I'll put a hearty "Happy Birthdays" out there to Liz and Beth!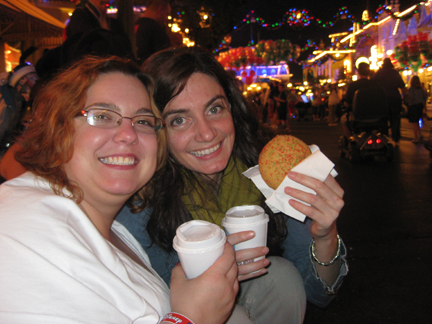 (As for Dreamer updates… I have a sneaky suspicion that I won't be starting Issue #9 until after Christmas. Stay posted, I might get the cover done before then, but I want to start the issue off without any delays, so I'd rather wait a few weeks than miss updates once we get going.)