Well, we got back into Ohio last night, or… this morning, I guess. It was a long drive, and Mike was heroic enough to do the entire thing himself because I was so wiped out from the show. (It took us 45 minutes to get the two blocks from the convention center to the Interstate because the Ravens game had let out the same time as we were leaving!) Apart for the late departure from Baltimore, there was not much sleeping for me over the past few days, and I even started biting my fingernails again, which is not good. But the suspense is over, and I'll end it for you, too: we didn't win either of the Harveys. But the not knowing was worse than the not getting!
My dear friend Bryan Glass won Best New Talent, and there is no way that I could have appreciated that award as much as he will. It wouldn't have meant to me what it means to him. I know that we comic people love what we do, and we're mostly chipper and happy in public, but making comics is really, really hard. Selling them is hard. Finding a publisher is hard. Getting them into bookstores is confusing and tricksy. And making money is nearly impossible. I think everyone in comics starts out doing it for the love of the game, and it's that passion that keeps you through long, hard years where the dream seems impossible. Bryan has been working in comics since the early nineties, and now, nearly twenty years later the industry has finally recognized his talent! All the suffering is not in vain, and sometimes we creators just need that morale boost. For my friend, it came in the form of a Harvey Award. And I'm really happy for him. Congrats, Bryan! You really are the best!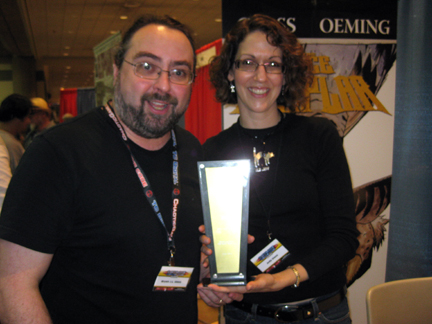 (And if you haven't read Mice Templar yet, by all means, put it on your Christmas list or something!!)
Now about the show! The best moment of the weekend for both Mike and I was when Sarah Gillig, long time Dreamer fan, walked up to our both Saturday morning looking like… this!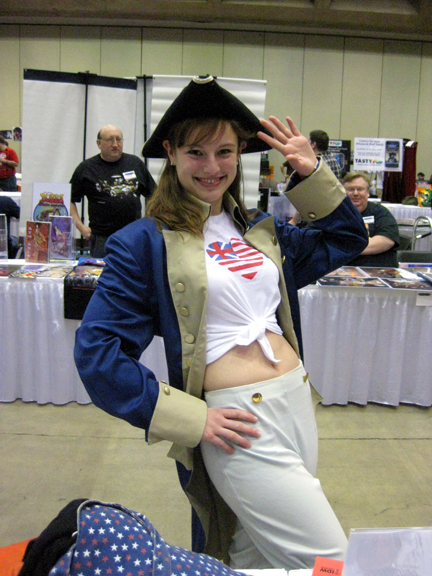 Best. Cosplay. EVER!!!!!!!!!!!!!!!!!!!!!!!!!!!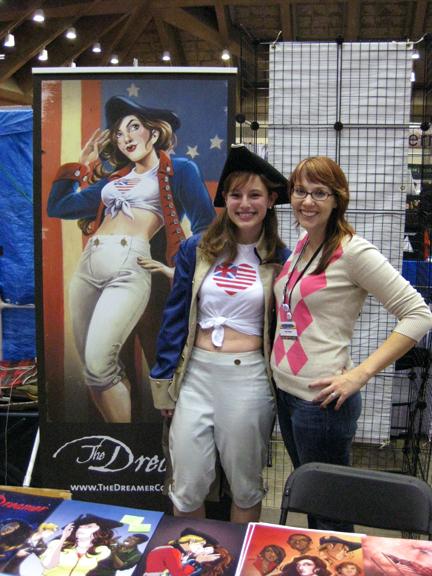 I swear that Sarah is going to be my new model for Bea. Next Graphic Novel cover will involve a photo shoot with her! She was so adorable, and she wore it all day, both days! And even took flyers with her so that when she walked around the Con she could direct people to The Dreamer! We kept her at our table at least 50% of the time and she was the perfect booth babe!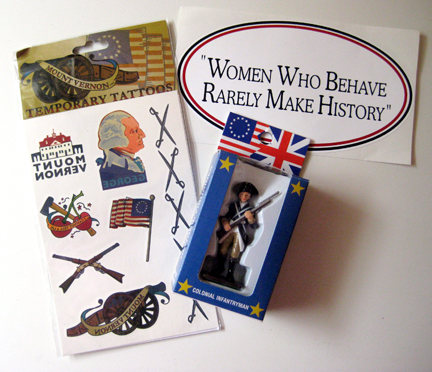 My buddy Brian Maze (Freak Central) showed up Saturday morning and threw a MOUNT VERNON GIFT BAG at me and said, "Congratulations on the Harvey Awards!" Contained therein was a metal Continental Solider (which I put on my table all weekend and is now on my desk!), the Women in History bumper sticker and… GEORGE WASHINGTON TEMPORARY TATOOS!
We hung out with our awesome friend Steve Sunu all weekend. He writes for Comic Book Resources and he was sort of like the Flash all weekend. A big, Steve-colored blur that kept passing our table on his way to interviews and panels.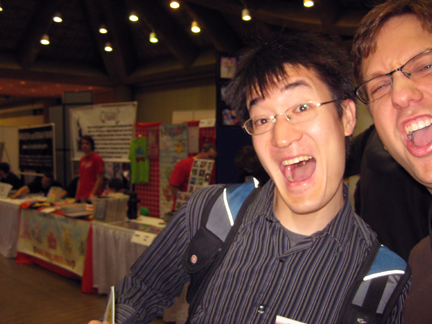 (I think his awesome velocity is pulling mike into his speed-vortex! It looks painful!)
I did some fun commissions this weekend! I love when someone brings me a blank sketch cover comic and asks me to draw on it. I seldom draw Super Heroes anymore, but they're the reason I got into comics. Here's a Black Cat cover I did: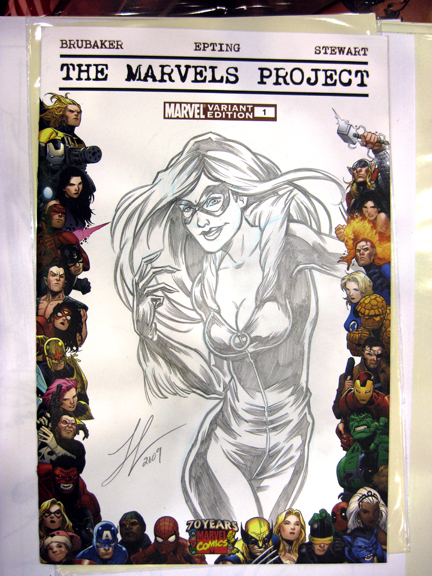 I did another Rival Angels/Dreamer team up pic for Alan Evans (who's table was right next to ours). This one completes the set! It's Brook "Aphrodite" Lennox posing with Bea's favorite classmate, Shantel the cheerleader: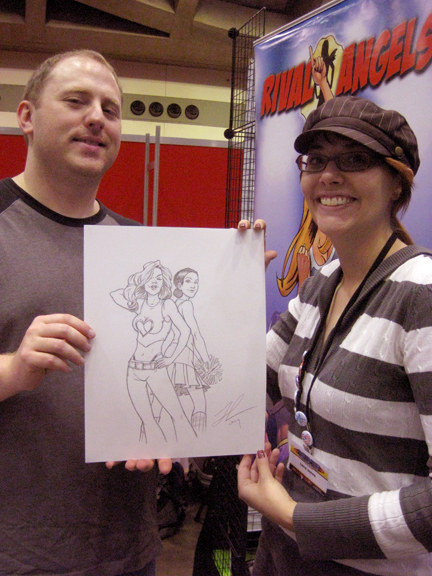 And while I was working on a Harley Quinn commission, Harley Quinn herself came up! I was relieved she didn't steal it, because, you know, Super Villains, it's hard to trust 'em! But she posed nicely with the drawing and even returned it when done: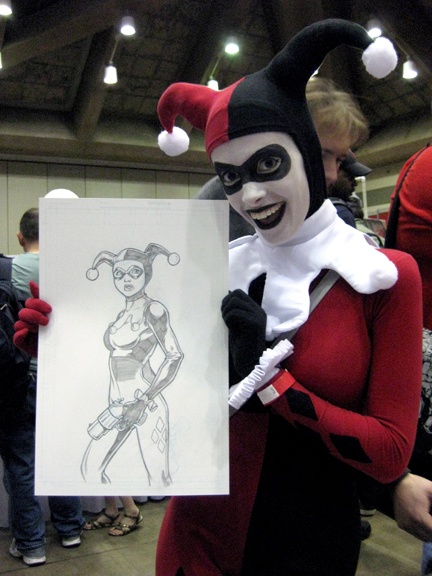 Speaking of the Cosplay… the Bolder (from Avatar!) was walking around with a giant stuffed Appa, and was selling stuffed Momos & Appas out of a bag. No one stopped him. I guess because The Bolder takes issue with rules!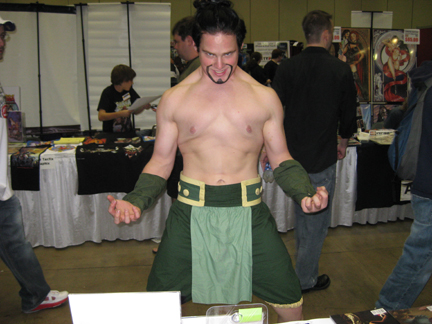 Whether or not I got a stuffed Momo well….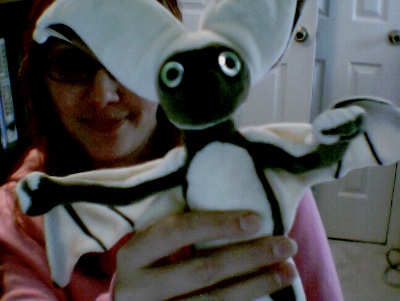 Speaking of plushies, Scott Sava (The Dreamland Chronicles) stopped by my table on Sunday and dropped me off a stuffed Pattington! I was so sleepy that I hugged him the whole drive home. He made a good pillow when I was curled into a ball.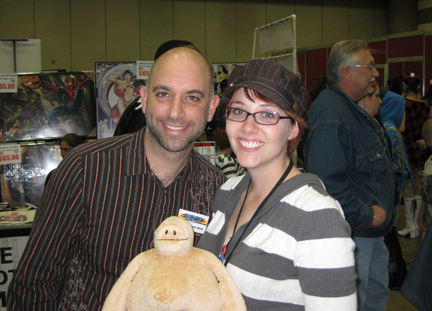 I look so sleepy there. I didn't sleep much all weekend.  That's because the night before was the Harveys! I hung out with Robin Dale and Thom Zahler (Love & Capes) before dinner, brushed elbows with Frank Miller at the bar, and at dinner we sat with… well, my parents!  :)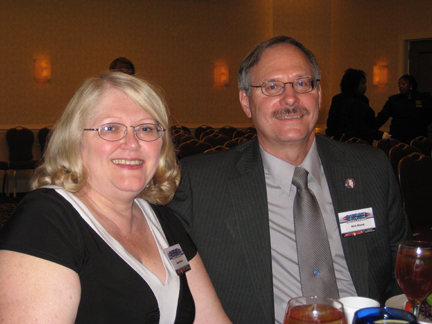 And we also got to eat with… Steve Englehart and Chris Claremont. No, I'm not making that up. And the guest list outside of our table was pretty surreal. Joe Kubert, Neal Adams, Terry Moore, Jim Valentino, Brian Bendis, and Scott Kurtz emceed the evening. I dunno… pretty much everyone was there! And us.  :)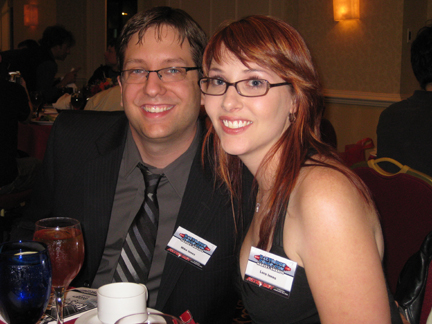 (You can read Steve Sunu's LIVE from the Harvey's full report here!)
As for this Friday… I think that I'll only be able to update one page. Advanced warning! I'm sorry! We've just been on the go for the past few months and it all caught up this weekend. I was down to the wire Thursday night, working till 11 PM the evening before we left for Baltimore, so any semblance of a buffer I may've had is gone. And my sister's birthday tomorrow so I can't work late because we're going out to celebrate. And also… I slept through most of today. :)
Love you guys! Thanks for understanding!