I have a fun new piece of Dreamer Merchandise for you! Introducing the Bea Dress Up Doll! Right now in the Store, you can buy the doll which comes with three outfits to mix and match!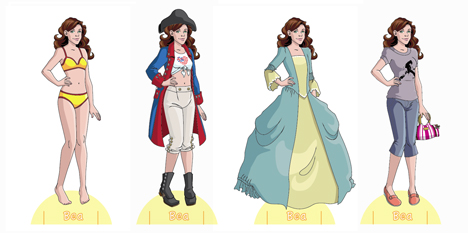 Just print Bea out on regular paper (or on magnet paper if you have it) and cut her out! Then have fun mixing and matching to create your own outfits. I'll be adding new clothes regularly, so you can continually expand her wardrobe!
Each PDF is immediately available for download when purchased. Complete the transaction with PayPal, and you will be given an option to "Return to Merchant." Click on that link to be directed to a page where you can download your PDF. This first pack is only $6 for the doll and three outfits. Future outfit-only updates will be a mere $3 for two outfits. And more characters will be making an appearance as well!
So get on board now, it's just another great way to support The Dreamer! Now that we have Julie Wright on staff, your financial support is more important that ever. Small donations like this go a long way toward keeping updates consistent and on time. So thank you in advance!