Here's part 3 of my trip to Boston posts. I think there's only one more after this. But this one is a doozy! After all, it's the FREEDOM TRAIL!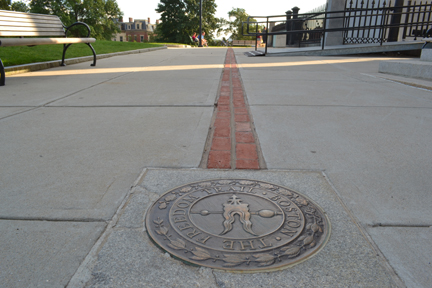 The Freedom Trail, if you've never walked it, is a red, mostly brick line that runs through the city past sites significant to the American Revolution. It is pretty much the most epic trail there ever was. I would like to take up residence on this trail. Or become a tour-guide on this trail. Or pretty much anything else that would give me an excuse to walk up and down it every day.
Well, read on to hear all about it, including a kind of spooky Dreamer-related event that happened at Bunker Hill…
One of the first (and coolest) places we stopped was the Old Granary Burial Ground. If this is not your first time on my blog, you know how much I love visiting the graves of people I admire. (Look out, President Adamses, I'm coming for you next!) This one spot was like the mecca of the Revolution. Dr. Joseph Warren himself was buried here for a time, until his family moved him. But some names you might recognize…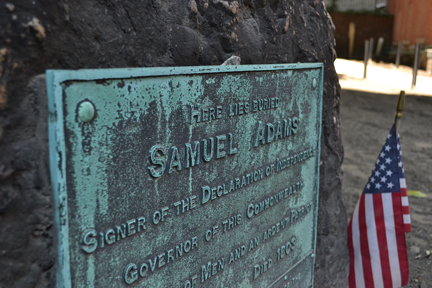 Dr. Warren's mentor and dear friend, and another of my favorite patriots, Samuel Adams himself. Without those two men who knows if we even would have had a Revolution, or at least if it would have happened as soon as it did. I gave them each a salute, and I'm not sure if they saw me or not, but it was nice to stand in their presence anyway.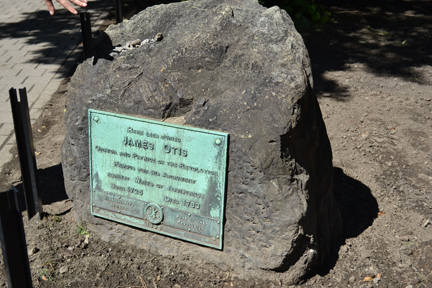 Jame Otis is another phenomenally important early Revolutionary. He became unreliable for the Cause at the end, but he was the hero of all the men who you have heard of. He was eloquent, riveting, persuasive and inspiring. …until he became unstable and more than a little bit crazy.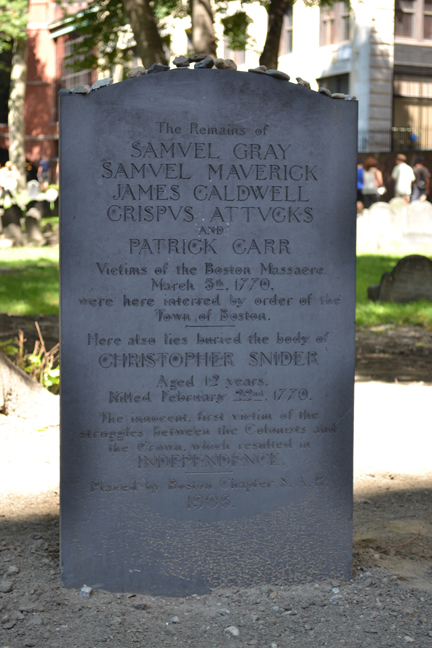 Sam Adams allowed part of his family's plot to be used for the victims of the Boston Massacre. And there they are, to this day, right next to him on his left.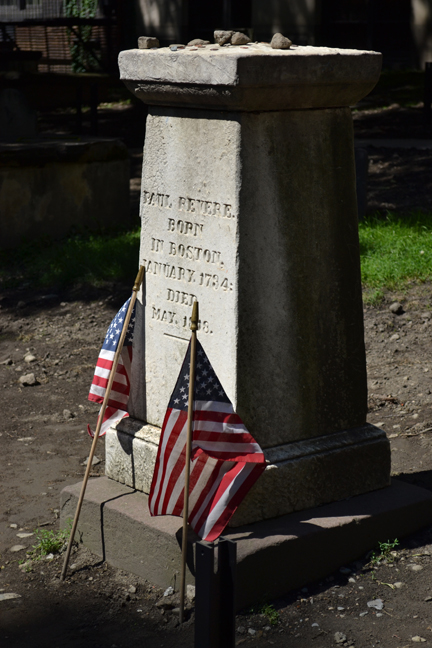 You can't visit Boston without feeling the city's unending love for this man: Mr. Paul Revere. He has statues and houses and his fingerprints are everywhere. I love it! Once, one of my friends told me Paul Revere was overrated because he wasn't even the only rider that went out "that night" and I think my head turned completely around in a circle before I corrected her not only about his involvement on April 19th, but everything else he had done for the Revolution up and to that point. (She backed off pretty quickly.) This marker above is a newer one. His original tomb stone was still there, however, right next to it. Simple, without even a set of dates. After he gained significance in history, the above stone was paid for and put in its place.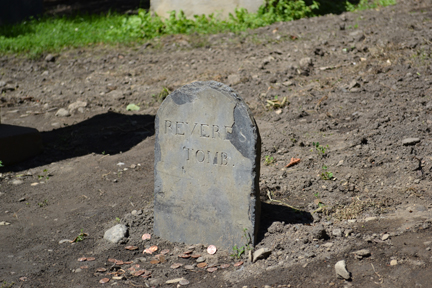 And you can't visit the Granary Burial Ground and not notice that John Hancock is there too. His face is on his grave. I just… I have no words. But I love the guy. I just hope he didn't design this obelisk himself.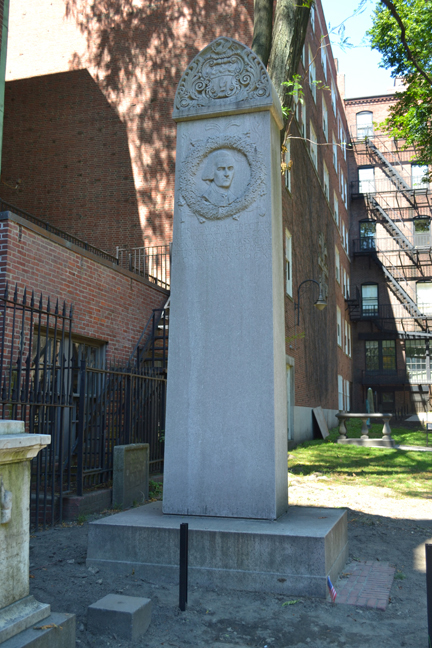 Enough looking at dead people… There's a lot more to see and do on the Freedom Trail! Such as the Old South Meeting House!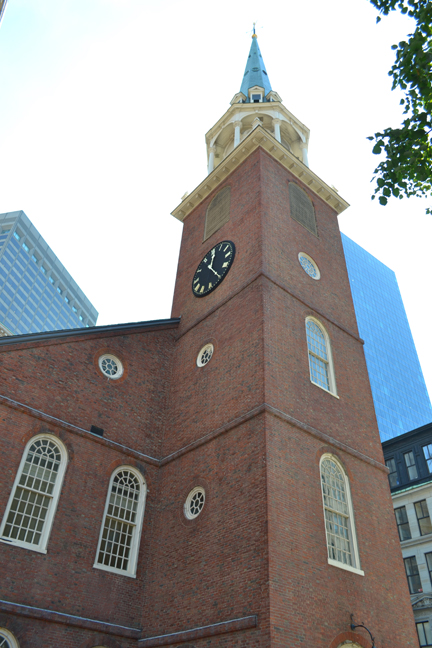 This was a hot-bed for Revolutionary treason. Many a patriot graced its pulpit to stir up the populace into civil discontent. But my favorite moment from its history is the 5th Anniversary of the Boston Massacre when Dr. Joseph Warren, donning a black toga with an olive wreath on his head (he was pretending to be Cicero, okay?), climbed in through a window (because the place was so crowded) and emerged at the podium to deliver his moving speech for the memorial service. In fact, that happened right here: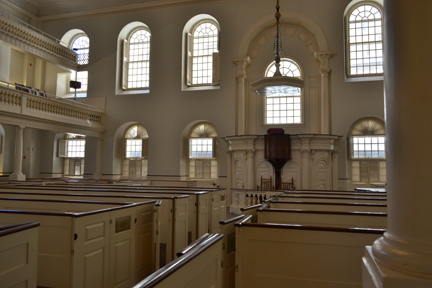 It's such a beautiful building. I stayed in here taking pictures forever. In one of the display cases- be still my heart- they had a copy of Dr. Warren's speech! I think it was an original…!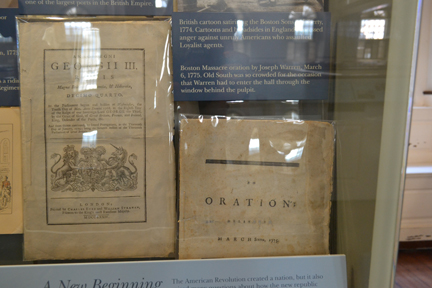 (Now why don't they sell that in the gift shops?!)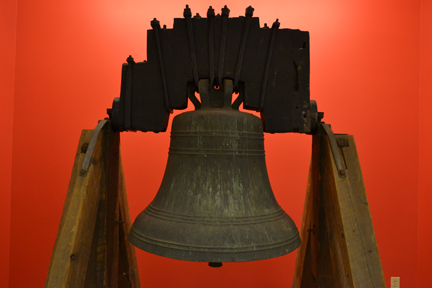 This was an actual bell cast by Paul Revere! I was so excited to see it! But by the time we finished the Freedom Trail we'd seen three or four of them, and suddenly it felt like everyone had a Paul Revere church bell but me.
And talk about amazing artifacts, here is actual suit belonging to Mr. John Hancock himself~! It was lovely. I just wanted to touch it- it looked so soft and fuzzy. I guess that's what the glass is there for.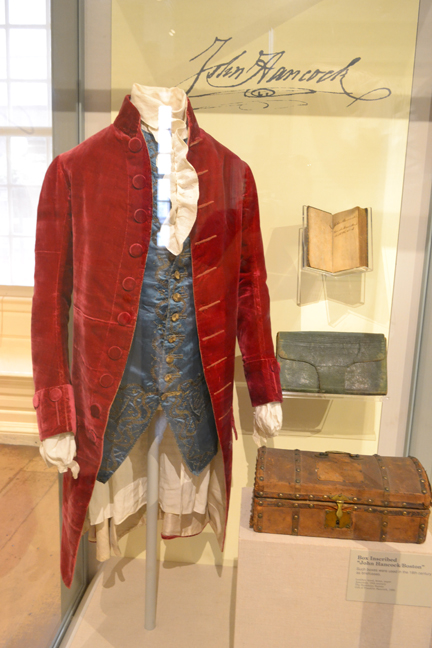 From the "other side" these dishes belonged to the hated Governor Thomas Hutchinson. As the docent explained, any artifact from his household is extremely rare because, if you remember your history, a mob of Liberty Boys destroyed Hutchinson's home and most of his belongings. In fact, he barely escaped with his life. But somehow these plates made it through. It's so cliche, but really, I wonder what on earth these things have seen…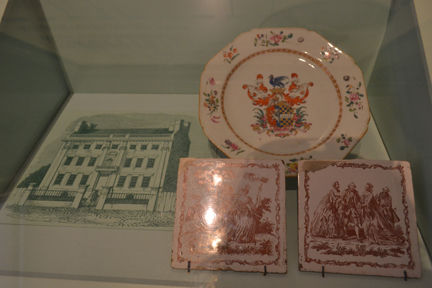 This was maybe my favorite discovery in this little museum: a lantern from Boston's famous Liberty Tree!!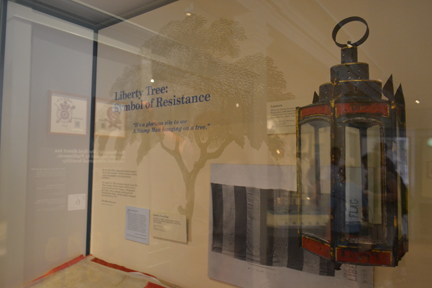 And last but not least, a vial of that loathsome tea from the East India Company that was thrown into the Boston Harbor. Or… was it? This vial was smuggled off the boat in one of the Patriot Protestors' boots! What a scalawag!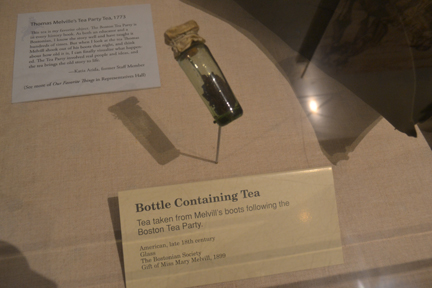 Are you ready for more dead people? How about Governor Winthrope, the first governor of Massachusetts? He's sort of a big deal.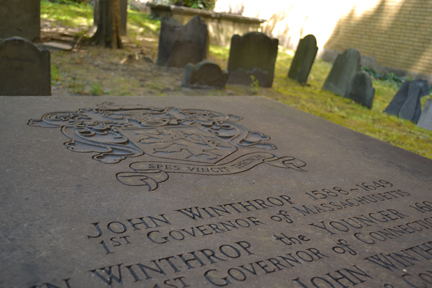 Or William Dawes, the other rider with Paul Revere on the night before Lexington and Concord. His heart was in the right place, but he just didn't have the same pull in the community that Revere did and his ride was sort of a flop.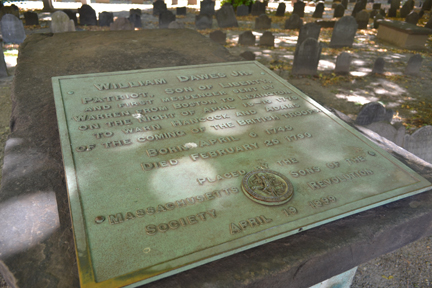 And we passed this iconic spot on the Freedom Trail many times. It's Sam Adams! Outside of Faneuil Hall! The base of his statue said "Incorruptible and Fearless." PERFECT.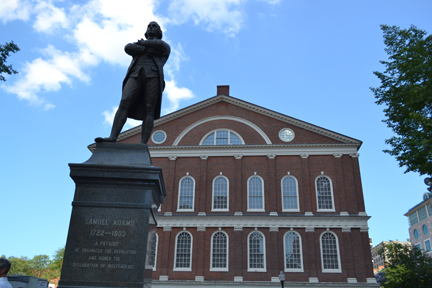 Okay, I promised you more Paul Revere, didn't I?  How about his statue in front of the Old North Church where he hung the famous lanterns?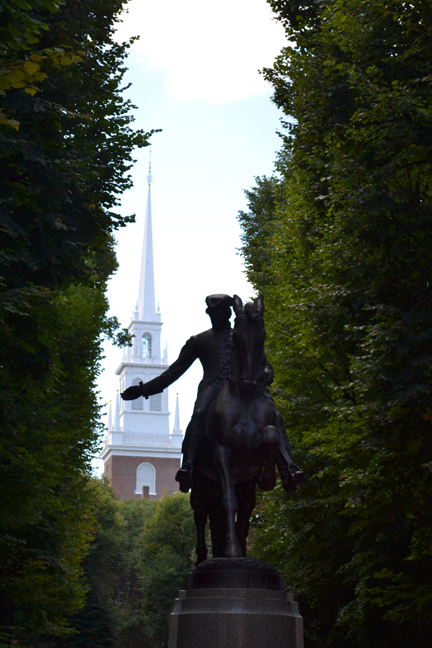 Had enough? No? How about his house then!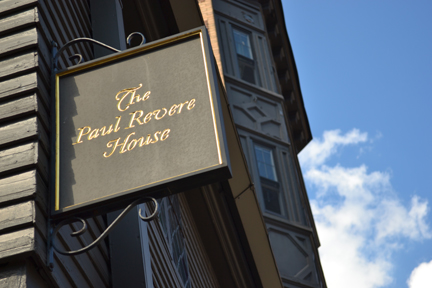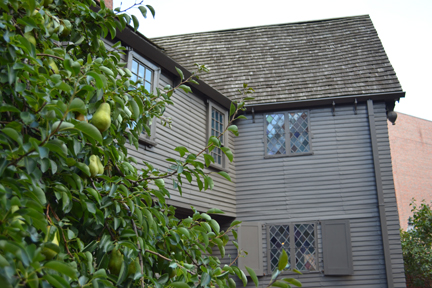 I had heard about a new stop on the Freedom Trail that isn't an official stop, but is worthy of checking out: The Printing Office of Edes and Gill.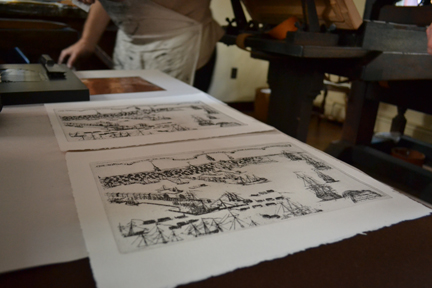 The gentleman who owned the place had bought an authentic press– one of only four in the world that had never been altered– that was contemporary with the presses that Paul Revere (yup, there he is again!) would have made his famous engravings on.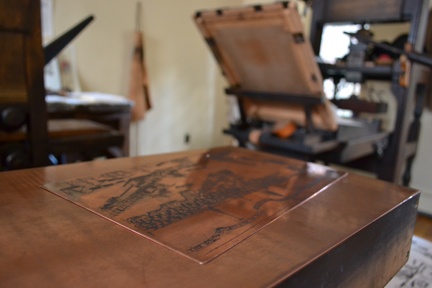 To be honest, apart from Bunker Hill, this was the best stop on the entire trail. The living history aspect of it stood out in stark contrast to all the other buildings that were either empty, or full of artifacts in glass cases. This man, Gary Gregory, in authentic 18th century dress, made several prints while we stood and talked his ear off.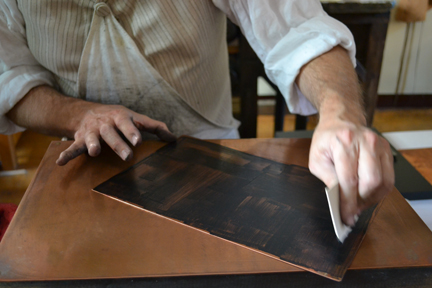 The engravings were lovely and he explained every part of the process. It was so… well, Colonial Williamsburg. And the Freedom Trail needed it badly. Stop in if you're in the area and buy something from him to keep his shop open and running.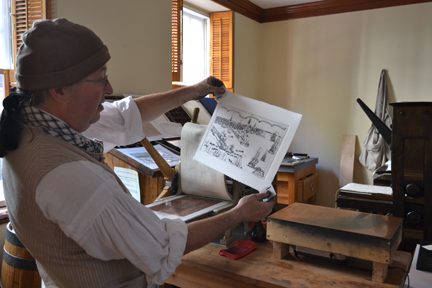 It was just about then that my friend and tour guide Steve realized that we were running out of time if I wanted to go to Bunker Hill. So we skipped going inside the Old North Church and ran– and I mean hustled really, but you know, for me it was running– to Charlestown, to Bunker Hill.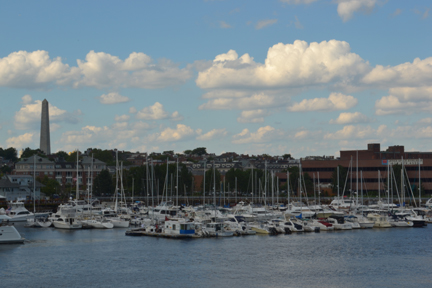 (There you are, Bunker Hill! I can see you! But you're not *huff* getting *huff* any closer!)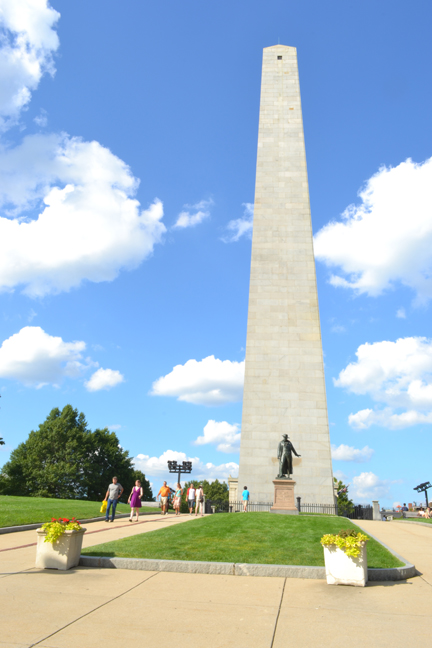 (Oh, don't worry about me, I made it in time!)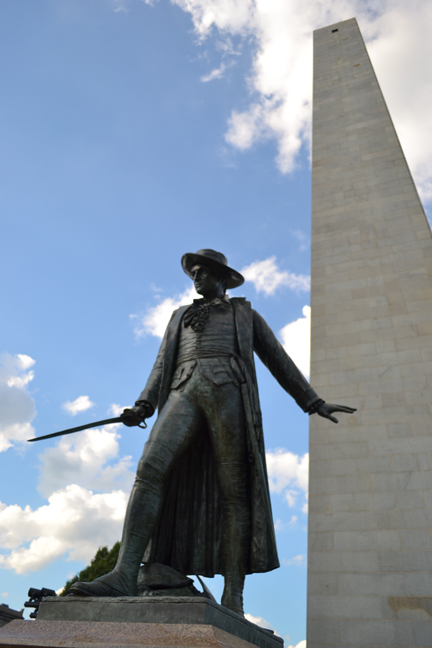 Hello, Major Prescott! You are awesome! (I gave him a cameo in The Dreamer once. "He fights like a man with nothing to lose." You might have missed him.)
Bunker Hill was the reason I came to Boston. And… it was lack of planning on my part but I didn't realize they offered a battlefield tour, so I missed it! The Park Rangers tried to help me out best they could but they didn't know who Thomas Knowlton was. So they pulled out their binders of reference materials and let me take pictures of their notes instead. Thank you, Bunker Hill Rangers!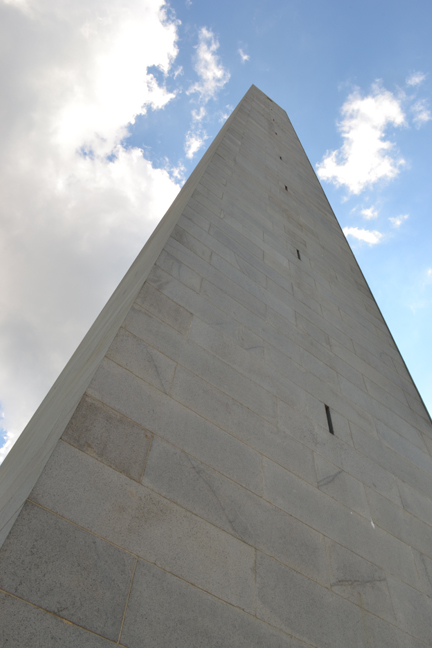 We had to climb that thing on foot. Those prison-esque slots in the side were the only things you could look out of. It was pretty creepy and I was glad that Steve didn't tell me how many stairs there were (he looked on his iPod) but I kept counting them off (there are painted numbers, I'm not that neurotic). I think I was tired around step #50, but made it (with a few breaks…!) all the way up to 300.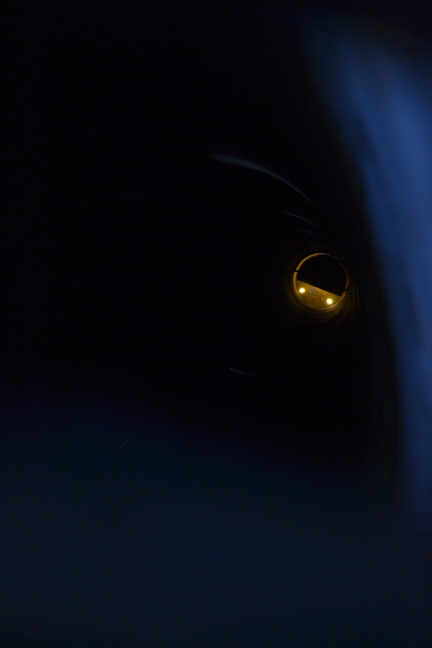 While everyone else was up there looking out at Boston, I was the only one looking down. They had a grate the whole way to the bottom. I'm afraid of heights. But I walked out on that thing and took this picture. You should be proud, I was. Legend has it that the monument is built on the exact spot where Joseph Warren died. Which made the whole climb totally worth it.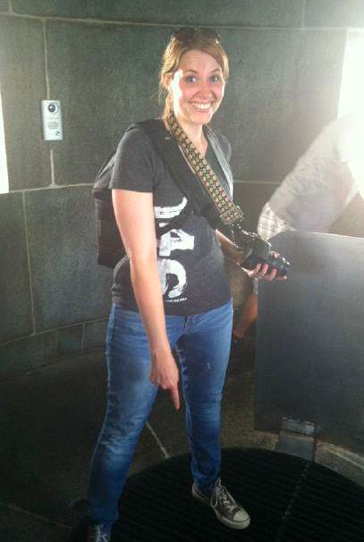 So I spent the last day of my trip with Joseph Warren's latest biographer (more of that to come) and he told me that's a load of hogwash. That Warren was most likely killed in another spot on the hill, but all of the Park Rangers believed it, and the tour guides told it, so even if it's not actually on the right spot, it certainly is a lovely gesture. And, in the spirit of the idea that such a mighty monument, seen all over Boston, would be put up to not just commemorate the battle, but also in a specific spot to honor my favorite hero. Well? I can get behind that. Even if it is a few yards off.
So inside the visitor's center, be still my beating heart, a lovely, lovely Dr. Warren statue. He even has his toga draped over his shoulder. I heard this was supposed to be him at the Boston Massacre Oration speech I mentioned earlier. Better than him with a hole in his head at Bunker Hill.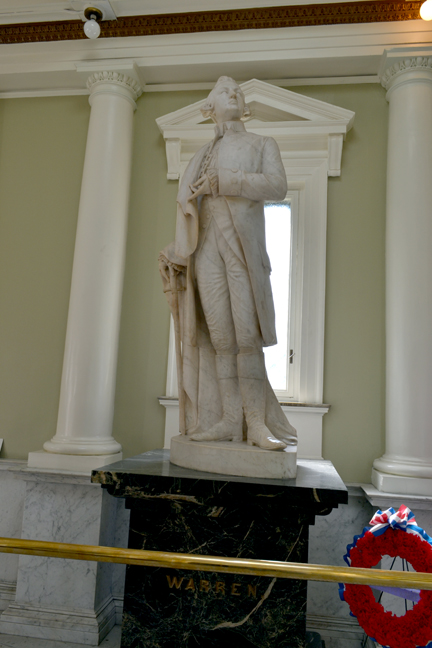 I was really dying to know where the Rail Fence was, because that was the part of the battle where "Captain" Thomas Knowlton served. He worked with his group of Connecticut men all night to fortify the rail fence. And then, as the sun came up, he saw a gaping hole in the defense where the British could have easily streamed through. Instead, they worked hard, closed the gap, and some of the heaviest, bloodiest fighting that day happened along that fence.
I found these stairs…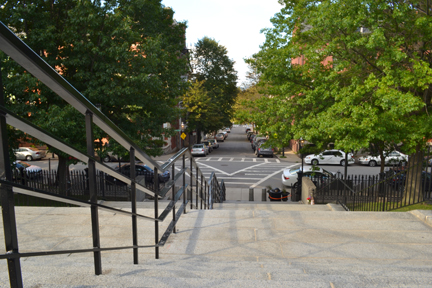 …leading down to this plaque, on the backside of the monument. I found it!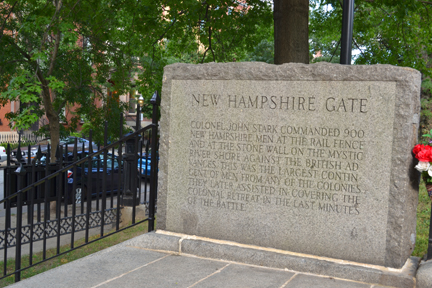 Something weird happened then. Steve and I would have been happy to never walk on another stair so long as we lived after climbing the monument. But something felt… fishy. So I kept walking down, maybe to get the breadth of it or something, and when I got to the bottom of the stairs, well, what I found was serendipitous.
I draw from reference a lot. And since, before this trip, I hadn't been to Boston since I was a teenager, I pull reference from the internet to draw Boston city scenes in the comic. I want it to look authentic. But this was spooky. At the bottom of Bunker Hill, right exactly on the rail fence that Thomas Knowlton defended and was noticed for his abilities, was a street that I had drawn into The Dreamer!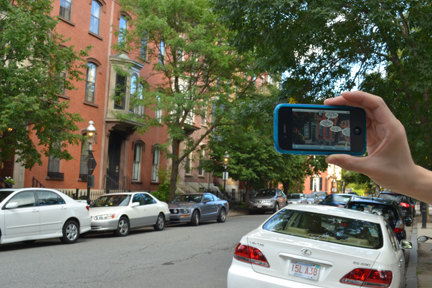 Steve pulled up the page in the comic, and we took a picture of his iPhone with my drawing in front of the real street. I turns out that Bea's voice lessons are in Charlestown… at Bunker Hill… on the Rail Fence… in the exact spot that Alan Warren and Thomas Knowlton met and became friends…!!!
When I turned my head to the right, this is what I saw: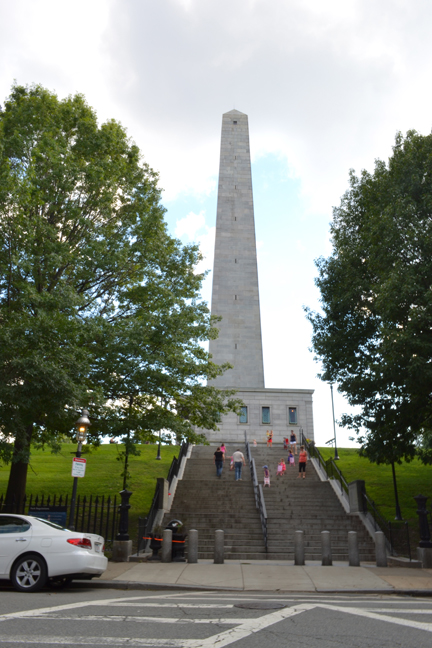 What a magnificent view. And a freaky coincidence.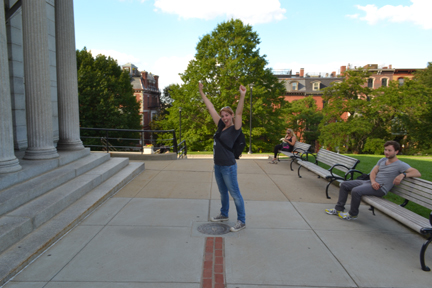 Well, I made it to the end of the Freedom Trail! What a wonderful, Revolutionary day that was!