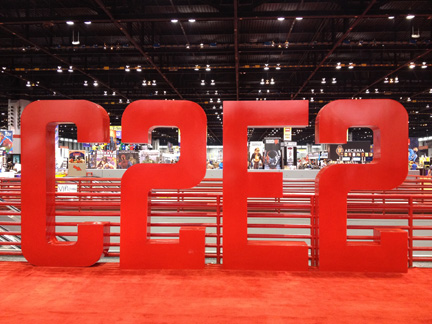 If Anime Boston was the show for fans, C2E2 was the show for friends. When Volume 1 sold out less than a year after it had been released, it was not financially feasible for me to do comic conventions until the reprint. So I took 2011 off from traveling the convention circuit. Needless to say, it was good to be back. I missed the scene, I missed my friends and I missed my fans.
And listen to interviews I did for my podcast Paper Wings live from the show floor!
My friend Trevor Mueller was kind enough to let me stay at his place for the whole weekend. Sadly, I don't have a pic of us from this show. Well, if you've been following my convention reports for awhile, he's the bald guy in the photo comic I can't name here. Click the link, I'll bet he looks familiar.
I spent the weekend sharing a table in Artist Alley with Alan Evans, of course. It's always fun to sell copies of The Dreamer short story we did together, A Providential Hello, when we're both there to sign it. This was the first show he had his brand new Rival Angels volume 4 for sale. Which means you can now buy the entire first season of the comic. Considering it is my favorite webcomic (and *cough*I'vewrittenpartofit*cough*) I think you should pick up a box set next time you see Al at a show.
During set up Friday morning I realized that I had left the key to my money box back at Trevor's place. All of my change and my Square Reader to accept credit card transactions was in the box. Panic moment!
My friend Paul Storrie happened to be at our table chatting with us when the discovery of the missing key was made. He proudly announced that he wasn't from Detroit for nothing, and proceeded to break into the money box without, well, breaking it.
Real-life Superhero moment from Storrie. Thank you!!
That night a TON of my friends took me out to celebrate my birthday at an amazing sushi place over by the Navy Pier. I hope I don't forget anyone but Bryan Glass (Mice Templar), Steve Sunu (CBR), Trevor Mueller (@$$hole), Alan Evans (Rival Angels), Comfort Love & Adam Withers (Rainbow in the Dark), Paul Storrie, Thom Zahler (Love & Capes), Michelle Timian (Elevator) and several brand new friends all came out for the party. I had a lovely evening, everyone. Thank you!
Comfort & Adam were disappointed that they forgot my birthday gift that night. They expressed their regret over and over again. It wasn't until the next day that I could see why they were SO upset. They… Drew… Me… THIS:
In case you can't see, that is Alan Warren rescuing Bea action hero style. He is singlehandedly firing a musket like a pistol. Amazing!! I can't wait till they post this over on DeviantART so I can send you all there to see the wonderful details of it.
As always I drew commissions all weekend long. This one was for Amy Ratcliffe (Geek with Curves) who wanted, no joke, Alan Warren as Captain America for her Captain America themed sketchbook. There really was a Revolutionary War version of Captain America, so I drew Alan in Cap's colonial uniform. Epic:
We went out Saturday night with my favorite canuck, Kurt Sasso who has interviewed me on his TGT Webcomics Podcast twice. And it's not a trip to Chicago if Alan doesn't make us go to his favorite place for ribs, Millers.
…I ordered a salad.
We were all exhausted but it was the only time of year I get to see Kurt, so it was worth it.
By Sunday everyone was a little silly. A Steampunk booth was handing out Mustache Monocles. Here, Adam Withers is posing with one. I almost didn't recognize him…
Sunday afternoon I was surprised when none other than our fourth president James Madison stopped by my table! I made sure to flip through Volume 2 of The Dreamer to show him that his Federalist Papers cohort Alexander Hamilton made an appearance.
Usually at conventions I'm stuck behind my table or talking at a panel, but when I saw that Anne Rice was going to be a guest at C2E2 I pulled out my fangirl card, made Alan watch my half of the table for several hours and I set out, book in hand, to meet her.
When I was a teenager, I followed the Vampire Chronicles the way girls love Twilight today. I cut my teeth as a writer doing vampire Lestat fan fiction. Because, yes, it's highly likely Lestat would find himself living in Pittsburgh in the 90′s, and if he did, he would most assuredly turn myself and my best friend into vampires, too.
(Of course he would. I won't believe otherwise.)
I had intended to leave the show early and drive straight back to Columbus but I was in line to see Anne Rice longer than I'd hoped. Everyone told me to stay so that I could meet her, and my college roommate in Indiana was kind enough to let me stay with her that night. So after the show, I made the drive to her place and she had a birthday present for me:
Yes. PEZ-idents Washington, Adams, Jefferson, Madison and Monroe.
Well, the next afternoon, after twelve days on the road, I made it back to Columbus and drove straight downtown to meet Mike for lunch. (I kind of sort of missed him, we're gooshy like that.) And my poor car got to see a mighty fine chunk of our beautiful nation:
Both shows were wonderful, and a great way to kick off the 2012 convention year!