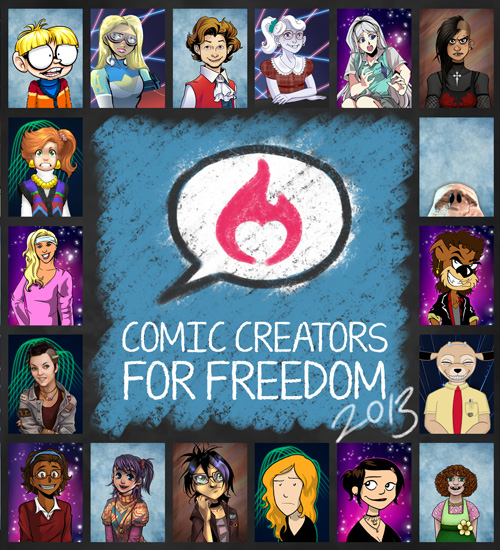 Today is International Abolition Day!
An appropriate day to kick off the 2013 Comic Creators for Freedom anti-human trafficking drive. I started the CCF in the fall of 2009, and so far we've raised over $22,000!  Learn more about my history with the Comic Creators for Freedom and why it's so important to me here.
Here's how it works: 165 comic creators came together and drew awkward school photos of their characters! (Can you find Nathan Hale?) We compiled all of the drawings into one digital wallpaper image. When you make a donation, you receive a link to download it!
Our goal is to raise $5,000 for Love 146, an organization that provides holistic care for survivors of child sexual exploitation and journeys with them as they are reintegrated back into communities. This year we are raising money specifically in the area of after-care for survivors.

With 165 comic creators– our largest group of participants yet– reaching our goal should be easy!
My challenge for The Dreamers is to raise $500!
Anyone who donates through my fundraising page (the "Make a Donation" link above) will also receive a link to download The Dreamer girls Love 146 wallpaper.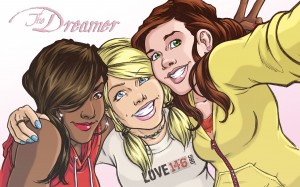 And to kickoff the 2013 drive — today (Monday, December 2nd) only — make a donation and you'll also receive "A Most Agreeable Thanksgiving"– the Dreamer short story that tells how Bea and Alan first met!
*UPDATE: EXTENDING THE FREE SHORT STORY GIVEAWAY THROUGH TUESDAY*
We crushed our $500 goal on the FIRST day! As a thank you, I'm leaving the free short story bonus up for one more day!
Help us reach our goal, and you'll directly be providing care to a child survivor of sexual exploitation. We really don't need one more thing in our stocking this year. So let's do something with our money that really matters!