Mike and I made it back from the Cincinnat Comic Expo last night. It was a brand new show, so I had no idea what to expect. It was also a one day only show, which I've never done outside of something like Free Comic Book Day. But I think that everyone was surprised by the turnout–from the guests like me, to the attendees, to the folks who put on the show. The hall was packed and business was booming. I met a lot of you who came out to see me which is always a treat.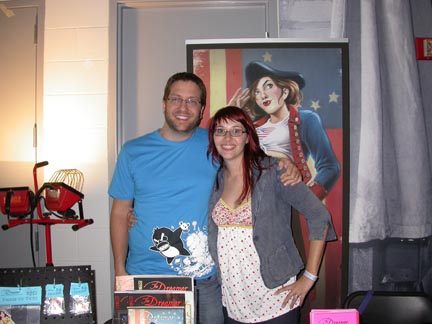 We had a bunch of new stuff with us. Here are some of the new prints: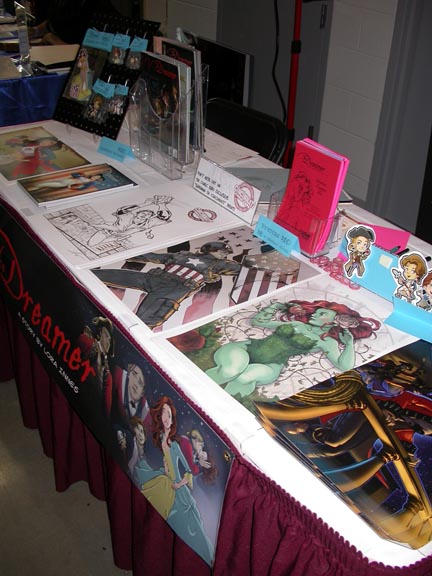 …and more charms, magnets, books and other Dreamer goodies: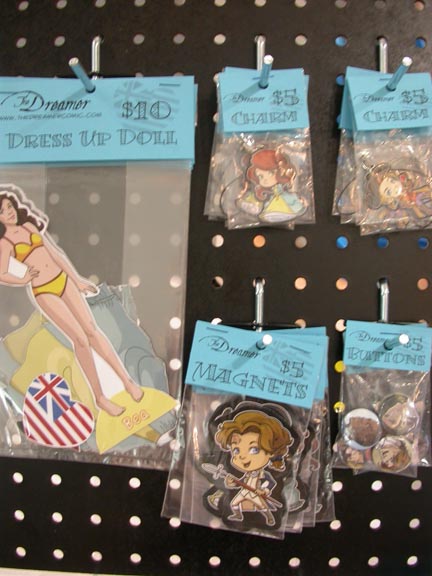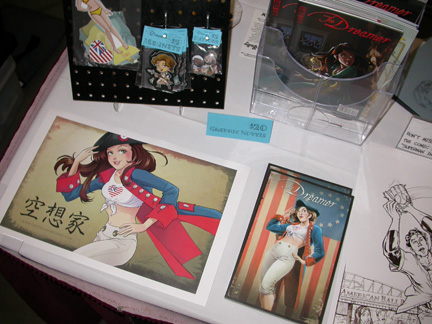 I love the group of creators from Ohio and nearby who I see over and over again at these shows. One such friend is fellow IDWer, Thom Zahler.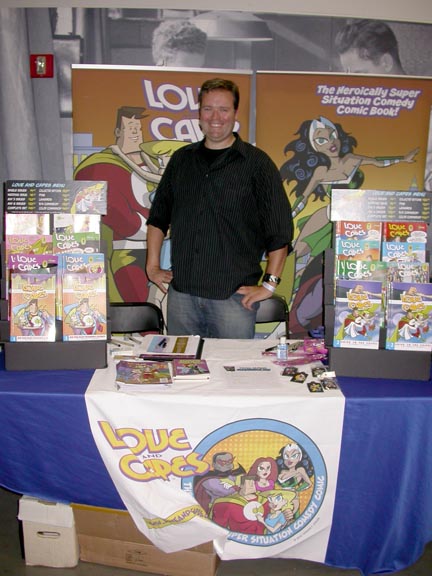 Last year in Baltimore we patted each other on the back when people who weren't us went home with our Harvey Awards. Things were much more upbeat as both Love and Capes and The Dreamer did great at this show and we kept each other laughing.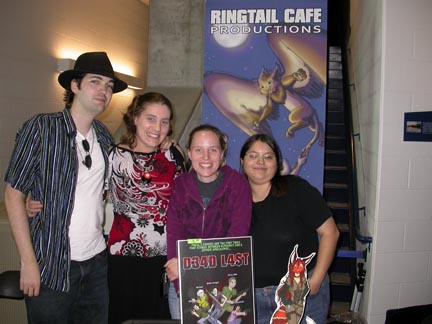 I couldn't have asked for a better spot at the show. I was right up front between Thom and these guys–the Ringtail Cafe team! They have a new book they've launched Confectionaries and the first 250 attendees received free Confectionaries bags. I love mine!
Of course the fine folks from Comic Related were there. You might remember Bill Love from when he interviewed me last summer at the Graphic Novel release party. Well, it was Bill's Birthday! So of course there was cake: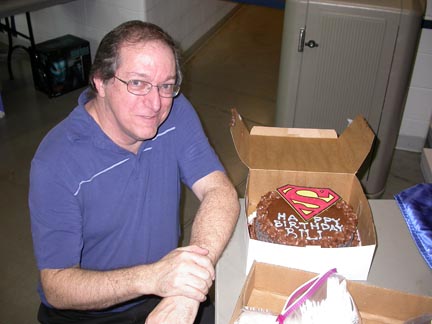 And he was nice enough to share: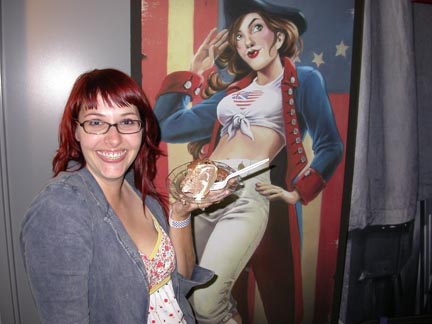 There was much joking that every time I'm at a convention with these guys, I wind up with cake. Considering that I've never brought cake with me to a convention, I think the fault lies on their end.
Also from that same group of friends is Bob Hickey of Blue Line Pro. He brought his book with art from his characters Blood & Roses and had me sign the page with my drawing!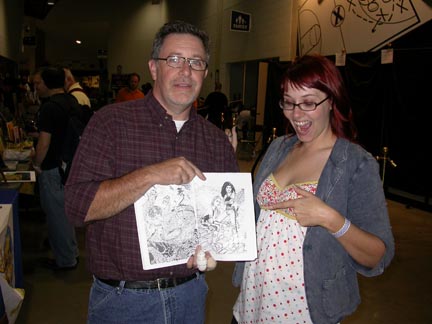 This piece is ancient. It was the first time I was hired to do a piece of comic book art. I thought I had hit the jackpot. I was in art school at the time and Bob paid me in cash in advance and I felt like I had won the lottery!
I was drawing all day, doing commissions and had to turn several people away. I guess that was the only downside to doing a one day show!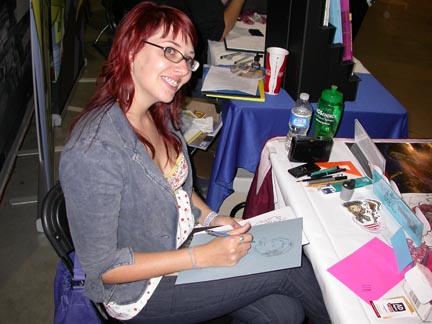 Here is Mike sporting the teeshirt we won from Angry Penguin by making it into the TGT Webcomics finals!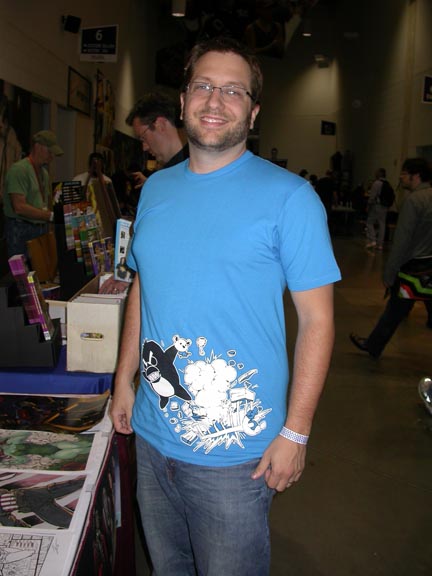 Escape! Destroy!
I was on a Digital Comics panel with Thom Zahler, Michael Uslan and his son David of Graphic.ly. The Dreamer is coming soon to Graphic.ly, so look forward for more news on that soon. The comic will be released cross platform there, complete with extra content and an artist commentary!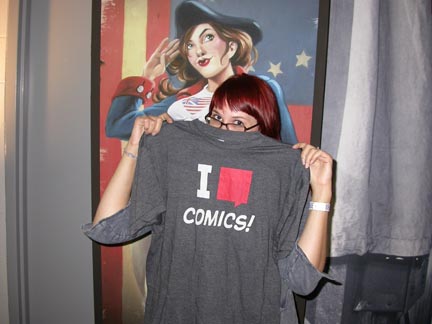 We spent Saturday night at a hotel in downtown Cincinnati. And it just happened to be Oktoberfest weekend! We have an Oktoberfest here in Columbus but nothing could have prepared me for this one. Over 500,000 people were there, it was a fantastic good time. From our hotel room on the 26th floor, we could still hear the German music down below. And everywhere I went, I ran into this guy: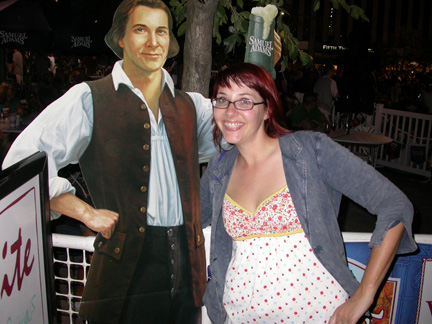 Sam Adams does make a great bevy, but more than that he is one of my favorite founding fathers. So we hung out for awhile and caught up.
And this is wholly unrelated to history or comics or conventions but what is up with the crazy Oktoberfest hats?! I loved them!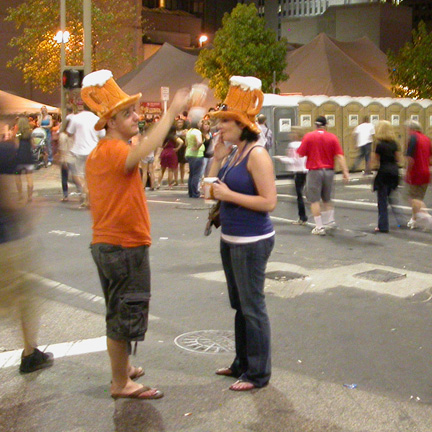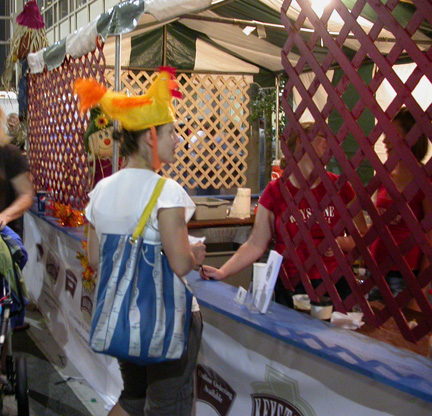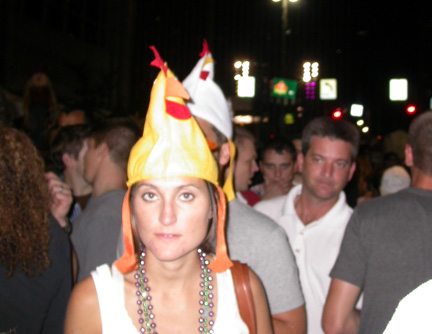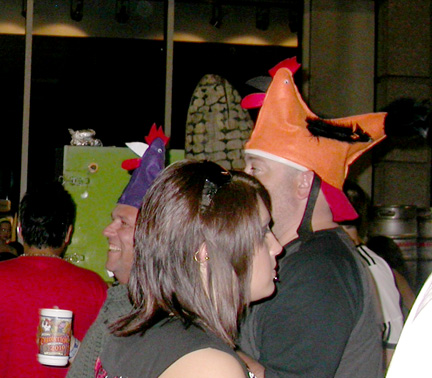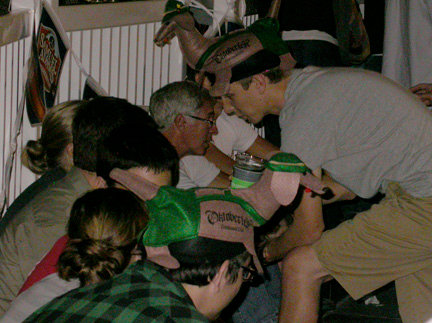 Sunday afternoon Mike and I had brunch with the show's owners Andrew and Matt, Thom Zahler and comics legend Russ Heath!
So the inaugural Cincinnati Comics Expo was a success. I know I'll be back next year.