It's that time of year again… time for the Comic Creators for Freedom Drive!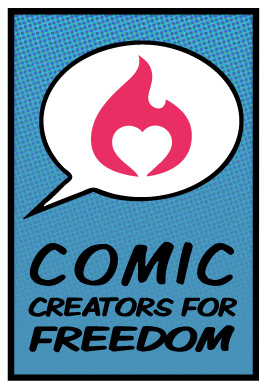 I began the Comic Creators for Freedom late in 2009 when a young girl I had been mentoring was nearly abducted on her walk to school one morning. I had heard about "human trafficking"– the modern term for slavery–and how it was a growing problem here where I live in Ohio. But on that day, I realized it wasn't just happening in my state, it was happening in my neighborhood. (Read about the start of the CCF here.)
2013 will be our fourth drive, and so far, we've raised over $22,000! 
Here's how it works:
Comic creators of all kinds come together, and each donates one simple drawing. We usually have over 100 creators participate, and all of the drawings are combined into one image, formatted to use as your desktop wallpaper. This wallpaper is sent to donors during our live drive.
(Watch the list grow here! So far we have over 70 participants!)
December 2nd – 14th, 2013
The drive kicks off December 2nd on International Abolition Day. (This year the change was made from January's National Human Trafficking Awareness Day (U.S.) to reflect our international group of comic creators and readers. )
100% of donations go straight to Love 146 to be used to provide care for survivors of child trafficking and sexual exploitation. 
In the past, every creator has submitted a drawing of a female creator, but this year we wanted to draw attention to the fact that both sexes are affected in this horrible crime. So for 2013, creators are submitting yearbook photo pieces of any of their characters. Since
Bea has been on all of the past CCF wallpapers, this year Nathan Hale volunteered!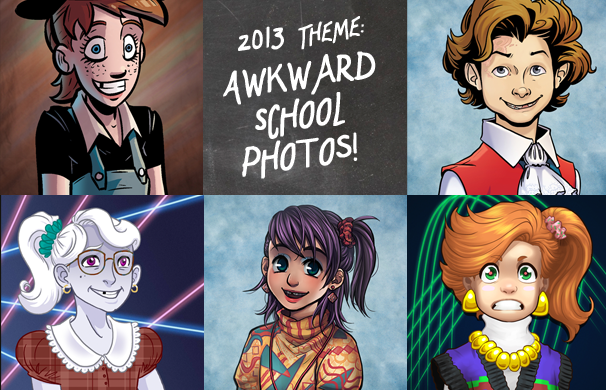 If you're a comic creator, sign up today!  If not, mark it on your calendars, spread the word, like us on Facebook, and ask your favorite creators to participate! And of course, please consider donating when the drive goes live on December 2nd.