"Never doubt that a small group of thoughtful, committed citizens can change the world. Indeed, it is the only thing that ever has." -Margaret Mead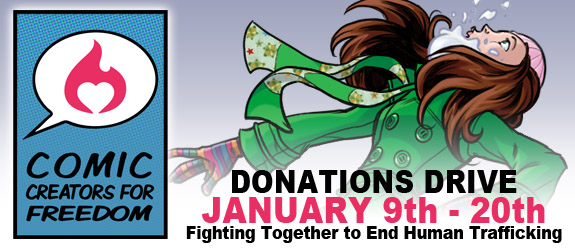 The annual Comic Creators for Freedom: Fighting to End Human Trafficking Drive starts TODAY!
This year the Comic Creators for Freedom consists of 127 comic book creators who all contributed art for a single image used to raise money and awareness for ending human trafficking. Our theme was "Epic Snowball Fight" and as you can see above, poor Bea didn't fair too well!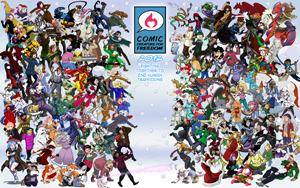 I think the true beauty of CCF is that everyone can participate–from the young artist just starting their first webcomic to the seasoned Harvey Award winning creator! But we all have influence, great or small, and I'm honored to team up with these folks once a year who are willing to use their pull for good.
You may not know it, but Human Trafficking is the second most lucrative crime in the world. There are currently 27 million enslaved people worldwide- more than double the number of enslaved Africans during the trans-Atlantic slave trade. UNICEF estimates that 1.2 million children every year are sold into slavery, most of it sexual. Unlike slavery in the 19th century, what is happening today is happening in secret. It won't end until awareness is raised, and people like you and me take a stand.
I think all history lovers should be activists. As historians, we look back on the past and judge it–but one day someone else will be doing the same to us. (I just read this fascinating article about remembering- or not remembering- slavery in the South.) Who will you and I be in posterity's estimation? Around here, we can be proud when we talk about Hamilton's efforts in abolition and that he never owned slaves, but cringe when we talk about Washington and Jefferson and the other slave owning founders, don't we? We should! I want to ally myself with William Wilberforce, Frederick Douglas, Harriet Tubman and the rest of them, don't you?
*I have a special donation incentive for Dreamer readers!*
Donate to the Comic Creators for Freedom this year, then forward me your receipt and I will send you back this special DREAMER SNOWBALL FIGHT wallpaper: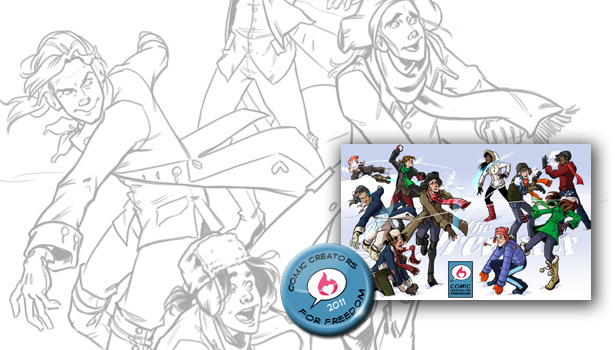 Donate to the 2012 CCF and Lora will send you this special Dreamer wallpaper as a Thank You!
Yup, our 18th Century cast is waging war on Bea and her school friends in this adorable full color, wintertime wallpaper! So head on over to Comic Creators for Freedom, make a donation and then forward your receipt to: lora (@) thedreamercomic.com
The CCF Donations Drive will last for two weeks, from January 9th – 20th. All proceeds will be split evenly between Love 146 and Gracehaven House- two organizations working on rehabilitation of victims and prevention of this crime.
To learn more about the problem, visit http://love146.org/slavery. (Note: contains adult themes and actual accounts of sex slavery.)