FINAL PAGE #34!
Three graphic novels and over 500 pages later, that's is a wrap for The Dreamer Act I: The Consequence of Nathan Hale! Mark your calendars NOW for The Dreamer's return.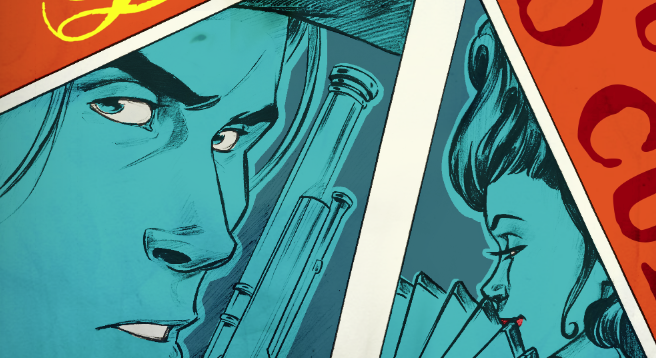 Act II: Countdown to Culper begins January 15th, 2014!
Be sure to sign up for The Dreamer Newsletter TODAY so that you don't miss the exciting return in January! I'll email you to remind you when the comic  resumes so you won't miss it!
As a final sendoff, VOTE one last time and download an Act II: Countdown to Culper wallpaper for your desktop so you can countdown the days until The Dreamer's return!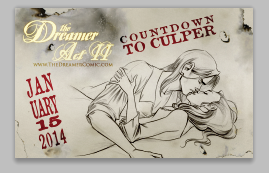 Read below the cut for a personal note from me about reaching this milestone.
Back in 2006 Mike and I quit our jobs and moved to New Orleans in the wake of Hurricane Katrina to become relief workers. When we moved back to Ohio at the end of that summer, I found myself unemployed with a lot of free time. Between freelance illustration gigs, I began working on an idea for a comic that I couldn't even articulate. I found my earliest description to friends in an old journal entry recently: "Tellos, meets Matrix, meets the Island, meets Spider-Man Loves Mary Jane." (What does that even mean?!)
My best friend tried to convince me to do it as a webcomic. (After hearing that hot mess of a description, I would have tried to convince me not to do it all…!)  I told her there was no money in webcomics. She told me it was a great way to build a fan base that would lead to a publisher. In the end, she convinced me—and I'm glad that she did.
Here we are, six years later, and I've completed Act I, the story I set out to tell about a young captain named Nathan Hale whose death catapults his friends into carrying on the torch of espionage in his memory. Today's reveal has been planned since Issue #1, and it sure feels good to finally have the cat out of the bag: Ben, what are YOU doing here?!
For those of you who have been with me since our earliest days on Drunk Duck, to those of you who just found me via iO9 a few weeks back, thank you for following me on this ride. It's been a very special season of my life. I don't know what Wednesdays and Fridays will even look like at the Innes house without Dreamer updates!
I'm going to miss Dreamer Days, mostly because I'll miss you. Many artists struggle to find an audience, and no matter how difficult other parts of being a comic book artist have been, I have been richly blessed in the fan-base department since the start. Thank you for not just reading the comic, but for being so vocal in your love of it. Working home alone for years on end, this connection to you has been a lifeline for keeping the project alive. So thank you. This thing lives and breathes because you all give it life. It doesn't just belong to me anymore.
Act I: The Consequence of Nathan Hale was the initial story I set out to tell. Before I can truly leave Knowlton's Rangers and move onto Washington's Spies, I need to take a break and do a fresh wave of research.  Because of this, The Dreamer is going on a six month hiatus.
When I began writing The Dreamer during the summer of 2007 I would take my iPod and go walking for several hours and let my characters talk to me, let the story shape itself as it rolled around and around in my head. I need a chance to do that again. Act II will contain old characters you know and love, some old favorites—with a twist! and brand new characters I have yet to flush out.
So please, sign up for the newsletter, and follow me on the web as I leak out sneak peeks and sketches from Act II. Find me on Twitter! Tumblr! Facebook! and of course, stay in touch with me over at Paper Wings Podcast which is gearing up again now that The Dreamer is winding down. Add The Dreamer to your RSS feed and stay in touch via the blog—I won't disappear from the site completely.
Finally reaching this milestone is exciting and terrifying all at once.
I'll see you real soon.