I found a webcomic today called Dovecote Crest and thought I'd share it with you, since a lot of you are historical reenactors, or volunteer and work at historical sites.  Or just love history.
It's about a girl named Charlie who just graduated college (I think) and is trying to land a respectable job in the history field, but winds up at a small little Civil War battlefield in Arkansas as a historical reenactor.  She's surrounded not by historians, but by overly zealous history buffs who hope the South will rise again… just so they can shoot them all to hell.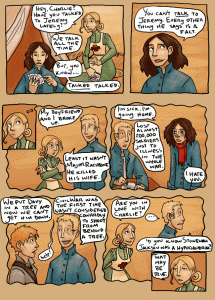 It's totally cute.  And from the archives it looks like they update regularly.  I added it to my RSS feed.  Enjoy!