You asked for it, so here we go! FanArtPollooza 2011!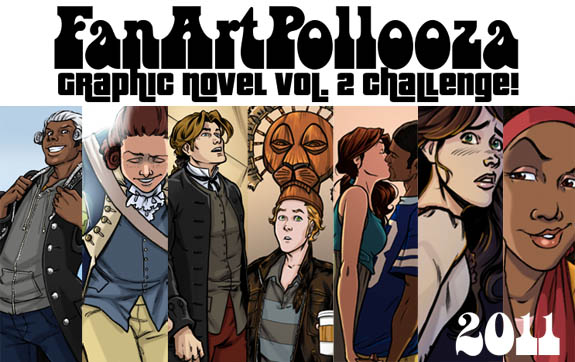 If you're new to the Dreamer community and have never experienced one of our blow out fan art contests, get ready! This is not your ordinary contest. And don't expect to see ordinary entries! The competition will be steep! But there can only be one winner!
To celebrate the release of the brand new Dreamer book, this year's theme is "Graphic Novel 2." So all entries have to be inspired by events that occur in issues #7 – 12.
For the full rules, read on…
The Rules: You have 1 month. All submissions must be sent to me by January 31st. The winner will be announced the following Friday!
This is not a fan art contest limited to people who can draw. You can use any sort of media you want: drawing, photo-collage/photo-manipulation, fan fic, poetry, song, sculpture, plushy, cosplay, video… If you can dream it up, you can enter it. (Please limit prose entries to just a few pages.)
Your entry MUST pertain to events which occur within Volume 2 (Issues 7 – 12).
The Prize: This year we're giving away a signed copy of The Dreamer Volume 2, with a personalized sketch inside of your favorite character! A signed Dreamer Print of your choice! A set of Dreamer Chibi Magnets! And all four of the Dreamer Short Story downloads!
Since Mike & I can never pick just one winner, there will be three runner-up winners, who each get a signed copy of the A Providential Hello comic, a set of Dreamer Chibi Magnets, and one of the Dreamer Short Story downloads of their choice!
I'll post entries in the blog as they're submitted. Either email them to me, or the easiest way to submit is through DeviantART– send me a link to the Deviation and I'll collect them into a folder in my Favorites.
That's it, so get creating! May the best entry win, whether song, poem, drawing or… cake!
UPDATE: The Deadline for Submissions has been extended to MIDNIGHT JANUARY 31st!