The Graphic Novel release date is getting closer and closer.  July 15th!  You'll be able to read all six issues of Dreamer Goodness in one sitting, in one super-beautiful collected edition.  This event required more than just a few balloons and a bottle of champagne.  Beth and I talked this week and decided the only thing grand enough to commemorate this occasion was… another Fan Art Contest!!
If you were a Dreamer Reader last summer, I'm sure you remember the FanArtPolooza Contest last summer!  Entries included plushies, CAKES, dolls and songs!  (Here are just a few of last year's entries.)  We're going to do it again!
The deadline for the new contest is, when else?  July 15th! I'll announce the winner that Friday, the 17th!
The Winner gets an autographed copy of the Graphic Novel, with a doodle of their favorite character inside!
The theme of this contest is "Recreating Your Favorite Dreamer Moment in the Graphic Novel." You can use any moment in the first six issues as the inspiration for your artistic creations, or, of course, any of the covers, either mine or Jenny's variants.  You can recreate a scene in Cosplay, write a song that epitomizes an event, redraw a favorite moment in your own way, or even retell a story as your own fan fic.  Any kind of artistic medium is fair game!  (Did you hear me say we had a cake last year?)
Send all entries to me with "Fanartpolooza Entry" in the subject line, and I'll be posting submissions as I receive them.  The more creative, the better!
And don't forget, the new cover is fair game as well!  Let the games begin!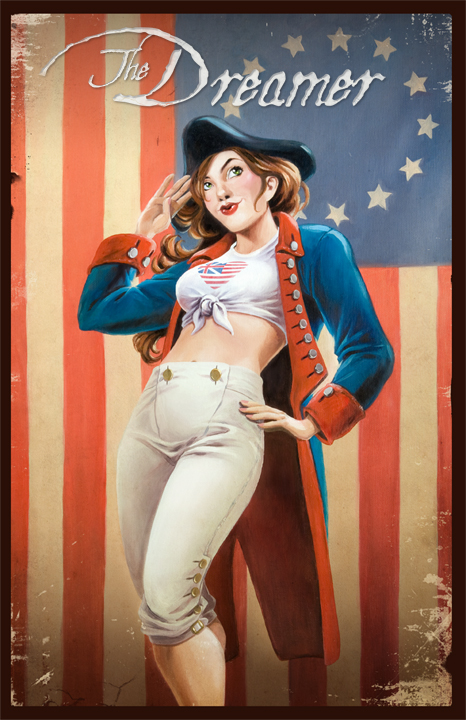 (Members of the Dream Team are of course encouraged to enter but… are exempt from winning!  Sorry guys!  We'll leave the prize for the fans!)