Today is the day–Graphic Novel Release Day! I'm doing a signing down in Florence, KY at Comics2Games.  If you live in the area, stop by, pick up your copy of the book or some of The Dreamer swag I'm bringing with me, or just come say 'hi.'  I'd love to meet you!
The Fan Art Contest ends today!  So long as I get your entry by the time I open my email Thursday morning, I'll count it.  (Some of you live in other parts of the world and the whole 'when is midnight' issue arrises.)
We have some more amazing entries today!
I'll just start off with another amazing song.  "Dreamer" by Ally.  This song is meant to capture Bea's thoughts in Issue #3, Pages 21 & 22 where Bea can't fall asleep.  This, along with Leah's piano composition and Steve Sunu's song from last year… we almost have enough for a Dreamer LP!
Hannah took it upon herself to… rewrite all of Issue #1! What a feat! Read it here.
Alzhorse made another entry, a pinup to catch Bea's dilema in issue #6 as she's struggling to figure out how to live in two worlds at once.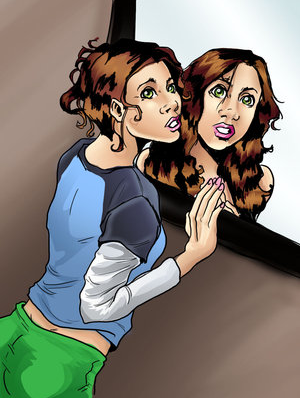 Sadeira recreated the Issue #3 cover… in Cake and Fondant!  (Beth, what have you started…?!)  This one speaks for itself: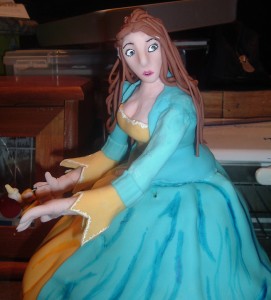 Liz wrote illustrated song lyrics to all her favorite Nathan Hale moments.  (Click on the image to see the whole thing.)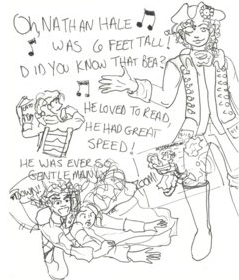 Elizabeth redrew everyone's favorite shot of Alan from Issue #3: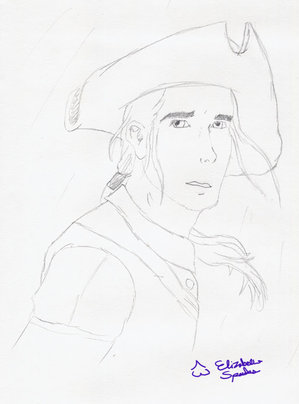 And finally we have "Fly Not Away," by  C.J.  He is always sending me emails full of fun, historical tidbits so I thought it was so appropriate that he would write an 18th Century style love poem… from Alan to Bea.  (Complete with historic literary allusions…!)
Dear one so fair, with auburn hair,
My only Aphrodite,
If I could bid you from your chair
To walk alone beside me,
Then all the visions of the night
and all the daydreams of the morn
would come to life and be the light
that in your sparkling eyes is born.
And I would whisper tender words
as you leaned upon my shoulder.
Or we would romp like silly birds ––
No tragedy, like Alcyone,
to part, or e'en draw colder.
Our world would then, forever, be
a place where love abideth true:
The day you say that you love me,
The day I know I may love you.
Come, on!  You guys are all so amazing….!  Thanks for making this such an insanely hard decision for me…!