Here's a picture taken this morning at the Good Day Columbus broadcast on Fox 28 news. We had a mini-convention at Packrat Comics in Hilliard, Ohio to promote the upcoming Mid Ohio Con this weekend.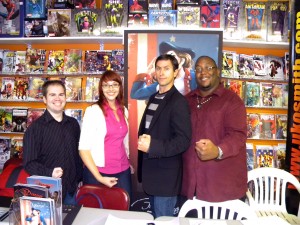 Sean Forney, me!, Johnny D (the news anchor), and Uko Smith.
You can watch one of the many clips that went live here. Uko was asked to turn Johnny into a superhero, and then they decided Sean and I should draw the other anchors. Uko worked on his all morning and it came out amazing.  It was a lot of fun!