As promised, I have something new for you this Friday.  Want a sneak peek at the Graphic Novel cover?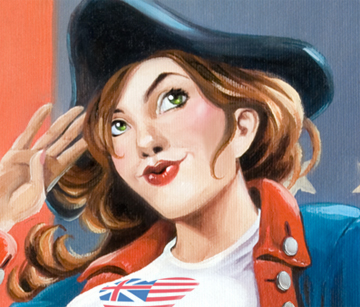 I painted it in oils, out in my garage so the smell of turpentine wouldn't stick to my carpet for all time.  Miraculously, the weather held out for an entire week and I was able to finish it before it started snowing again.  :)  This is a work in progress!  Mike is going to add all sorts of fanciness to it, but here's the painting.  Oh, and, uh, my editors haven't approved it yet, so… it's subject to change!  :)
The Graphic Novel will contain The Dreamer Issues 1-6, and it will be out this July from IDW Publishing.  For those of you who had a hard time hunting down the print comics, this should be a lot easier to find.  It'll be available at bookstores.
Hopefully I'll meet a few of you this weekend at the S.P.A.C.E. Comics Expo here in Columbus, Ohio.  I literally have to drive one mile to get there.  All cons should be this easy.  :)
There will be no update again next Friday, but I've got something else planned for you.  The Graphic Novel has been taking a little more effort than I initially thought, so I'm going to take that second week off.  Regular Friday updates resume May 1st!
And VOTE this week to see my pencil drawing for this painted cover.