The signing at Comics 2 Games yesterday was a blast.  I got to hang out with some good friends all day, meet some of you readers, and hopefully made a few new readers.  If I saw you there, hello!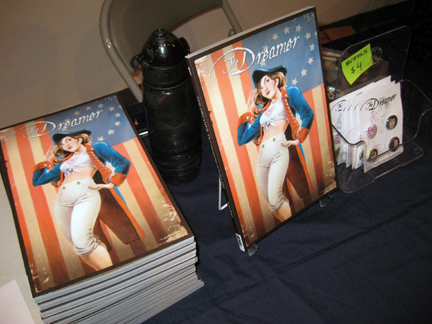 Bob had ordered stacks of the Graphic Novel.  Look how pretty!!
His niece… baked me a Dreamer Cake!  And it was so stinking delicious.  I'm not a cook but there was talk about orange juice something or other, and strawberry glaze this or that… I dunno, it all measured up to moist and delicious.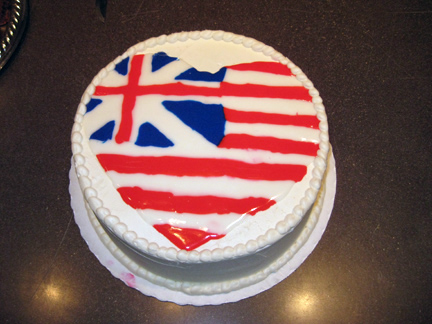 Bob made me cerimoniously cut the first slice.  And then… I promptly pawned off the responsibility to someone else.  It always seems to me if you cut wedges, then you were supposed to have cut squares, and if you cut squares, then they're either too big or too small.  Too much to worry about!  So I made someone else do it.  ;)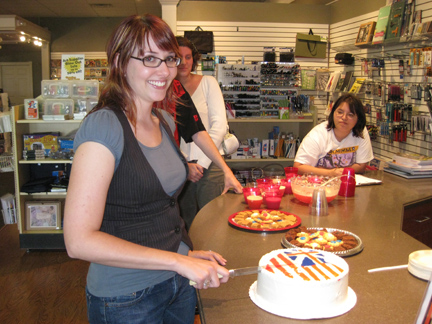 Poor Mike had to wait until I was back in Ohio to see the book.  He worked all day.  So long after the sun went down, he got his first glimpse.  The proud parents: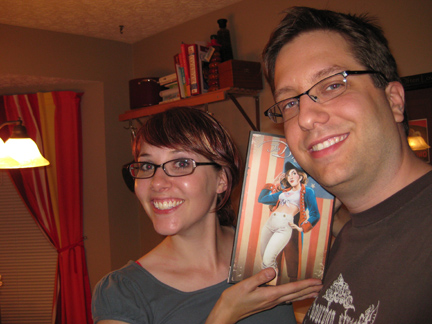 (We've worked so insanely hard to put that book together, and make it look awesome.  Lots of late nights, headaches and… some tears here or there.)
I wasn't at all happy with it.  Nope.  Not a bit.  ;)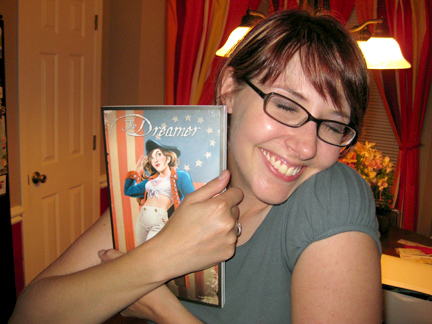 As for the Fan Art Contest… it is officially closed!  I got a ton of late night submissions in my inbox, and also in my DeviantART account. Right now, because of the signing and for other reasons, I'm crazy far behind on my work.  And I think you all would rather have some new pages tomorrow than Fan Art Entries…?  (Well, except perhaps for those of you who entered last night, lol!)  So I'm going to finish my pages first.  I'll still announce the winner tomorrow, and then I'll post the rest of the entries over several blogs next week.  (There are a lot.)
See you tomorrow!