Lora here! This summer when I went to Boston, I was fortunate that despite Hurricane Irene tearing up New England the day before, Joseph Warren biographer Sam Forman was kind enough to meet me at the Massachusetts Historical Society to show me a few of the more exciting Dr. Warren related artifacts in their collection. Our adventures there are another story for another day, but when Sam pried me away from John Warren's diary so he could take me to hold the Bunker Hill sword that Joseph Warren allegedly held in battle, he looked over at me with an excitement in his eyes that rivaled my own and said, "It's happening!"
Friends like that are hard to find. Sam's book–the first Warren biography to come out in 50 years!–released this month, so I invited him to do a guest blog on my website. Without further ado, I'll let him get to it…
When she visited Boston last summer, Lora invited me to do a guest blog on a topic touched on in
The Dreamer
. I am the author of the just-out biography
Dr. Joseph Warren: The Boston Tea Party, Bunker Hill, and the Birth of American Liberty.
Lora goes to great lengths to get the history right, so
Dreamer
fans can be assured that you are reading a rollicking romance incorporating real settings and realistically portrayed characters. Can an historian be a closet
Dreamer
fan? I will take the Fifth Amendment on that one.
While researching original Warren manuscripts and priceless relics at the Massachusetts Historical Society, Lora helped me with a vexing problem: what was Joseph Warren's eye color? It is captivating and mesmerizing such that you can stare at Warren's portrait at the Boston Museum of Fine Arts, and still not quite put your finger on his eye color. Lora lent her artist's eye and palette to high definition electronic files to determine the exact shade. Meanwhile, otherwise friendly archivists were shushing us in the formal reading room. It instantly became apparent that Lora has the identical and unusual eye color as the romantic Warrens of the Revolution. Who will be the first fan girl or fan boy to suggest that is NOT a coincidence?
Speaking of color, Dreamer characters Yvette and Cato, of the cast in the present, are black. This is almost coincidental to the story. Friendships and romance are not hamstrung by racial barriers and stereotypes in the modern Dreamer world. That would not be the case in 18th century Massachusetts.
Among a total population in 1770s Boston of just under 16,000, about 600 were black, the majority of whom were slaves. Unlike the situation on Southern plantations, black slaves were far less numerous and typically lived in the household of wealthy and some upper middle class Americans rightalongside paid and indentured servants. Slaves had some rights – they could own personal property and testify in court for example – but were otherwise the chattel property of their owners. Indignities suffered without recourse could include the break-up of black families at the death or whim of their owners, no education, poor living conditions, and physical abuse.
Ironically, many Massachusetts slaves may have fared a notch better than their free brethren in the immediate necessities of life. From a cold economic standpoint owners wanted to maintain their property's value. And making it on your own as a free working class person, regardless of race, was increasingly tough as boycotts and closure of the Port of Boston took its toll on the economy.
Some slaves gained their freedom and could be found among laborers and small businessmen in Boston. One such person known to history was Crispus Attucks, one of the Patriots killed in the Boston Massacre on March 5, 1770. Others were Patriots who saw the promise of American Liberty and fought in all the battles of the Revolutionary War. Among the first casualties of the American Revolution was Prince Estabrook, wounded on the Lexington Battle Green at dawn on the morning of April 19, 1775. Salem Poor was a hero during the Battle of Bunker Hill, where he fought for a free America on the same ground as did Joseph Warren. Dozens of people of color fought in that battle. "Black Zeporah," whom I encountered in Joseph Warren's account books but can find no other earthly trace, may have been a part of a Warren-run spy network in Boston that enabled Paul Revere to be sent on that iconic ride with such pin-point precision about British army movements and intentions.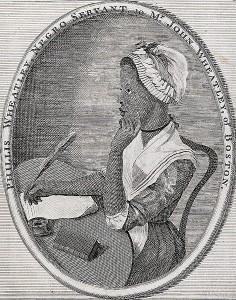 An exception to this circumscribed black experience was Phillis Wheatley (about 1754 to 1784), the preternaturally talented, enslaved servant to the Wheatley family. Just a few years from being purchased off the Boston docks from the ship captain who had transported her from Africa, the preteen domestic already exhibited an uncanny aptitude and facility for the English language and its literature. Joseph Warren provided medical services to the Wheatleys, including the servants, in 1763 and 1764.
I wonder if Phillis Wheatley made an impression on Joseph Warren. One can conjure a scenario where Phillis, the unusually literate Wheatley children, and Joseph engaged in an impromptu interchange quoting English and Classical poets, much as Joseph enjoyed bantering with his fellow Harvard alumni. Such interactions are purely speculative. Yet I find it hard not to believe that Joseph Warren would be impressed by the possibilities of human nature unbound by racial stereotypes, if he spoke and interacted with Phillis Wheatley.
"Some view our sable race with scornful eye,
'Their colour is a diabolic dye.'
Remember, Christians, Negroes, black as Cain,
May be refin'd, and join th' angelic train."
Surviving documentation does not reveal Warren's opinions on chattel slavery of Africans. He never took a public stance on the issue. Private and professional actions hint at a complex formulation. There were two domestic slaves living as part of the Warren homestead at the time Joseph's father fatally fell from a Roxbury Russet apple tree in 1755. In 1770 Joseph Warren bought an African domestic slave boy, though no other details of that episode survive. Some Patriots like his associate John Hancock decried unrepresentative taxation as slavery, while they owned black slaves prior to the Revolutionary War. Others like James Otis publicly and consistently decried enslavement of every kind.
Warren's medical practice was notably blind to race. There was no 'Jim Crow' or 'back of the bus' in Joseph Warren's clinical practice. Whether one was wealthy John Hancock or Databoses, an otherwise unknown slave, Joseph Warren attended them in the order of their appearance, with an intensity dictated by clinical need, and with the same treatments for all. The philosophy behind such an approach was summed up by one of the dynasty of Warren physicians who emulated Joseph's example, "When in distress every man becomes our neighbor." This simple humanitarian practice style, evident in Joseph Warren's actions if not his words, and unrecorded by contemporaries, may have impressed the young Phillis.
A complaint of some modern black Americans is that their contributions to early American history have been given short shrift as compared with the extensively documented Founders like John Adams, George Washington, Thomas Jefferson, Benjamin Franklin, and many others. Returning to The Dreamer, if Cato realizes that he is directly competing for Bea's attention with a gaggle of heroic dead white guys, he could really develop an attitude. Poor Cato! It is an adolescent guy's worst nightmare, quite aside from any racial overtones.
For those who want to dig more deeply into Phillis Wheatley and the black colonial experience in the North, check out Vincent Carretta's Phillis Wheatley: Biography of a Genius in Bondage and Jill Lepore's New York Burning, about a 1740s slave revolt in New York City.