I met Joanne Renaud through DeviantART. She commented on a drawing I did of Mrs. Betsy Loring, and we got into a conversation about big hair, frilly dresses and Benedict Arnold. I instantly liked her. It turns out Joanne is not only historically saavy, she's an amazing artist as well. Once, out of the goodness of her heart, she made me Bea, Alan and Betsy Loring fan art. I could be biased, but I think it's one of her best pieces.
Joanne currently works as a freelance illustrator, and one of the best things about her style is that she still works traditionally. You can feel it in her pieces and it gives her work a classic look and personal, hand-crafted style that I think a lot of modern illustration lacks. Currently, she's working as the art director for an online magazine dedicated to dark fiction called Dark Valentine–the first issue coming soon!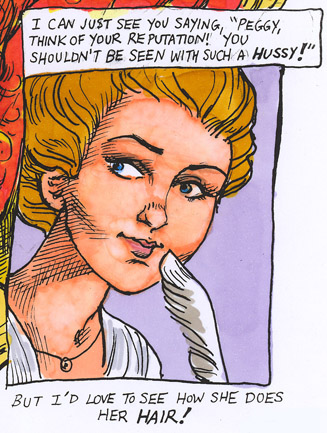 I think it's funny that in that first conversation about Betsy Loring Joanne wrote, "You have to give her some high 1770s poufs, like Peggy Shippen. Those are so much fun to draw!" Indeed they are. I hope you enjoy her guest strip The Sultana starring Betsy Loring and Peggy Shippen. (You know, the future Mrs. Benedict Arnold!) Click to see full sized!
In case you missed it, check out the other piece of Guest Art I got this week, by Andrew Chandler!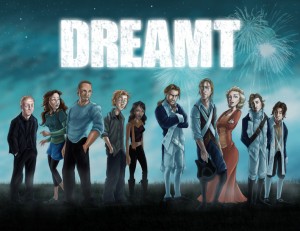 Dreamer updates should resume next Friday! And I think we have at least one amazing artist left to contribute before then.
And VOTE this week to see a teaser from the Issue #10 cover!