Last weekend Mike and I stopped at Valley Forge on our way back to Columbus on a road trip.  I didn't realize we'd be driving right past it and so on the way home I begged him to stop and he (of course) obliged.  We only stayed about an hour, and someday I'll go back and explore the rest of the park, but what I did get to see was beautiful!  Since it's Memorial Day, I thought I'd share my pics!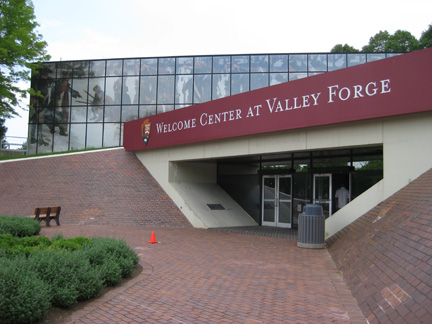 Here was the welcome center!  I'm not sure how well you can see it but up in those panels that look like windows was Howard Pyle's  Baron Von Steuben Drilling his Troops at Valley Forge painting.  Which, if you're not familiar with it, is stunning.  I kept saying stupid things to Mike while we were parking lot like, "Should we eat where our ancestors ate not?" when he offered me a cheese stick or, "Should we wear shoes where they wore none?"  Ultimately, I accepted the string cheese and wore my shoes into the book store…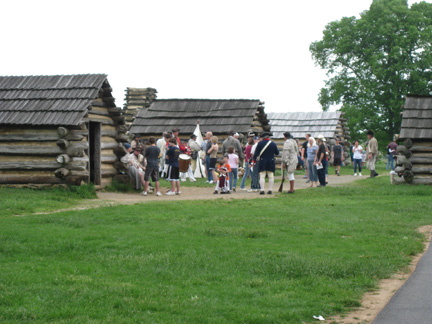 Here was one of the reenactment camps.  Of course, the whole "Winter at Valley Forge" effect was diminished by the lack of snow and ice.  I didn't mind too much because the entire park was so beautiful!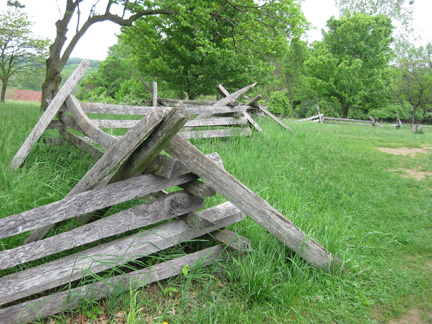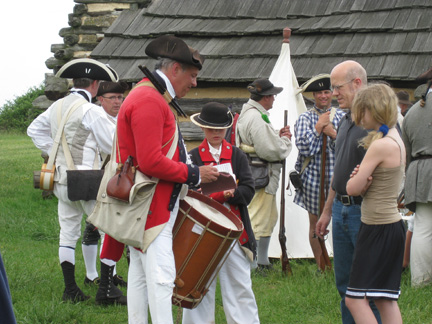 No, that is not a redcoat soldier who has invaded the camp!  The fife and drum units in armies in the 18th century wore reverse color coats so that the other side wouldn't aim at the poor innocent kids.  This guy, however, looks way too old to be a drummer, lol.  Though that kid behind him would've been allowed to fight as a soldier so long as he was as tall as his musket, and had at least one tooth on the top and bottom to tear open the paper cartridges that loaded said gun.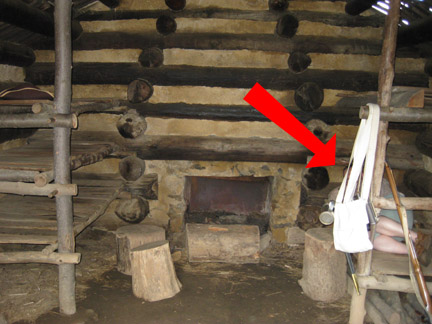 I walked into the above hut and my eyes took awhile to adjust to the darkness.  I was in there a minute or two before I noticed a gentleman was sleeping on the bottom bunk!  "I didn't see you there!" I exclaimed and then, since he was dressed as a reenactor, I asked him how many men would sleep in each building.  He answered eight to ten, then paused and added, "Though there's only been one today!" and closed his eyes and went back to sleep.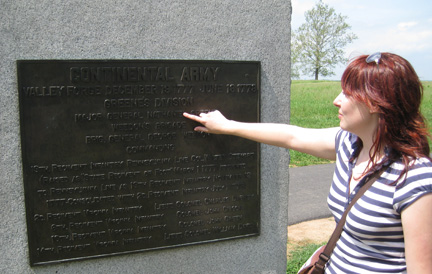 Here I am giving Mike a history lesson about Nathaniel Green, whose camp we had just visited.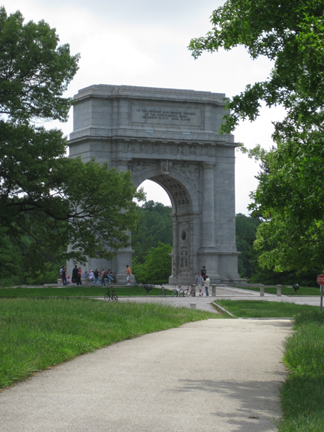 When we were leaving we saw this memorial arch that was dedicated to all the soldiers who had spent the winter of 1777-78 at Valley Forge.  It was majestic and solemn and I loved it.
Happy Memorial Day everyone!!