So… while I was gone, apparently you all bought out the last copies of Issue #1 from that website link I gave you.  All I can say is "Good job, everybody!"  :)  And if you're still looking for a copy of The Dreamer #1, check out this place.  Feel free to buy out all of their copies, too.  :)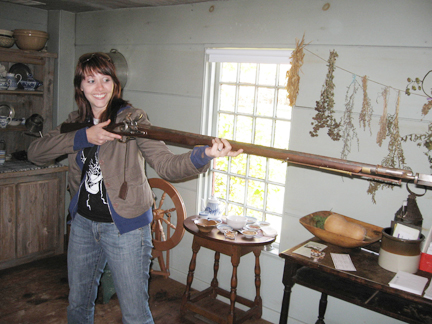 So we're back from New England!  Huzzah!  I never wanted to leave!  I hadn't been there since I was probably fourteen or fifteen.  Which is about how long ago Mike lived there, so it's been awhile for both of us.  Mike and I did some house shopping in Lexington, so, uh, buy more Dreamer books, okay?  ;)  I want the one with the musket ball lodged in the siding from (supposedly) April 19th, 1776.  Best.  House.  Ever.
If you want to see our pictures from the Dreamer-related places we visited, by all means, read on…
We started our trip in Sturbridge because Mike used to live there.  We went to Old Sturbridge Village, which is essentially Colonial Williamsburg… in Massachusetts.  And it also focuses on life in the early 19th century.  They did however have a few artifacts from the Revolutionary Era: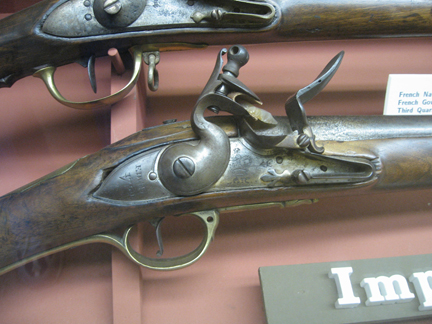 Pretty, pretty guns…  I think that one has a 1760 date on the firelock.  I love old guns.  But… if you've read The Dreamer for any length of time, I'm sure you've figured that out.  ;)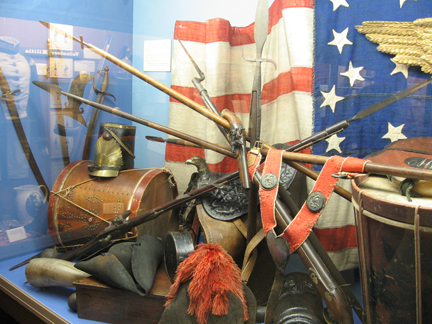 And look!  SPONTOONS!!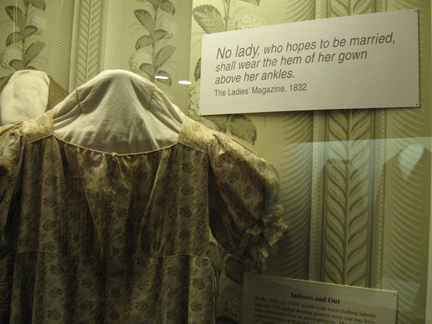 This sign was just hilarious.  Yes, no respectable husband-seeking woman should ever, ever do such a naughty thing!
We spent a few days in Lexington and Concord at Minute Man National Park.  This is where the American Revolution started, on April 19th, 1775.  (Yes, we always mark the beginning of the war as 1776 but the fighting had actually started a year earlier.  It wasn't until July 4th 1776 that they decided enough was enough, and they wanted Independence.  And then they fought seven more years to make it so.)
That minuteman looks like he doesn't want to be hugged, but I don't care.  Thanks, minuteman!
It was pretty phenominal to stand in the spot of "the shot heard round the world."  It's one of my favorite moments in American history.  Well, not the whole British shooting into a crowd of retreating Americans part.  Just the whole "Wow, at last it begins" moment.  If you're an American, the Lexington Green is essentially hallowed ground: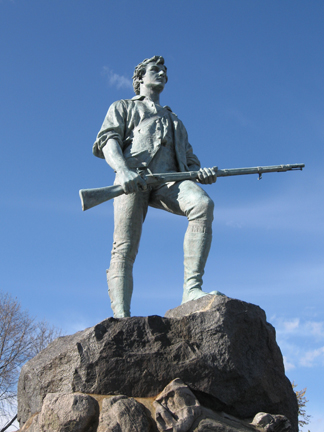 There on the Lexington Green, we toured the Buckman Tavern.  It was here that the militia gathered on April 19th.  And it was here that Paul Revere and John Hancock and Sam Adams decided what to do that morning…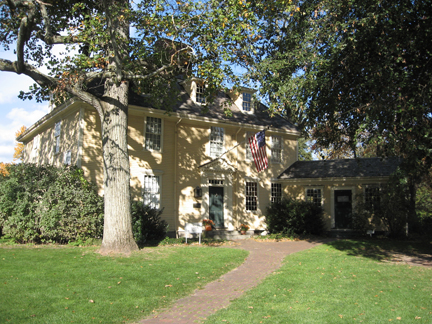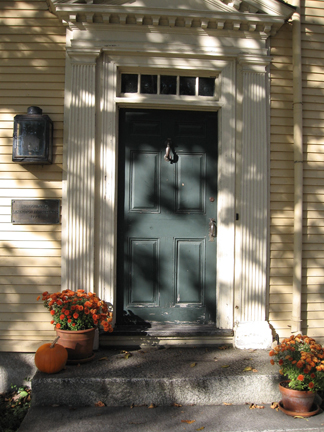 We got a fantastic tour at this place.  And if you're ever in the area, I highly recommend it!
The Hancock-Clark House, though, was heavily under restoration and we couldn't tour it: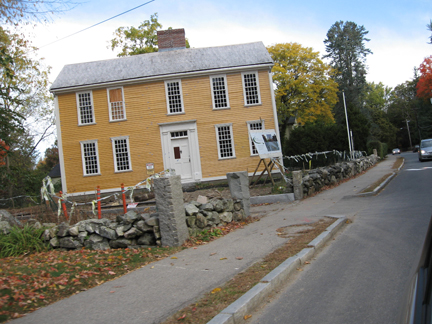 It's the house that John Hancock and Sam Adams were hiding in that night.  Paul Revere rode up and told them that the Regulars were coming, and that (because there were warrants out for both men) they should flee.  Hancock thought he'd rather fight.  It took quite some convincing to talk him out of it…  Eventually, though, all three would make it out safely.
About halfway between Lexington and Concord is this marker: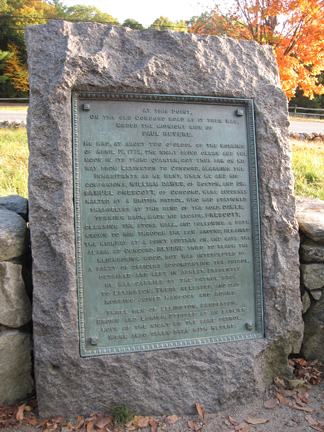 It's the spot where Paul Revere was arrested, and detained.  The other express rider that night, William Dawes, was able to keep going and get the alarm sounded out to Concord.  Which is where they knew the British were headed.  Revere ultimately returned to Lexington on foot and talked Hancock out of the insanity of joining the fight.  What are friends for, eh?
We went up to Concord, which is where the real fighting took place that day.  It was here that hundreds of militia men had gathered.  They were able to make the redcoats turn and run…  across the Old  North Bridge, pulling planks up as they retreated so the Americans couldn't follow them.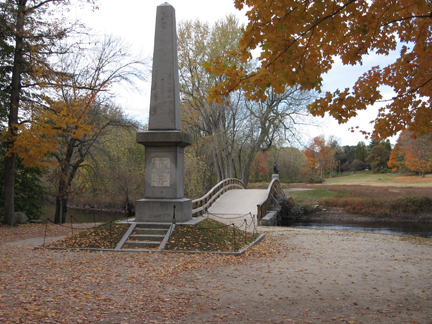 But the militia had assembled all the way from Concord back to Boston, and as the British marched back to town, the Americans picked them off along the entire road (which is about 15 miles, I think) from behind stone walls, and from farm house windows.  It's quite gruesome, actually.  But impressive that the Americans actually won a battle against the largest, most organized army in the world.  There was no turning back after that…  Sam Adams knew it, and reportedly said as he heard the first shots, "What a glorious morning for America!"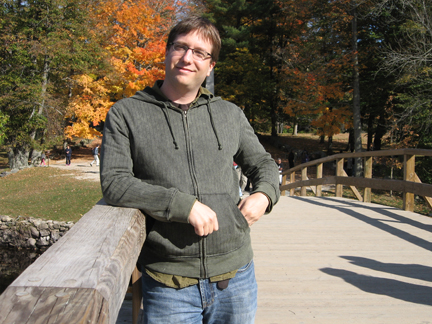 Here's Mike on the (reconstructed) bridge.
And me with the Concord Minute Man: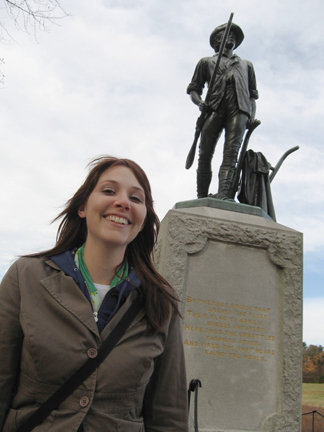 Huzzah!
That's quite enough pictures for one day.  We visited two Nathan Hale related sites in Connecticut, but I'll post pictures from there tomorrow.  All I'll say is:  I fangirled.