I can't believe that we're on Issue #8 already! Where on earth did Issue #7 go? To kick things off is the new Cover and Title Page! It's looking a bit more serious than issue #7 so I hope you're ready for a change of pace. This issue and last issue were written as a transition between the first Graphic Novel and the climactic end of Act I. So Issue #8 will intentionally read like an interlude. I hope you enjoy it!
Several tidbits of news this week. The first one should be obvious: Mike finished the site redesign! Not only does the site look better, and have a cleaner navigational system, he also cut down on all the load times! There is also new content on the site, so surf around for awhile and check out what's new! One change to make note of is that the blog is no longer featured on the front page (only the most recent post will show up there). This is going to cut down on load time for first time visitors to the site. But because we gave the blog it's own section, the RSS Feed has moved. The old one will no longer work. So please make note of it if you're an RSS Subscriber and make the necessary changes. Thanks!
We also changed the Donations Incentive Wallpaper to this: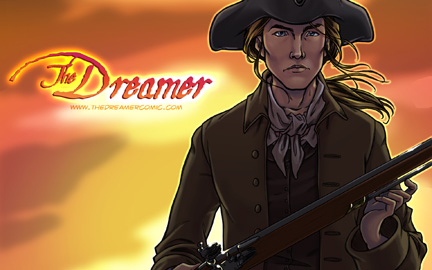 If you go to the brand new Store section, and make a donation of any size, you'll be directed to a page where you can download this fabulous Alan wallpaper, available in three sizes to fit your screen! I know that we just had the Graphic Novel come out, (and we're really hoping for a success with that!), but for now, only your donations are keeping The Dreamer going. To be honest, funds are running a bit dry and if you have a few dollars and appreciate the story, consider dropping us a tip. Thanks! Right now I need to cover costs for the PR people who are promoting the Graphic Novel and the two upcoming conventions we'll be doing in October: Mid-Ohio Con and Baltimore Con.
Another announcement: I'll be doing back to back signings back home in Western PA! If you live in the greater Pittsburgh Area, consider coming out to meet me and pick up your copy of the graphic novel! I'll be at the Borders at Westmoreland Mall in Greensburg from 1-3 PM on Saturday August 15th. Immediately following, I'll be at Joy's Japanimation from 4-6. These are my old stomping grounds. I used to hang at Westmoreland Mall when I was a teenager, and my sister is good friends with the owner of Joy's and I used to frequent it with her when I was in high school. If you're into anime, it's a fabulous store! So… come out and meet me! :)
I have one more bit of news of a more personal nature. My father-in-law is having major surgery next week (not sure of the exact day yet). In all honesty, I spent a lot of time worrying about him this week and not a lot of time working. Well, a lot of time holding my stylus and staring at a screen but not actually accomplishing much. I don't have any idea what next week is going to look like. I'm going to try to get an update up for you but… I can't make a promise. Family first. I know you guys understand. Some of you are the praying sort and we could all use some of those right now. Thanks.
Last, Beth Brockhaus asked me to post a message for all of you. Here it is:
–
Hey guys, Beth from the Dream Team here. In honor of Lora's awesome Harvey Award nominations a few of us have decide to throw a party in her honor. We feel it's a big deal and decided we want to celebrate. As her readers we know you love The Dreamer as much as we do and want you guys to be a part of the party. We want to know why you love The Dreamer. What makes you flock to your computers on Friday to read the newest pages? What is it that makes The Dreamer great?
Shoot me an e-mail with your responses at ilovethedreamer@yahoo.comand they'll be displayed in different ways through-out the night of the party. Just put Dreamer Love in the subject header. Thanks!
–
I don't know what she has planned, but it sounds like fun. :) I'd do as she says. When she puts on her "I'm serious" face, believe me, you don't want to mess with her.
Lastly VOTE this week to see a fabulous fan art I received from Kimberly, over in England! She did an adorable Alan & Bea sketch called, "They Used to have Fun Once," and it was way too good to keep to myself!
Watch the blog next week–I'll let you know if there will be an update or not. Thanks.