So a big old thank you to everyone who came out last night to join us at ChrisOatley.com for the live podcast!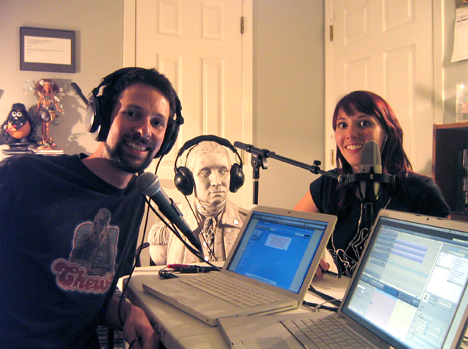 (Notice our guest of honor, taking caller questions, General George Washington himself.)
We had such a fantastic turnout!  After it was over, Chris and I were buzzing.  You could still feel the energy in my house.  It was great.  Even Mike said he could feel it.  And you all got to meet Mike, finally!  Which is awesome because he really is the man behind the woman, without whom there would be no Dreamer.  Or if there was a Dreamer, it would be inconsistent and lame.  If you like exciting stories and regular updates, thank Mike Innes.  He likes to hide though, so that he even came out to moderate the chat with you all is a big deal.  I hope you enjoyed meeting him!!
Chris asked fantastic questions.  Knowing that 90% of the people there were probably already Dreamer fans, he skipped all of the, "So, where did the idea come from?  How long have you been in comics?  Why the Revolutionary War?" questions, and just dove in.  Which, for me, was really refreshing to really get to talk about the story–and where the story is *now* and not what I was doing with it nearly two years ago.
If you were there, I gave out some free spoilers about what'll be happening in issue #5!  He talked a lot about my process, and we talked about what the hardest and easiest parts of the story have been, where my characters came from, what parts of the story have been changed from history, and why.  Just a great, great conversation.  Chris is one of our best friends, so it really was a fun, informal and lively chat!
Oh, and congrats to all the trivia winners!  We'll be getting those signed prints to you soon!
Chris is going to edit down the show and post the audio into several podcast episodes, so if you missed it, you can still listen in.  I'll let you know when those go live.