So Mid Ohio Con has come and gone… But what a great show it's growing to be. I have sentimental attachments to MOC because it was at that show, oh… probably 9 or 10 years ago that I got my first real 'break' into the comics industry. Jeff Smith loved my work and introduced me to Beau Smith and the rest is history!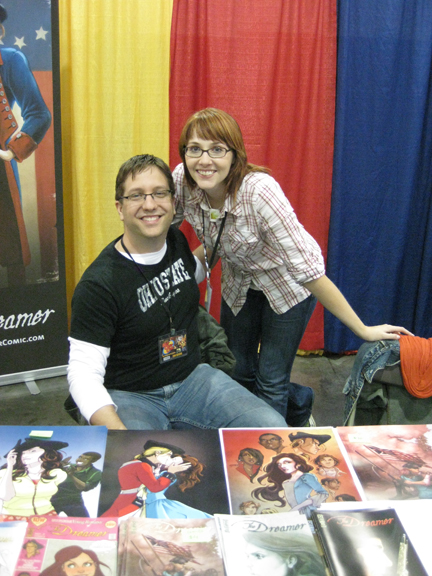 Mike & I at our booth! Read on for the full report!
It was a webcomics weekend, that's for sure! Trevor Mueller and Alan Evans stayed at our house during the show, and they were awesome house guests! Here we are chillin' with General Washington.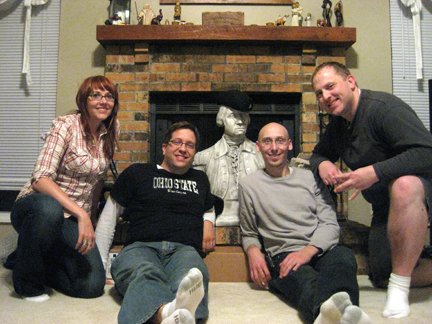 We all participated in a webcomics panel on Sunday afternoon that was a lot of fun. I was also on an Indy Comics Panel where more than once I reminded the audience that the future of Indy Comics is… the web! (Chuck Moore was emceeing the panel and he used the phrase 'the onslaught of the web' lol!) As much as I love comic books that you can feel and hold, I've fallen deeply in love with the whole idea of webcomics, and the community aspect that surrounds them. This weekend really made that clear for me.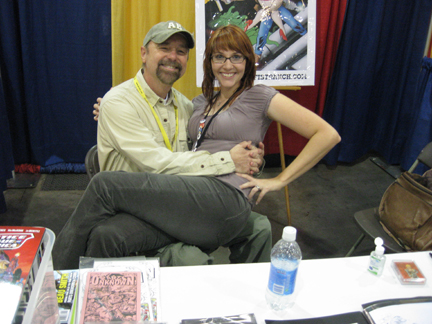 Our booth at the show was right smack between long time BFFs Beau Smith and Billy Tucci (Shi) and so it made for a wild weekend as we got caught in the middle of their banter. Here's me and Beau in a "Last Real Man" photo. Keep on dreamin', Beau…!
A fan gave Billy a gift. A dagger and… he used it on my unsuspecting husband!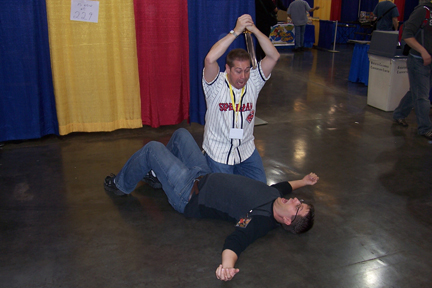 Roll out, Mike, roll out!!
Okay, let's get serious. The weekend was a blast. Here's our booth! We had dreamer prints and graphic novels and buttons, and copies of several of the issues, though I've sold out of a few of them.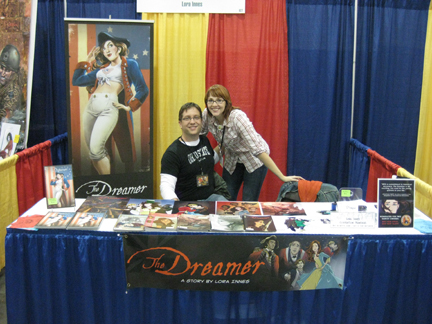 The new Bea Banner looked great! I'm so glad that it arrived early, in time for MOC.
The weekend started early on with Comic Related letting me cut their 5 year anniversary cake! Congrats, Comic Related! You guys are the best, no joke!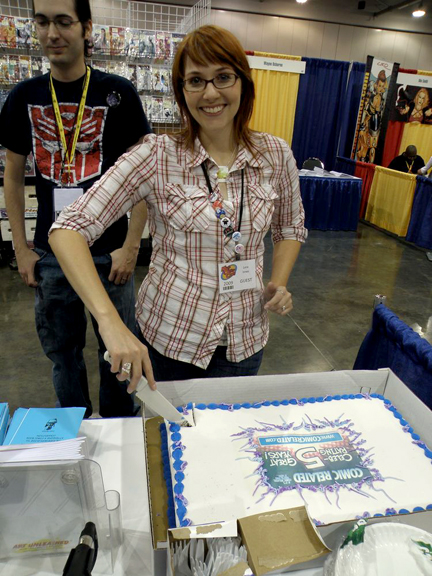 (It was even chocolate! Yum!)
We spent a lot of time reconnecting with old friends. Comic model Nutopia showed up and surprised me, I wasn't expecting to see her there! We go way back… it involves a story about a trip through all the scariest parts of Kentucky to get to Larry Elmore's beautiful studio home, up on a mountain ridge. That was good times!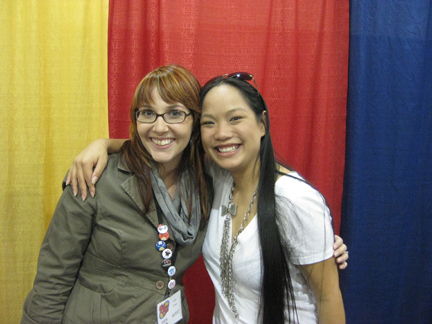 Of course, like I said, Dreamer colorist and webcomic star Alan Evans was there, pimping Rival Angels volume one. Sales were great, in part due to the awesome nature of the book, in part to Trevor's fierce selling pitch.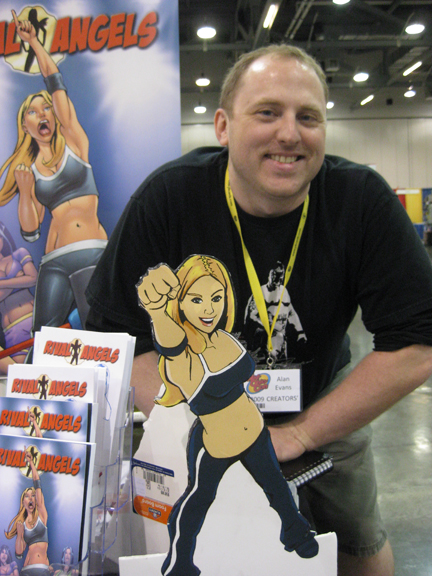 Trevor Mueller promoting his own title… It's crazy, he looks just like his protagonist!  ;)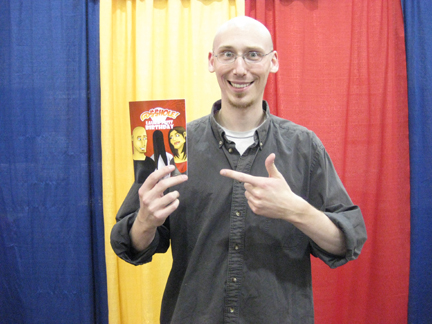 We got to hang out with the Bryan and Judy Glass of Mice Templar fame, which is always a treat. In fact, I think this was the first time Mike had met them, and it was instant love, all the way around.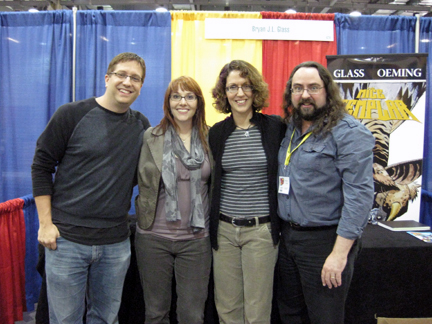 Whoever laid out the floor plan put their table directly across the aisle from ours. We pretended throw dagger eyes at each other all weekend, since we're both up in the same category of the Harvey Awards. Let the best man (or woman!) win!
Bryan gave me a copy of the new Mice Templar sketchbook and since he's a writer… I asked him to write me a short story on the blank sketch page inside instead of a drawing. Remarkably… he obliged!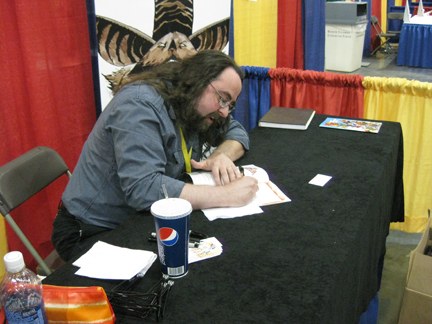 We also got to hang out with Darren, Krista and Jackie from Ringtail Cafe/Comic Related.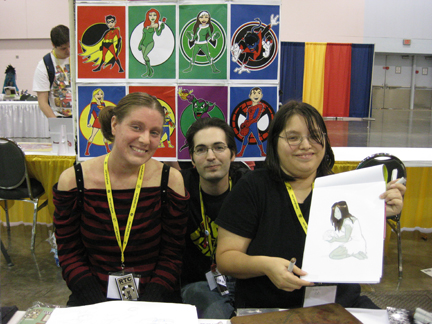 They showed us the new project they're working on, Confectionaries, and it's so stinking cute, I can't wait to see the finished book. Jackie had bluelined the entire first issue and even at that stage I was impressed. Think My Little Ponies meets Care Bears but for a modern generation of kids.
And to my delight, end of the day Sunday, I ran into Max Ink who I'd been looking for all weekend! He's a local creator who makes a fabulous comic called Blink, and runs Sunday Comix, a group of local creators who get together to share their work. He's the sweetest guy, and I was so happy to have the latest Blink to read over breakfast this morning!
It was a great, but busy weekend. I barely was at my booth on Sunday, and the man who held it all together is my favorite person in the whole world, Mike Innes! Thanks Mike for holding down the ship!!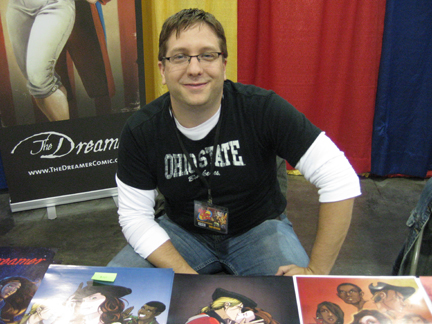 (He's so cute!! My own hero, my real life Alan Warren.)
Well, to all the new readers I met, welcome! And all the old ones, it was so nice to see you! Thanks to everyone who came out and… next weekend we're doing it all again in Baltimore. I leave you with… a kiss!