Mid Ohio Con was this weekend, and it was a fantastic show! It wasn't a secret that Wizard World bought the convention last year, and everyone was unsure what to expect. I'm glad to say that the show kept everything I love about MOC, while bringing a new level of excitement and energy–as well as a ton of attendees who were checking out the show for the first time.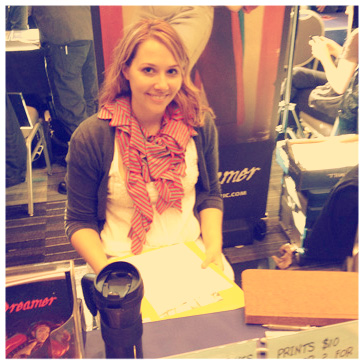 When Volume 1 sold out last year, I decided to take the year off from conventions. But MOC is my hometown show so I came anyway. Even without books to sell, we had a brand new line of prints that did very well, and I was drawing commissions non-stop all weekend.
Of course, my favorite part of MOC is having my industry friends stay at my home, and being able to take them to all of my favorite haunts in Columbus.
Since I still had a box full of Warren Russet apples in my refrigerator, I decided to turn them into pies–just like Alan's Aunt Mary Warren would have wanted! How can any Warren enthusiast invite their comic family into their home and not bake apple pies?!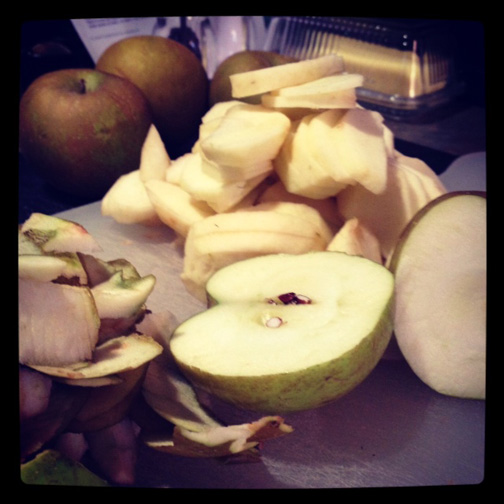 This is my favorite apple pie recipe, but I'd never made it with heirloom apples from New England before! The Roxbury Russets are a lot sweeter than the apples I usually use but that seemed to make everyone love them even more.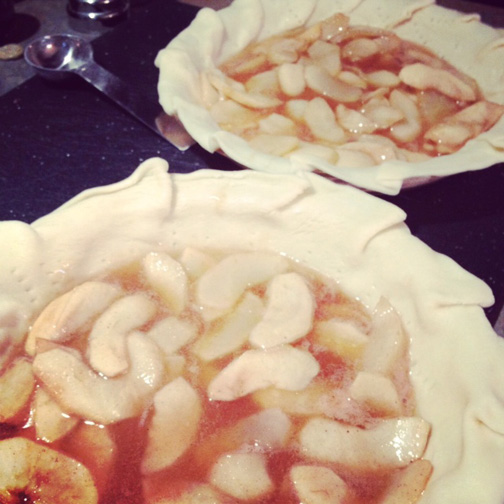 That night we all went to my & Mike's favorite pizza place in town. Despite a long wait, it was a beautiful night and we filled the time with a lot of laughing. Here are our group's two funny guys: Paul Storrie and Trevor Mueller.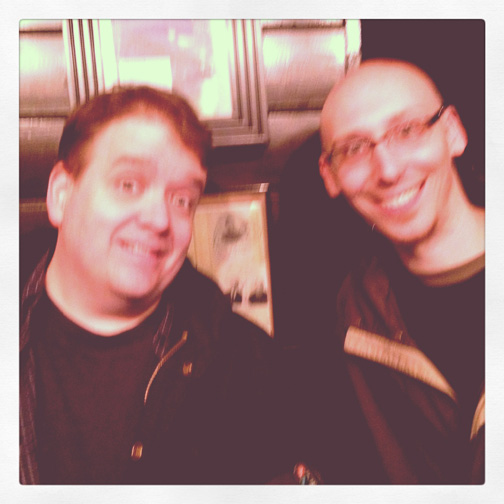 Everyone came back to my house after pizza and devoured the apple pies! Alan Evans even dreamed about the pie that night…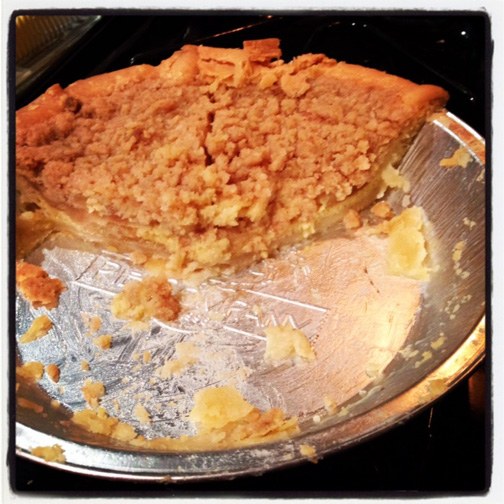 Well, Mid Ohio came early the next morning. We were in a different hall, with natural lighting, a lot of color and carpet. It's the little things, you know? Here are some of the new prints I had. Captain America and Poison Ivy were popular with this crowd: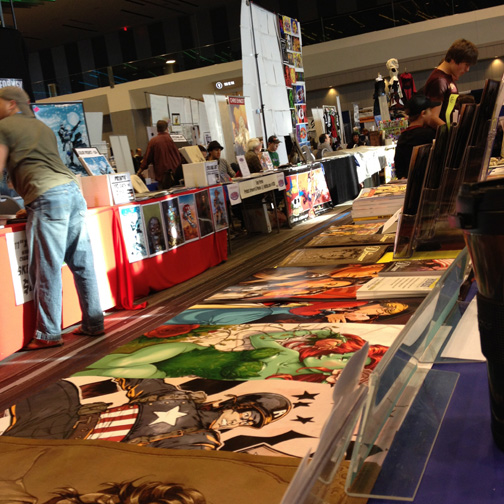 I made a point to walk past James Marsters and snap a pic, though I didn't pay for an autograph. Even without the Spike-blond hair, he got me a little fan-girlie.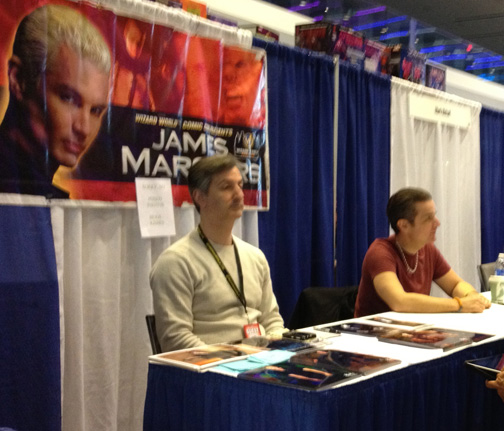 And what's a convention without costumes? Except… huh? what?  Is that Vader? No, Batman, right? Oh, no, wait… of course! It's Darth Batman!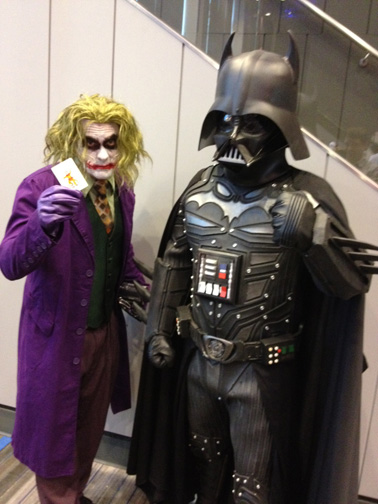 Rumors had it that this guy was six and a half feet tall, and then he was on 8″ platform shoes! Everyone wanted their picture with him. And you had to push through the crowd of eager photographers to make it to the lady's room…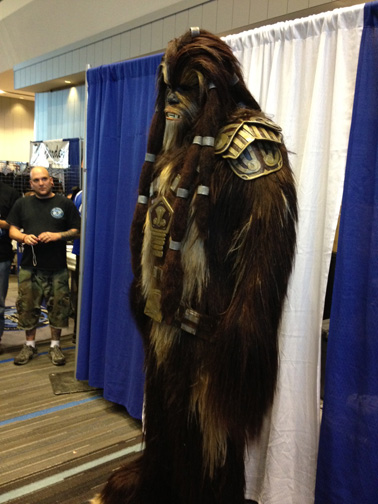 I met a ton of you this weekend! Dreamers and Paper Wingerz! It's always so wonderful to put faces to names. About ten people came up and thanked me for the Paper Wings Podcast and said what a help it has been to them. That makes me warm and fuzzy to hear!
This is Nikita, a history major and major Dreamer fan. We talked about our love of visiting famous people's graves for a long time. (Oh, and she had on a DREAMER SHIRT! So I gave her a free Nathan Hale sticker.)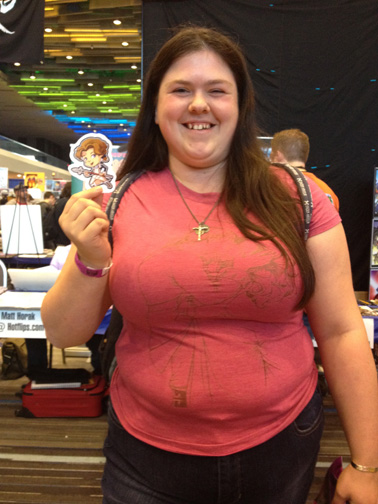 This is Nancy, smiling with a Wedge Antilles commission I did for her: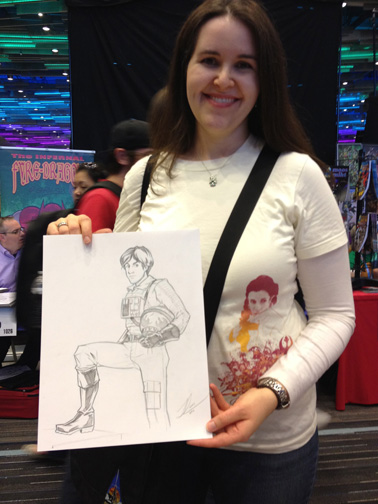 Here are the members of the Paper Wings team who made the show. Alan Evans, Meg Syverud, and myself. That's "W" for Wingerz. Or Warren.  Or both…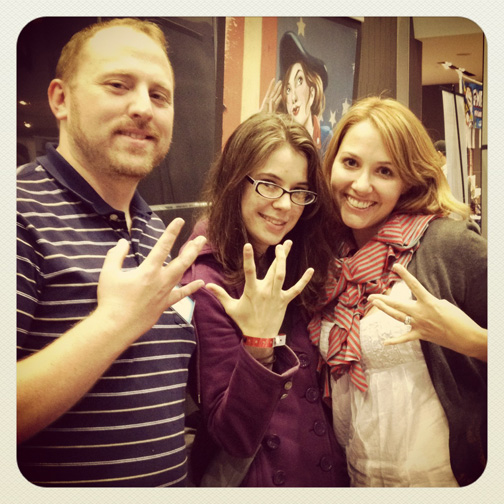 Mid Ohio Con always throws an after party for guests. Here's my buddy Thom Zahler of Love and Capes fame, and Webmaster Mike being a ham in the background.
Me and the lovely and talented Comfort Love who was nominated for two Harvey Awards this year!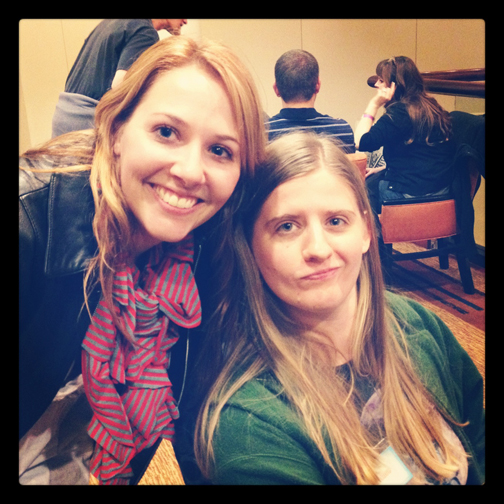 Thom regaled us with tales from the 17 conventions he had done this year. Somewhere in there he finds time to make comics, too.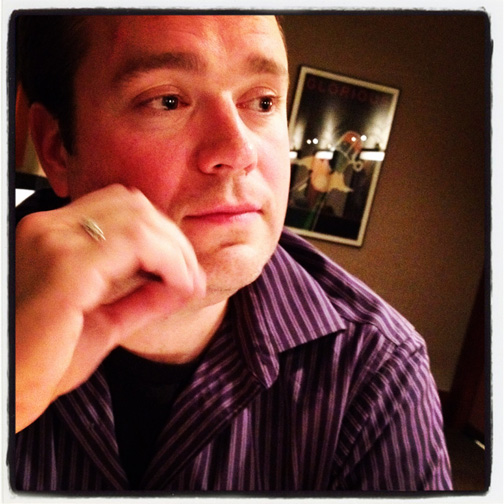 Day 2 of Mid Ohio and we all had to be back at our booths. Alan Evans and I started the day by signing our way through the stack of "A Providential Hello" Dreamer comics we needed to mail out to everyone who ordered online.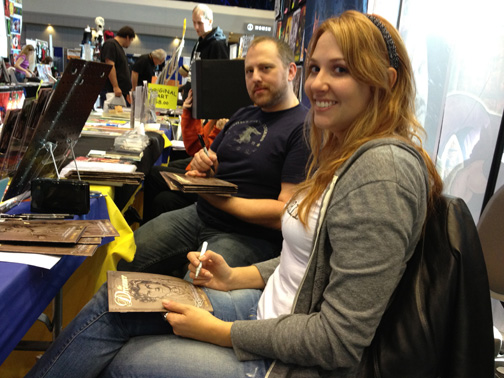 Alan E. was disappointed because the Nathan Hale cover out-sold the Alan Warren cover 4 : 1! I was secretly rooting for Nathan, so we turned it into a competition. Nathan won by a landslide!

I drew non-stop finishing commissions before the show ended. This is the first show I attempted to do marker and ink drawings. They look a lot more finished than my pencil sketches. Here is Starwoman: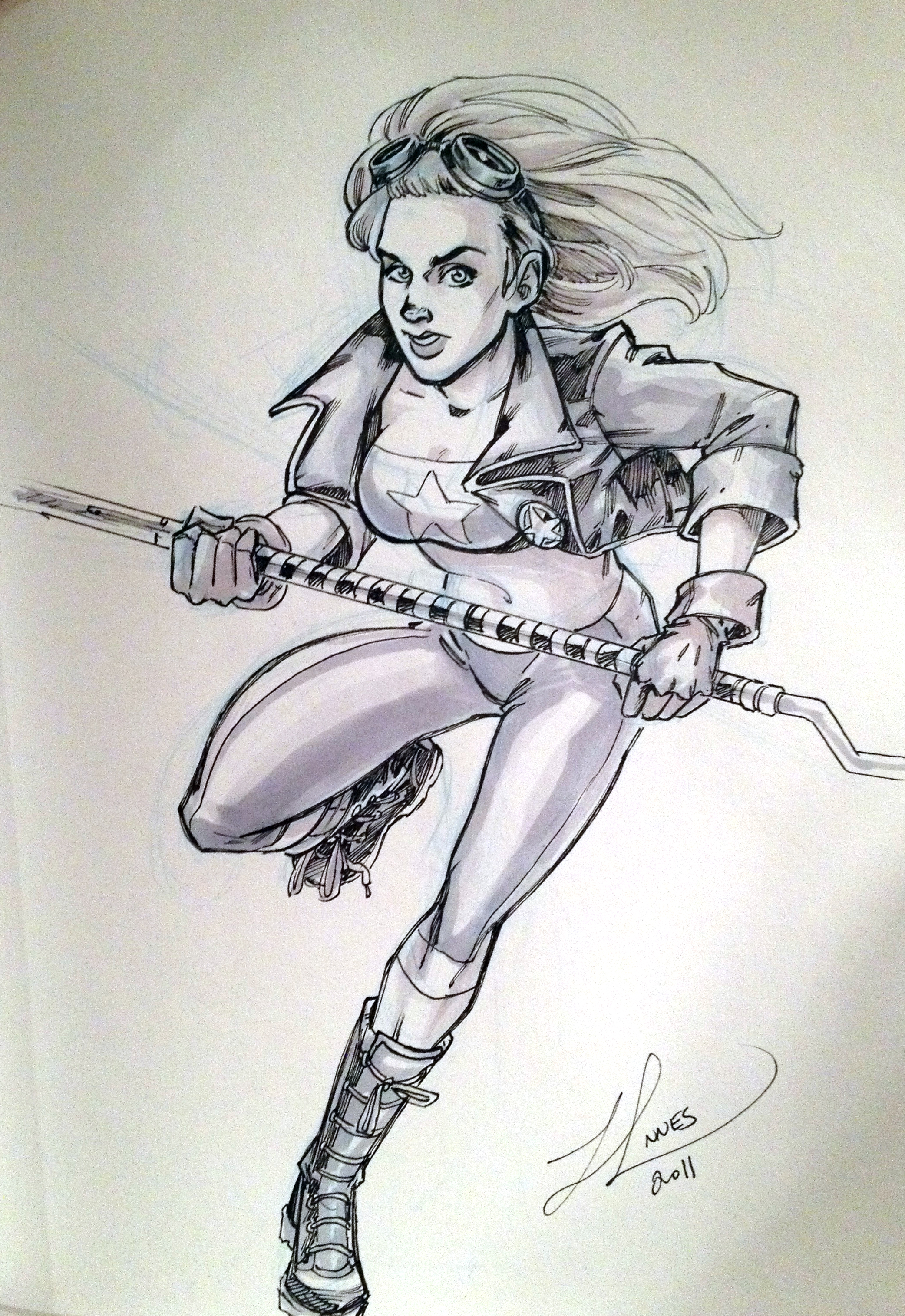 Here is Dr. John and his Harvard classmate Will Eustis up to no good in the secret Spunkers Club. (John, put down the shovel and go find Alan! He's really sick and could use your help right about now…!)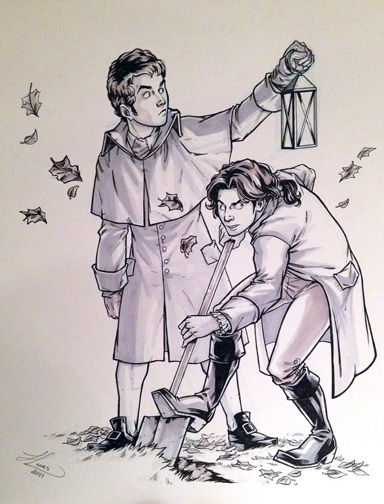 Here's a classic Marvel Girl sketch: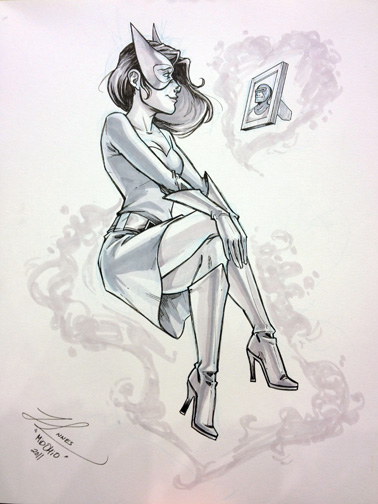 My friend and mentor Jim Theodore stopped by the show. He's the man who taught me how to draw when I worked in his commercial illustration studio. It was fun to show him around my (strange) world!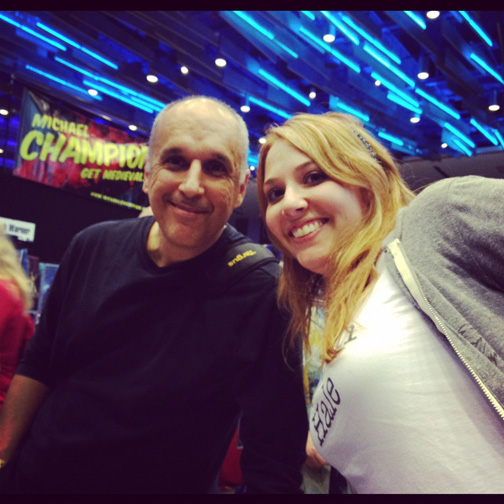 "Webmaster Mike" helped man the booth, and went on food runs for us! Always my support!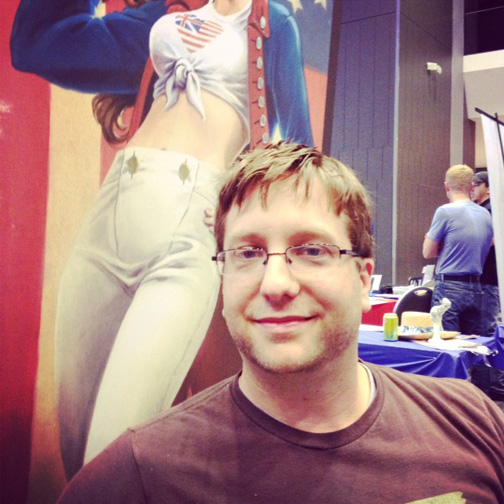 Well, all good things come to an end. A few years ago we started a tradition of going to Jeni's Ice Creams after the end of the show on Sunday. Sort of a final hurrah before everyone drives home to their own corners of the country. Jeni's is a local Columbus place that has crazy flavors of ice-cream: like cayenne chocolate, beet cake & cream cheese, and goat cheese & cherries!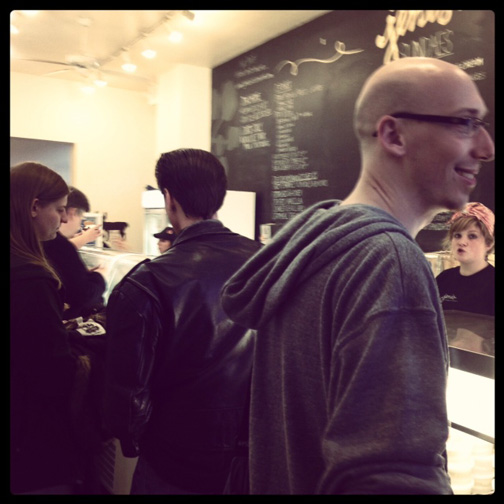 (Trevor, Comfort & Adam did a lot of tasting before settling in on a choice!)
Alan Evans beholds his Coco Rococo sundae. Oh, and check out that awesome shirt he's wearing…!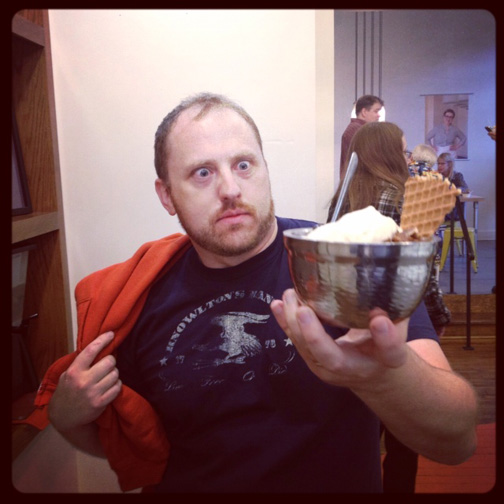 Well, there's the whole gang. I've really missed doing conventions this year and didn't realize how much until I spent the weekend with these guys. It had been too long!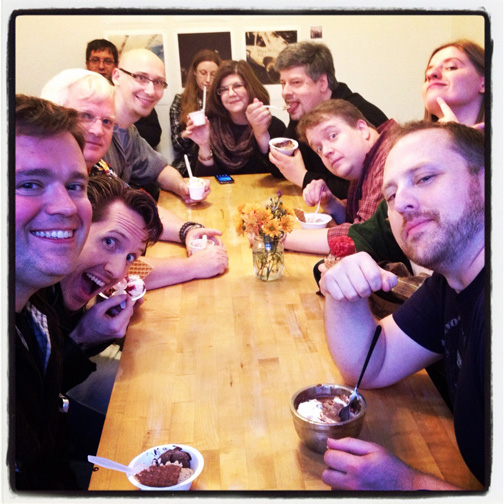 (Thom Zahler, Adam Withers, Bob Ingersoll, Trevor Mueller, Robin Dale, Paul Storrie, Comfort Love, and Alan Evans.)
Next year I'll be back on the Convention Circuit! So watch my blog to see what cities I'll be in. And if you want me to come to a particular show, let me know! I haven't settled on a schedule yet.