So Asha and I stopped at Monticello on our way to Heroes Con in Charlotte yesterday.  It was really misty and rainy the whole time.  In fact, when we got the Scenic Drive Look Out points in the Shenendoah Valley it was so foggy you could only see about 20 feet in front of you, let alone mountains and valleys.  I looked around and said, "Oh, Crap, we could still be in OHIO for all we know."  Yeah, not very scenic unless you really like white and guardrails.
Monticello was beautiful in the mist, though.  We got pretty soaked wandering the grounds for four hours but it was well worth it.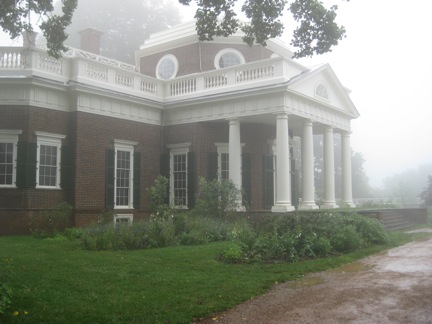 The rain kept some people away, I think, because it was less packed than the last time I was there.  I didn't mind.  I got to spend some time alone with Mr. Jefferson, thinking about his life and accomplishments, and then, naturally, my own.  Graveyards have a tendency to do that.  But graves of people I admire really do.  I love his epitaph, self-written I think.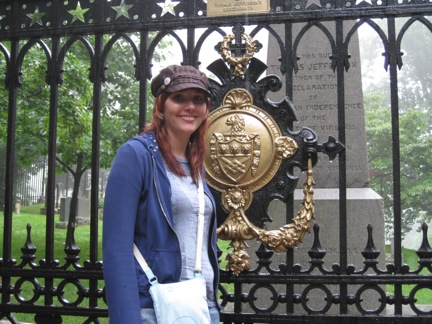 "Here was buried
THOMAS JEFFERSON
Author of the Declaration of American Independence
of the Statute of Virginia for Religious Freedom
and Father of the University of Virginia."
He forgot to mention, I dunno… that he was president.  I think the things he was most proud of speak a lot about him.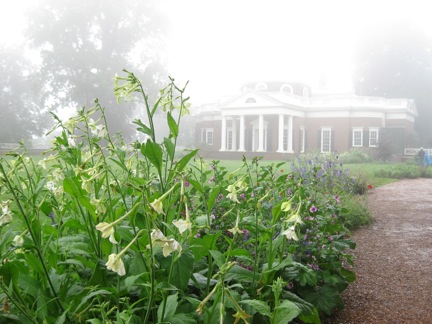 We got a nearly private tour of the gardens since only Asha & I and one other couple braved the rain with our umbrellas to hear it.  And they even cut out early after the first half and then it was a private tour!  It was really interesting, and well worth getting a little wet to hear.  Our guide even told us how she got the gig, and what it takes to be a tour guide at Monticello, and how they get to create their own tours and what they'll talk about.  I was in love.  I think I found my calling, if and when this whole drawing/writing thing doesn't work out.  ;)  Or how about after I finish The Dreamer?  I think I'm halfway to being a tour guide  already: I answered every one of the tour guide's questions during the house tour correctly (silently of course), including Mr. Jefferson's height.  I may have… once or twice… leaned over to Asha and whispered the right answer in her ear.  Aww, don't fault me!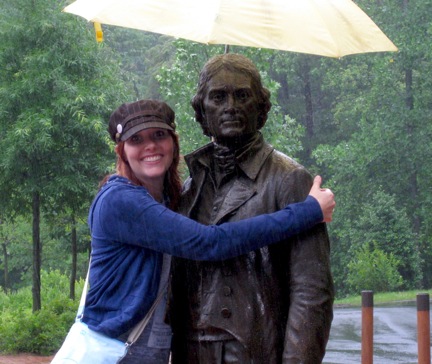 They have a fabulous new visitor center there at Monticello now! A movie, and a museum, and a huge gift shop with pillows that said, "I cannot live without books" and other such things.  (I think I even saw a TJ paper doll, no joke.)
An interesting thing happened, though, when we first pulled into the parking lot.  We were gathering our umbrella and purses and cameras and then I looked down and… my Alexander Hamilton keychain was missing!  (In case you didn't know, Mike named my Toyota Yaris "Hamilton" or "Hammy" and I have an appropriate Alexander Hamilton keychain on my key ring.)  The whole way down I kept joking about how much (car) Hamilton was going to hate the fact that I was taking him to his bitter rival Thomas Jefferson's house.  We had many-a-laugh about it… until my Hamilton keychain disappeared literally as soon as we got there!  Miraculously it turned up again… in the public bathroom of all places.  I'm going to Yorktown today, so… that should make keychain-Hamilton happy.  I hope he doesn't run away from home anymore…!
Tomorrow we're off to Charlotte, so play time is over.  I hope to meet a lot of you at Heroes Con.  Be sure to come back to the website tomorrow for a super-fun Dreamer announcement!!