Felicia Day mentioned The Dreamer in her Flog vlog this week for Independence Day! What a pleasant surprise. Hot guys, what the Revolution was really all about…
Happy Independence Day, Dreamers!
Even if you don't live in America, feel free to join us in our not-so-little celebrations today. Light a sparkler, sneak some red, white and blue into your outfit or hum the Star Spangled Banner while no one is listening. (We're glad to have you here.)
Though the Continental Congress officially ratified the Declaration of Independence on July 2nd, 1776, Jefferson's first draft made some claims that not every delegate was comfortable with. So they passed the notion of Independence knowing they would make changes before they sent it over to King George III. The final wording wasn't settled until July 4th. Which is why we celebrate today.
Famously John Adams made claims in a letter to his wife that July 2nd would be the date that all Americans should celebrate "with Pomp and Parade, with Shews, Games, Sports, Guns, Bells, Bonfires and Illuminations from one End of this Continent to the other from this Time forward forever more." He was right about the gravity of the event and it's prominence in our history.
Happy Birthday, Dreamer!
Crazy to think of, but on the fourth of July, 2007, we launched the first pages of The Dreamer! So today we are celebrating our FIFTH birthday. That's pretty old in webcomic years!
Hip, Hip, Huzzah! to all of The Dreamers who have found and loved our comic, whether you've been here from the start or been here for a week. It's your support and enthusiasm that keeps this project going. Much love from the bottom of my heart.
Four Ways to Celebrate your Fourth.
1. My favorite thing to do on the Fourth of July is listen to Bill Barker, Colonial Williamsburg's Thomas Jefferson actor interpreter, read the Declaration of Independence. Better yet, make all of the guests at your picnic listen, too!
(I've never done that. Okay, maybe once or twice or… Hey, why doesn't anyone come to my cookouts anymore…?)
2. If you own the HBO John Adams mini-series, I highly recommend stealing away for 45 minutes to watch the second episode about the Declaration of Independence. Their depiction of the event is so powerful. Then go, return to your picnics and eat your hotdogs with gravitas.
3. If you are still looking for a way to kill time, go check out the Frederick Knowlton Dreamer Short Story which takes place on the Fourth of July, 1776! Find out what Knowlton's Rangers were doing while Congress was committing treason.
(hint: They were also committing treason.)
4. Well, how about a new Dreamer Cover? Issue #15 kicks off today!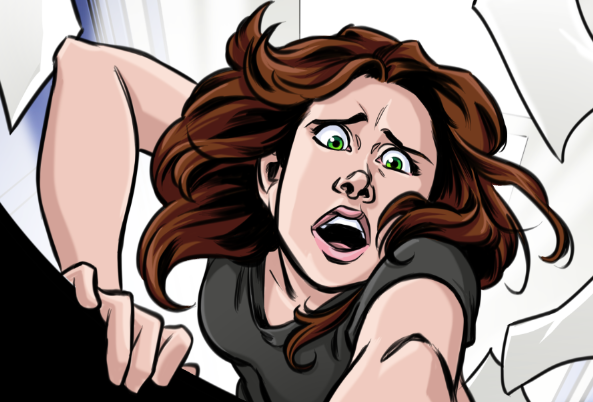 VOTE to see the silly reference photos I took of myself while drawing this one.