Issue #7 is off and running!  Cover and title page this week and come back next Friday for the first pages!  (I know this is a long blog post, but at least skim it because there's some important stuff in here:  a new Issue, Prints for Sale, a new Short Story, and a Store Signing!)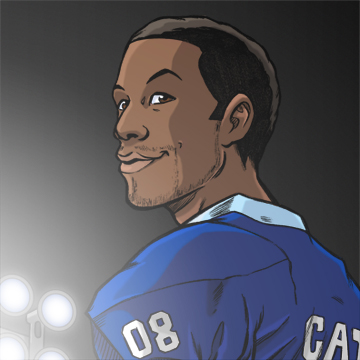 (Remember this guy?)
Thanks so much for being patient with me while I got the Graphic Novel together.  I'm sure you'll be glad you did, because the book is going to look beautiful!  Not only will it have the new cover, but it will have contain all the original covers–both mine and Jenny's.  We're also including a (funny) timeline of events from the Revolution leading up to what happens in Issue #1.  If you're not much of a history buff, this should help!
About this week:  I absolutely love the new cover.  I told Mike yesterday that I hope IDW decides to print more comics because I really want to see this one in print!  I've been working on the first few pages of the issue, and so far I'm loving it.  It's nice to have a change of pace.  :)  And I think artistically, Issue #6 was a real turning point for me.  These new pages are some of the best work I've ever done.
Other news, we have a few items for sale for your shopping pleasures!  First, that color pinup that I posted last Friday is now for sale in my Etsy Shop!  Go check it out now!  Each one comes signed by me!
And secondly, if you'll note in the side bar, the new Frederick Knowlton short story is now for sale!  The way the short stories work is that when you click on the "Buy Now" button in the side bar, go through all the steps to buy the story and complete the transaction.  Once the transaction is complete there will be a "Return to Merchant" option.  Click on that link.  The downloadable PDF will be there.  I wish there was a simpler way to do it, but we haven't found one yet.  And this works better than me personally emailing the file to you, because you can read it right away.
What is the short story?  It's called Frederick Knowlton: First Impressions and it takes place in July, 1776, two months before the first issue of The Dreamer.  Even though all the Rangers are in the story, it's told from Freddy's perspective.  If you wanted to know more about the Rangers, ever wondered how Alan knew Bea was on Howe's boat, or just want some great father/son moments with the Knowltons, this story is for you!  It's my fictitious rendering of a real attack Knowlton's Rangers made on Staten Island, trying to dislodge Howe's army from the fort before the British Navy arrived.  (Oh, and it's before Colonel Knowlton was Colonel Knowlton.  So that "Major" Knowlton in the story might seem awfully familiar…)
I wrote a script for the story and the dialogue (so all the characters should sound like themselves!) but my friend Liz Hornbeck actually wrote the short story.  And she did a wonderful job!  The whole thing is told as if Frederick is writing his younger sister Sally a letter from the army camp.  Don't miss this!!
In last news, I'll be signing at Comics 2 Games in Florence, KY, tomorrow, Saturday May 2nd for free comic book day.  Stop by if you're in the area!  I'll have books and prints for sale, as well as free Dreamer Sketch Cards!!!
VOTE this week to preview next week's pages!   SO CUTE!  :)