New Page #10 continuing on in the Nathan Hale / Alan Warren side story. As always, go check out this story's artist, Alan Evans and his #1 wrestling webcomic, Rival Angels!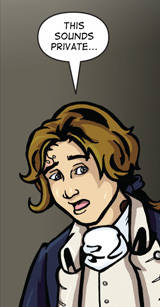 Friday's update will bring the last page of this issue!  Can we get a heart, Dreamer Hip Hip Huzzah! to Alan Evans? Thanks, Alan for all your hard work and your beautiful art! I've loved collaborating on this small project. Huzzah!
In case you missed the news on Monday, I will be writing and illustrating a graphic novel spin off for an 8 part television mini-series called To Appomattox. You can read more about it here, or visit the official site here:

And just incase you're antsy for Issue #12 (we did leave Nathan in a rather precarious spot, didn't we?) VOTE to preview a scene from the upcoming issue, which starts next Wednesday!

(ha ha, this one would be FANTASTIC for a caption contest!)