Dreamer-Friday updates are back!  I hope you all had a great holiday! New Page #11 this week! Poor Ben might decided Bea isn't worth all the drama after all…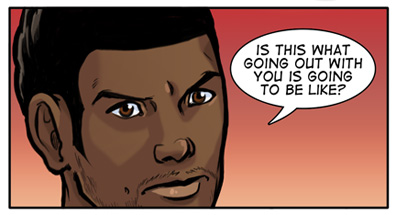 Tuesday is National Human Trafficking Awareness Day. Come back–we'll be kicking off the 2011 Comic Creators Alliance: Fighting Together to End Human Trafficking drive. If you donate, you'll receive a wallpaper featuring drawings of over 100 artists! The submissions have been pouring in, and there is going to be some fantastic work featured on that wallpaper again this year!
Please consider donating next week. The drive will run for two weeks. Human Trafficking became personal to me a few years ago when a young middle school girl I was mentoring was nearly kidnapped in a textbook case of this. She was smart enough to run away, but a lot of girls aren't so lucky. You can read about my reasons for starting the CCA here. Or listen to me talk about it in a short segment that was featured on TGT Webcomics here. Love146 has a great flip book that discusses the problem here. (It is tastefully done, though warning, the subject matter is horrific.)
I am so proud of what we accomplished last year, and hope that we can match last year's total. I know it meant a great deal to the two organizations we raised the money for: one global–Love 146, and a local shelter trying to get up and running–Gracehaven in Ohio. (Toledo, Ohio is one of the largest trafficking hubs in the U.S.) Both organizations were able to expand their particular fights against this heinous problem in 2010. Love 146 is setting up Task Forces around America, local groups of concerned citizens bringing the fight and awareness to their own corners of the nation. Internationally, Love 146 set up the Cambodia Borders Officers Project. This is total prevention: officers patrol the border crossing, looking for possible victims and the kids they rescue will never know the horrors they might have. Gracehaven used our funds in the ongoing renovations that are necessary to bring the house up to code–plumbing and air conditioning were installed, along with two new bathrooms. They hope to be up and running soon but must first have six months of operating expenses in the bank. They are currently at one fifth of their goal–let's see what we can do to help them!
A lot of your favorite names are participating: Scott Sava, Adam Withers & Comfort Love, Barb Jacobs, Alan Evans, Bridget Underwood, Sarah Ellerton, Crystal Yates, Tina Pratt, Thom Zahler, Beau Smith, Billy Tucci, I could go on and on! Check out the full list of participants here.
I'll meet you back here on Tuesday when we kick it off live! For now, VOTE to see the drawing of Bea I did that will be on the CCA wallpaper.