New Page #12! See, Bea isn't entirely unsensible: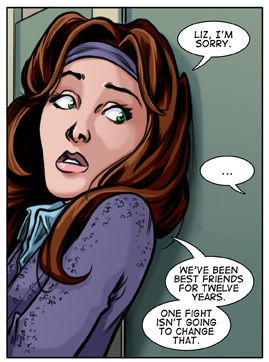 So the Comic Creators Alliance drive is LIVE! Help us match last year's total. We're going to need a lot more donations!
Why do the CCA again in 2011? Why participate again? Why donate again? Didn't we do this last year?
I know that it is easy for a message to get stale. And we had a great drive last year ($10,000!) and it is going to be hard to match that again this year. So why even try?
Do you know a survivor of rape? of childhood molestation? Unfortunately, I do–and I bet you do too. The scars sexual abuse leaves on a person should make you angry. It should work you up. It's not right. And it's happening not just domestically, but as a world wide industry.  People out there are getting rich off of the repeated rape of children who cannot escape.
It should make you sick.
It's why we're doing the CCA again. It's why I'm begging you for donations again. 110 people contributed their fantastic creative talents to offer you a little incentive to give some money to our cause.  Did you give last year? Give again, won't you? The problem hasn't gone away.
Watch this short video which addresses the problem. Then pass it onto a friend. And then donate some money. What would you spend today on coffee? on Wendy's for lunch? on pizza or a movie?  C'mon, let's live with less and instead change our world!
As extra incentive, if you donate at least $10 to the CCA this year, forward me your PayPal receipt and I'll send you this beautiful wallpaper I did for the drive last year. Bea, Yvette & Liz have never looked better!

VOTE this week to see the CCA square I did for Wynonna Earp: The Yeti Wars.