New Page #14!  Neither Bea nor Alexander are the type of person to hold their tongue when they're upset. For better or worse…!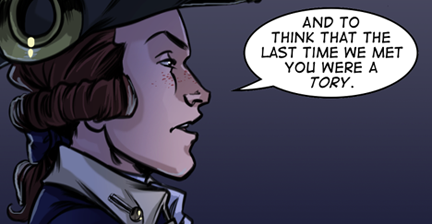 I haven't posted much by the way of updates lately. I'm not sure if that if you've liked the brevity or missed the news. In any event, here is a little bit of what's been going on… My Podcast, Paper Wings, has been picking up momentum, and is gaining a devoted little following. We talk about being an artist and a writer, and what it takes to survive as a professional in this industry. It seems to be helpful to a lot of folks. In all honesty, it's the podcast show I wish I'd had when I started making comics!
In The Dreamer world, I decided at the final hour to include this issue in the new volume that comes out in November. Julie and Alan and everyone else have been helping me get this thing together and out to the printers on time. a huge help to them, and my two Paper Wings apprentices Meg & Sarah for all their help. They've made it so you don't even know the difference. In fact, The Dreamer feels like it's updating more now than ever. So thanks!
Webmaster Mike is working hard at a complete website redesign! It looks amazing! All of us are anxious to see it go live!
On account of getting the new book together this summer, I've pushed the annual FanArtPollooza back a little.  I haven't decided when it will kick off yet, but rest assure it is not forgotten!  It's my favorite time of year in Dreamer-land~!
And don't forget that The Dreamer DOES have an official forum! Check it out and get an account if you haven't yet!

VOTE this week to preview Friday's update! And as always, thanks for reading and I'll see you back here then.