New Page 17. Bea's acting skills and sharp thinking come in handy once again.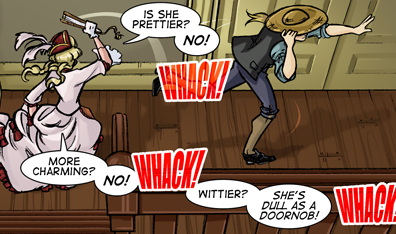 So today is finally the big day to announce the 2010 winner of the FanArtPolooza Contest! You all made it tough as always. Mike and I narrowed it down to our ten favorites, but in the end, only one can win! I consulted a few members of the Dream team and the favorite entry over all was…. *drumroll, please*…Anne Bannister for her Dreamer Trailer entry! This entry made us all wish there really was a Dreamer movie coming out. My favorite part is that the first time I watched it, I squeed at every new shot because I could tell exactly what scene from the comic it was. So Congratulations, Anne! You'll be getting a free commissioned drawing from me, and a signed Dreamer poster of your choice!
But you know me, I can never just pick one. Mike and I chose three runners up to each receive one of the Dreamer short stories (of your choice!) and a set of Dreamer Buttons (with Nathan's face of course) in the mail. Runners up are……… Nathan, His Life for His Country by C.J. Dunleavy, Jr. (This poem was thoroughly researched (and annotated!) and a fav of the Dream Team.); Maybe Gone Tomorrow by Laura (our favorite of all the beautiful art pieces); and Katie Kugler's Nathan Hale song! (I don't care how many times I listen to this song, I'm still tapping my toes.)
So congrats to the winners! Hip, hip, huzzah! You guys make this so hard on me every year.
Thanks for all the votes so far in the TGT Webcomic Tournament! Only two days left until the finals! VOTE to help me into the final round, where I'll be asked back to do another podcast. If I make it into the finals, we'll unlock one of the previous Dreamer Wallpapers as a thank you to you all!
As always, VOTE TWC this week to preview next Friday. For those of you who just can't wait.