New Page 23! Next week will bring a close to Issue #10 already.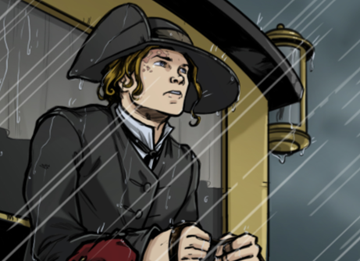 I hope you enjoy the art on this page. This is the first time I've done a page of The Dreamer 100% digitally. You can check out my new process, work-in-progress screen shots and all the details over at the Fan Flow. I've been looking for a way to speed up my process and this new digital stuff is promising.
I am really disappointed this week. I have been looking forward to the end of the story of Mrs. Murray and her lovely daughters in this issue so that I could do a blog post about the real history behind the events. But tonight I looked all over and could not find the notebook where I took all my notes from the biography I read on their family. I'm going to look some more. If I can't find it, I'll just have to go from memory. So look for a post about the history behind Issue #10 next week! I didn't want to do it earlier, you know, spoilers and what not.
I'm not sure if I've announced yet that I'll be a guest November 6 & 7th at Mid Ohio Con. I love this show because it's in Columbus, Ohio, a short drive from my house. A lot of great friends will be at the show this year: Alan Evans, Beau Smith, Comfort Love and Adam Withers, Bryan Glass, Thom Zahler. There are more, but I'm sleepy. If you're a midwesterner, try to make it out to the show. It's a nice size for intimacy, and yet there are still some big names coming.

VOTE this week to see the adorable prize drawing I did for Anne Bannister, the winner of this summer's FanArtPolooza contest!
See you next Friday when we sign off on Issue #10!