New Page 23 today! Between braces, birthdays, sickness and conventions there is only one page out this week.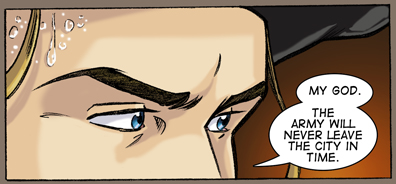 I'm at C2E2. Tomorrow, Saturday April 17th is the panel I'll be on. "Do We Still Need a Women in Comics Panel?" Check it out at 5:30 if you're attending the show.
See you next Friday for the exciting conclusion of Issue #9! And next weekend, April 24th & 25th I'll be at the SPACE convention in Columbus, Ohio. Hope to see you there! I'm moderating a Webcomics Panel.
VOTE today to preview next week! See you then!