New Page #3! Parental heart-to-heart averted.  …for now.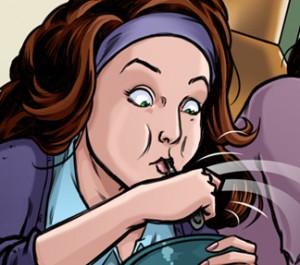 Just in case you missed my incessant announcements about it, Mid Ohio Con is this weekend! The local media showed MOC special love this year because it is 30th anniversary for the show. Thus, some fun media attention for MOC spotlighted The Dreamer by extension this week. Check out the last two posts in the blog to see one of the clips from the local FOX network's morning show I was on and to read the piece on MOC that spotlighted the Dreamer in a Columbus Magazine. I'll be at booth #427 with commissions, prints, Dreamer merchandise, the whole shebang. I also found a box full of self published copies of Issues 1 & 2, from the EXTREMELY limited print run we did before IDW began publishing the book and I'll have those for sale. If you're a collector, when they're gone, they're gone!
I'll have a post-convention recap next week of course. Until then VOTE to preview next Friday's update. It's something a little different, and boy, is it a doozy!