New Page #44!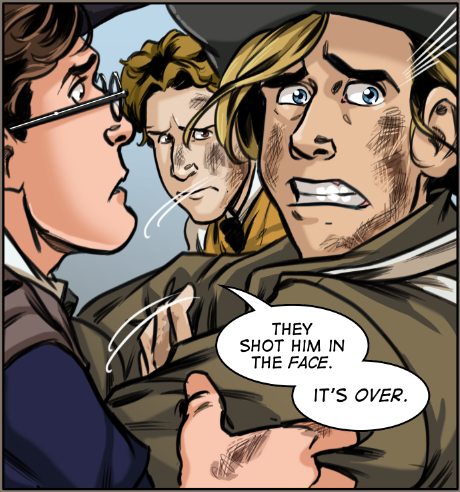 If you're familiar with Dr. Warren's life, you'll know that the accounts vary as to exactly how he died at Bunker Hill. The "eyewitnesses" conflict so they can't all possibly be true.
Luckily for those of us interested in the mystery of his death, his nephew photographed his skull when Joseph Warren's body was exhumed to be moved to a new cemetery.
Using these photographs Dr. Forman and Derek Beck were able to reconstruct Warren's skull using 3D software, and then, using forensics, zero in on what the evidence revealed about the cause of death. Cross referencing this new information with the eyewitness accounts of his death, they were able to narrow the stories down to just one.
Though we might finally have our definitive answer today, unfortunately, back in 1775, Joseph Warren's fate was not known right away. He was among the last to leave the redoubt, so most of the men had already escaped by the time he was killed. And the retreat from Bunker Hill was so chaotic and frenzied that it was hard to know for sure just what had happened at all.
John Warren roamed the area for three days after the battle trying to find out what had happened to his big brother and mentor. The accounts he received varied wildly: some said he was alive and well, others said he had been killed. It took several days before everyone was sure that the great Dr. Warren was no more.
The town of Boston mourned. Black armbands were worn. Poems of lament were written.
But… there was no bringing him back.
VOTE to preview the next page!

I'll be at two Columbus events this week. If you're in the Central Ohio area, stop by.
On Thursday I'll be at the Gateway Film Center near OSU for their Avengers Assemble Marathon event. I'll be doing sketches and selling & signing The Dreamer from 6:30 – 8:30.
This Saturday I'll be at Packrat Comics in Hilliard, Ohio for Free Comic Book Day. I'll have graphic novels, A Providential Hello mini-comics and I'll be doing commissions. I have very limited space so if you'd like a particular piece of Dreamer merchandise that you've seen me sell at shows, just let me know and I'll be sure to bring it for you. I'll be there all day from 10 – 5. Ernie Hudson from Ghostbusters will be there!