New Page #57!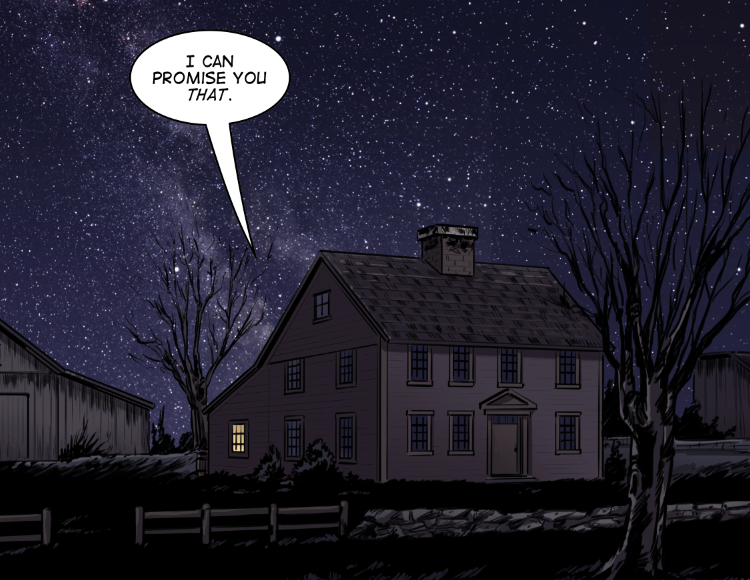 That's a wrap for Issue #14. Goodbye, Warrens! Thanks for the trip down memory lane, Alan. It's time to find out what on earth has been going on with the rest of the cast.
*I'm taking Vacation Time next week*
I am headed to New London, Connecticut for the opening of the exhibit I did for the Nathan Hale School House. Come see me at 2 PM, Saturday, June 30th. I'll be speaking and showing behind the scenes sketches of the exhibit.
I'm not happy with the script for the next issue yet, and since I'm traveling, I want to make sure I have enough time to get it right before I start drawing.
*See you back here on the 4th of July for the start of Issue #15!*
In the meantime, I won't leave you empty handed. Now that you've met the Warrens, I'll bet you are wondering what happens to them. Next week, Dr. Sam Forman (who more than lurks here on the site) was kind enough to write a series of blog posts about the fates of Joseph Warren's children and brothers.
When Sam sent me the first draft, Mike and I were on a date. I saw it show up on my phone and got sucked in reading it until Mike cleared his throat and said, "Uh, are we on a date?"  Ooops! Let's just say, you don't want to miss these blogs.
I'll be posting Sam Forman's Warren Follow Up blogs next Monday, Wednesday and Friday.
*And don't forget the new death of Dr. Warren "Three Days Ago" Short Story is now for sale! Available in either PDF/ePub format or MP3 Audio Book!*
Three days have passed since the battle of Bunker Hill and rumors that the famous Dr. Warren was killed have reached the people who loved him most in this brand new Dreamer story.
*VOTE this week to read a preview page from the story!*