New Page #7 continuing on in the Nathan Hale / Alan Warren side story. As always, go check out this story's artist, Alan Evans and his #1 wrestling webcomic, Rival Angels!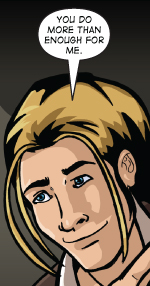 There are only a few more pages in this little interlude. I've been working hard on Issue #12 here in the background. I think it kicks off with a bang! Some of you know I took on two "apprentices" through my podcast program Paper Wings. Meg Syverud (One Question) and Sarah Searle (Under the Apple Tree) have been helping behind the scenes with all things Dreamer related. They're going to help me deliver on a few things that until now I talked about but haven't been able to impliment.
VOTE this week to see some of the (adorable!) Nathan Hale sketches Meg is working on as she helps me layout Issue #12! (So cute your teeth will hurt…!)

Speaking of Paper Wings, go listen to the latest episode if you haven't yet, but you're interested in Breaking Into Comics. This is all the stuff I can't put in an email! So if you've ever asked me about such a thing, go listen to Episode 005 :: FIVE STEPS TO A WINNING COMICS PITCH. It's golden! And less than an hour long.
See you next week!