Happy Thanksgiving, everyone! At least in the U.S. If you're a Dreamer from another country, feel free to celebrate with us today as we stuff ourselves full of turkey, mashed potatoes, pumpkin pie and then watch football in a food-induced coma the rest of the day. It's one of my favorite days of the year.
Unfortunately for Bea, she's not having such a great day. New page #7!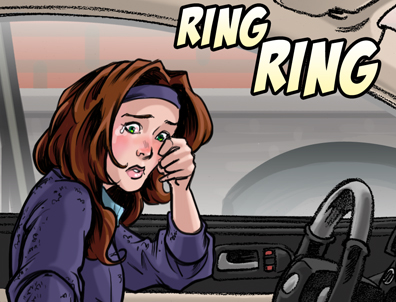 The mods over at the Dreamer Forum were nice enough to add a section for discussing weekly updates! And we added a permanent link to the forum in our sidebar so you can always find it easily. Go ahead and start chatting!
Since it's Thanksgiving, I'd like to remind you all to go read the Alan and Bea 11-page short story, available in our store! It tells the story of how Bea & Alan first met and became…. well, whatever it is that Bea & Alan are. You get to meet Alan's entire family in this story, including the famous Dr. Joseph Warren and the rest of Alan's cousins.
VOTE this week to preview next Friday!

And read below the cut to read the first page of the Thanksgiving story! Happy Thanksgiving!!
It had been two weeks exactly since their meeting in the market. The exchange had been brief, and should've been forgettable–he only left her with his name, a wink, and an apple–and yet she had thought about him every day since. The apple on her vanity was starting to show signs of decay. Perhaps she should have eaten it, but she liked looking at it more.
Alan Warren. He was a simple man, in simple dress, without fancy hair or buckled shoes or silk stockings. And that old, floppy black hat had to be almost 50 years old and yet on his head it became the most charming article of clothing she had ever seen. And those eyes. Those blue eyes. They sparkled when he smiled with a glint that let you know that even though he was up to no good, you'd have no luck trying not to love him. Yes, Mr. Alan Warren had to be the type of man whom everyone around him adored. The three children who had been crawling all over him certainly did.
For the first few days she pretended that perhaps he belonged to some other clan of Warrens. Because there were several, unrelated families living in nearby towns. And yet she had finally consented that he belonged to that family of Warrens, seeing as how their exchange was cut short by the arrival of the notorious Dr. Joseph Warren himself.
Dr. Joseph Warren was one of the most famous faces in Boston. And he had those same wonderfully mischievous eyes, which was unfortunate because everyone knew that he was one of Samuel Adams' closest cohorts. But unlike Sam Adams, who you always knew was scheming something–and it was never something good–Dr. Warren you wanted to trust. As a result, most of the city loved him.
Most. But not Beatrice's father. He didn't trust any of those so-called "Patriots" and said that Sam Adams' boycotting antics would be the end of every merchant (himself included) in Boston.
So Mr. Alan Warren belonged to Dr. Joseph Warren. Beatrice sighed for the hundredth time as she stopped denying it. Even if he had belonged to the other Warrens, James and his wife Mercy Otis were almost as much trouble as the doctor himself. And yet everyone spoke kindly of Joseph Warren. It was just that he sometimes spoke unkindly about the king…
Politics. Beatrice hated them. She hated the way that they divided her city. No one liked the taxes, just some people felt they should cause a stink about them, and others had resigned to consent. And no one wanted the soldiers there. The Whigs and Tories weren't so different as they imagined.
Which is why she was here. The sign above her head read "Warren's Apothecary & Surgery." She had felt a slight headache that morning, and really wanted to attend to it before it got any worse. These things did have a tendency of getting worse when unattended.
Oh, who was she fooling? She was there to snoop.
Beatrice Whaley opened the door and timidly walked in.
* * *