New Page #8 continuing on in the Nathan Hale / Alan Warren side story. As always, go check out this story's artist, Alan Evans and his #1 wrestling webcomic, Rival Angels!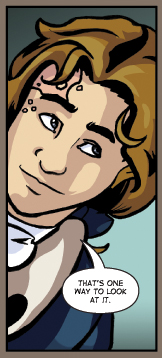 There is so much going on here in the Dreamer world behind the scenes: a new graphic novel, a new website redesign, a brand new and improved logo, a new issue and new scripts! I've been very busy! Can't wait until Issue #12 launches. Only three pages left in this little interlude, and then things pick up right where they left off. That's right, find out what happened after Nathan Hale said "Yes!" in just two weeks.
VOTE to preview Friday's update!