New Page #8!  Our boys clean up well!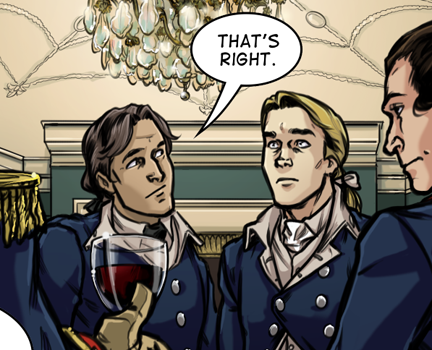 I took the opportunity to draw into this scene two of my favorite officers: General Israel "Old Put" Putnam and Colonel Prescott, both of whom fought at Bunker Hill. Colonel Prescott is the man whose statue stands outside of the Bunker Hill monument. (Joseph Warren's statue is inside.)
Today's update takes place inside the Morris-Jumel mansion, the house George Washington used as his headquarters during this part of the New York campaign.  It is still standing today, and you can tour it! It is the oldest building in Manhattan. Carol Ward, the educational director of the house, wrote a guest blog post for The Dreamer back when the house first appeared in the comic in issue #9. You can read her post here.
The show that I co-host, Paper Wings Podcast, is throwing a contest. You can win one of three WACOM tablets! Check out the complete rules here. And I *KNOW* you guys have what it takes to win. I see the Dreamer fan art contest entries you send in year after year!  I sure hope to see a few of you enter. One of the quotes you can choose to be inspired by is Jane Austen!
And as always, VOTE this week to preview Friday's update!