New Friday, New Update, New Pages 10 & 11 but the Cold War between Bea & Ben continues!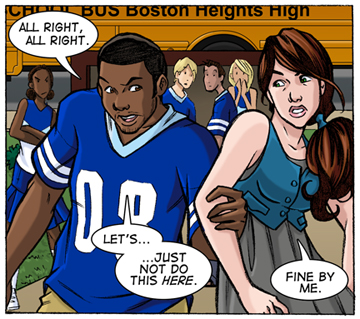 I think Bea needs her sleep. Someone please make her take a nap.  Even John is starting to look pleasant next to her.
Have I mentioned yet that I'll be at Heroes Con in Charlotte?  June 19-21st!  If you'll be there, I'd love it if you stopped by, said hi, and you know, bought some comics.  :) 
VOTE this week to look at my drawing desk.  I got a new desk in January, with a built in light box and a lot more surface area.  Mike & my dad modified it for me even to my exact specifications.  They mounted a paper roll on the side that I pull across the desk and draw on when I do perspective drawing that necessitates vanishing points that reach far beyond a normal piece of paper.  
10 Points to the first person to find the George Washasaurus!