New Pages 11 & 12! Bea tries to find someone to talk to, but things don't go the way she expected.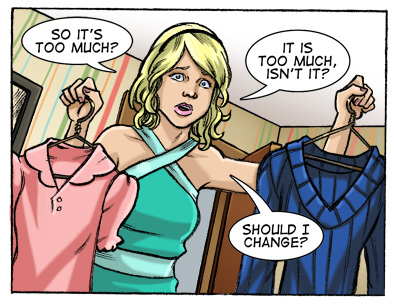 This week's update is extra fun because in January we had a contest on DeviantART to design a dress for Liz to wear on her date with John! The winner was Erin (aka JadeRaven) for this super cute entry, and her prize was getting to see Liz wear her design in the comic.
Also, if you missed it, I did an hour long interview with Tom Racine of Tall Tale Radio. It was a total history nerd-fest and you Dreamers seem to have enjoyed listening to it so far. I give it my thumbs up.
VOTE this week to preview the next page! What does Bea have to say to Liz about all of this?